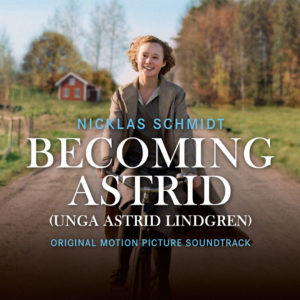 Als je regelmatig deze website bezoekt, zul je waarschijnlijk hebben opgemerkt dat de meeste recensies op deze site van muziek uit grotere films en spellen zijn. Soms kom ik muziek tegen van een film die niet in Hollywood, maar ergens in Europa geproduceerd is. Dit was meer dan een jaar geleden Passage to Dawn van Diego Navarro en deze keer had ik het genoegen om naar de muziek van Becoming Astrid te luisteren. De soundtrack van deze film, met de originele titel Unga Astrid Lindgren, is gecomponeerd door Nicklas Schmidt.

De film gaat over Astrid Lindgren, de beroemde kinderboekenschrijfster van bijvoorbeeld Pippi Langkous. De film gaat over Lindgren als persoon en niet over haar kleurrijke verhalen, wat ook tot uiting komt in de muziek. Als ik aan Lindgren denk, duikt de muziek van Pippi's beroemde liedje in mijn hoofd op, maar deze filmmuziek bevat geen thema's of leidmotieven en is puur geschreven om de gebeurtenissen op het scherm te ondersteunen.

Voor de muziek gebruikte Schmidt niet veel instrumenten. Het merendeel van de muziek wordt uitgevoerd door een kleine groep strijkers, met in sommige nummers ondersteunt door een piano, harp, mallets of orgel. Het is voor mij heel moeilijk om afzonderlijke nummers onder de loep te nemen, omdat elk nummer meestal melodisch erg uniek is. Als ik naar een soundtrack luister, probeer ik momenten van geluk of verdriet op te sporen, maar in deze filmmuziek zijn de meeste van deze emoties niet echt aanwezig, maar kunnen we in plaats daarvan naar mooie melodieën luisteren. Ik stel voor dat als je nieuwsgierig bent naar de muziek voor deze film, je naar het eerste nummer "Old Astrid" luistert. Als je in dit werk van de prachtige piano en strijkers kunt genieten, zul je de rest van het album waarschijnlijk ook leuk vinden.

Voor filmmuziek zonder duidelijke thema's en leidmotieven zorgen de verschillende melodieën en dergelijke ervoor dat de luisterervaring interessant en verfrissend blijft. De meeste nummers zijn mooi om apart naar te luisteren en daarmee wordt het hele album dus een juweeltje. Het laat zien dat er veel te ontdekken is naast de grote Hollywood-kaskrakers.

Luisteren of kopen
Lijst van nummers
De hoogtepunten zijn vetgedrukt.
Old Astrid (3:04)
Astrid doing Her Chores (1:25)
Walking to the Interview (0:47)
Becoming a Reporter (2:07)
Potato Field (0:55)
Haircut (2:15)
My Bedroom (1:36)
Listening on the Stairs (1:09)
To Stockholm (2:47)
Journey to Denmark (1:48)
Birth (1:13)
Endless Commute (1:33)
Leaving Blomberg (3:40)
Departure from Lasse (1:47)
Despair (2:19)
All Different Trains (1:54)
Goodbye to Marie (2:33)
Blackberries (1:38)
Storytelling in Bed (1:48)
I Am Your Grandpa (1:49)
Together at Church (1:53)
Goodbye to Marie (Alternative Version) (2:35)
In the Rain (0:53)
Totale lengte: 43 minuten
(2018)