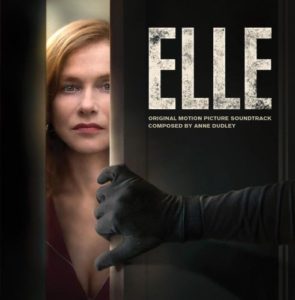 Zowel Soundtrackwereld als regisseur Paul Verhoeven komen oorspronkelijk uit Nederland. Verhoeven heeft al een aantal klassieker op zijn naam staan als regisseur. Turks Fruit, Robocop, Basic Instinct, Total Recall and Starship Troopers om maar een paar op te noemen. Omdat de film Elle een Global Globe heeft gewonnen voor beste buitenlandse film, is dat voor ons een mooie reden om de soundtrack te reviewen. De film gaat over een vrouw die verkracht wordt in haar eigen huis. Ze gaat hier op haar eigen manier mee om. Als hoofd van een computerspelbedrijf krijgt ze kritiek dat haar achtergrond in kunst en literatuur niet genoeg is voor het maken van een goed spel. Met dit als gegeven kun je de melodische mooie lijnen begrijpen die Anne Dudley geschreven heeft om deze vrouw neer te zetten.
Dudley heeft al eerder met Verhoeven samengewerkt: namelijk Verhoeven's film Zwartboek in 2006. Maar het is ook super om te zien dat een film over een vrouw gecomponeerd door een vrouw.
De soundtrack is een compleet pakket van voornamelijk mooie, maar soms ook erg gespannen, melodielijnen. De hele soundtrack is geschreven voor voornamelijk alleen strijkers met af en toe ondersteuning van andere instrumenten. De "Main titles" is een goede aanzet voor de rest van de soundtrack. De meeste nummers op de soundtrack zetten deze mooie melodielijnen voort. Er zijn echter nummers die niet mooi en melodisch zijn. Helaas keert de verkrachting regelmatig terug in de film. A goed voorbeeld hiervan is het nummer "Primal Scream". In dit nummer gaat het mooie "Main Titles" thema over in percussie, synthesizers en strijkers die zeer gespannen motieven spelen. Andere voorbeelden van deze synthesizer en percussie nummers zijn "It Was Necessary" en "A Tortured Soul". "Just Good Friends" en "Fresh Paint" zijn de enige nummers waarin een hele mooie pianomelodie te horen is. Het laatste nummer "A Different Ending" sluit de soundtrack mooi af met een combinatie van een aantal mooie thema's.
Omdat de film veel dialoog heeft zonder muziek en het ook niet-originele muziek bevat is de soundtrack maar 40 minuten. Maar ik kan zonder problemen naar deze 40 minuten naar luisteren.
Luisteren of kopen
Lijst van de nummers op de soundtrack
Vetgedrukt zijn de highlights.
Main Titles
Little Psycho
Unknown Caller
I Stopped Lying
Parole Denied
Primal Scream
A Woman Your Age
It Was Necessary
The Book, The Bell, The Candle
Ash Girl
Just Good Friends
A Tortured Soul
The Shutters
In Control
A Prowler
Fresh Paint
A Different Ending
Totale lengte: 40 minuten
Sony Music Entertainment (2016)