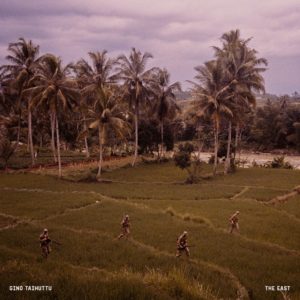 Vele landen hebben hun eigen filmprijzen, met de beroemde Oscars als het beste voorbeeld hiervan. In Nederland zijn de Gouden Kalf prijzen waarschijnlijk de meest prestigieuze en ik kondig al een paar jaar de winnaars in de Beste Muziek categorie aan, maar ik heb nog nooit de muziek van een van de winnaars gerecenseerd. Het is tijd om daar verandering in te brengen door de muziek uit de film De Oost, van de nieuw bekroonde componist Gino Taihuttu, eens van dichtbij te bekijken.
Ik moet bekennen dat ik nog nooit van de film had gehoord, en evenmin van Gino Taihuttu, wat niet echt een verrassing is, want toen ik op IMDB keek, zag ik dat hij slechts een paar soundtracks heeft geschreven. Toen ik naar de muziek van deze film, die zich in Indonesië vlak na de Tweede Wereldoorlog afspeelt, begon te luisteren, begreep ik waarom de jury zo onder de indruk was. Bijna alle muziek van de 33 minuten durende soundtrack wordt uitgevoerd op een paar verschillende melodisch slagwerk instrumenten. Vooral de combinatie van metalen en houten klanken samen zorgt voor een interessante geluidsbeleving. Met deze instrumenten creëerde Taihuttu in vele nummers een eenvoudig, rustgevend en herhalend patroon van slechts een handjevol tonen, met "JOHAN" en "CELEBES" als perfecte voorbeelden. Sommige andere nummers zijn wat meer sound design, met "JUNGLE BY NIGHT" als een intrigerend voorbeeld daarvan, met allerlei vreemde en grillige geluiden op verschillende fluiten.
Als recensent moet ik mijn lezers informeren of een soundtrack goed is of niet, en om eerlijk te zijn vind ik het lastig om een goed antwoord op die vraag te geven. Aan de ene kant hou ik van de keuze van de instrumenten, maar aan de andere kant zijn sommige delen nogal repetitief en gebeurt er niet genoeg om me geïnteresseerd te houden. De score is er niet één waar ik na deze recensie nog actief naar zal luisteren, maar het is wel een aangename luisterervaring als ik iets anders aan het doen ben met deze soundtrack op de achtergrond.
Luisteren of kopen
Lijst van de nummers
De hoogtepunten zijn vetgedrukt.
JOHAN (2:14)
FIELDS OF JAVA (2:04)
WALKING CIRCLES (1:50)
THE LETTER (2:04)
FAMILY PORTRAIT (1:28)
CELEBES (2:00)
JUNGLE BY NIGHT (2:55)
MATTIAS (2:28)
PLANTATION SONG (1:33)
NO WAY BACK (1:25)
GITA (1:46)
THE PURSUIT (1:57)
THE TURK (0:58)
PINK CAMOUFLAGE (2:12)
BURNING KAMPUNG (1:45)
SILENT KILL (1:25)
HANUMAN (1:53)
MATJAN LIAR (0:47)
THE CHURCH (0:31)
Duur: 33 minuten
Barsong Family (2021)