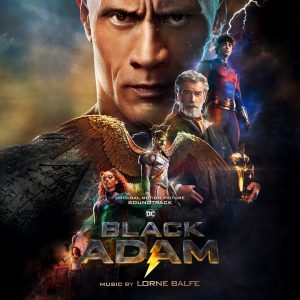 Superheldenfilms hebben me altijd gefascineerd. Ten eerste zijn ze amusant om naar te kijken, met de krachten van de helden, een interessant verhaal en de vele actiescènes. Ten tweede kan, naast het feit dat elke held anders is, de verscheidenheid aan componisten die de soundtracks voor die films schrijven een aantal verrassende scores opleveren. De meest recente superheldenfilm Black Adam had nogal wat belangstelling omdat de beroemde acteur Dwayne Johnson de supermens Black Adam zou spelen, een personage wat zich op de grens bevindt tussen held en schurk. Het mag geen grote verrassing zijn dat een gerenommeerd componist als Lorne Balfe werd aangetrokken om de muziek te schrijven voor zo'n spraakmakende film.
Eén van de opwindende aspecten van soundtracks voor superheldenfilms zijn de thema's. Voor deze film koos Balfe er voor slechts twee te gebruiken, wat niet als bijzonder veel klinkt maar wat één van de redenen is waarom deze score zich onderscheidt. Het hoofdthema voor Adam is te horen in "Black Adam Theme" en het is een van de meest volgepakte thema's die ik in vele jaren gehoord heb. Het nummer begint met een basis door lage strijkers, elektrische gitaren en een bepaald soort gezang, voordat de eerste melodie van het thema begint, die wordt ondersteund door hip-hop elementen. Daarna volgt een tweede melodie, uitgevoerd door het lage koper van het orkest, die overgaat in een passage gezongen door het koor. Nadat initiële gedeelte vloeien de geïntroduceerde melodieën in elkaar over tot het brugdeel van het nummer begint, dat enkele langere melodielijnen bevat. Tot slot eindigt het nummer met het herhalen van enkele eerdere melodieën. Niet alleen maken al deze op elkaar gestapelde melodieën het thema nogal druk, maar ook de uitvoering zelf draagt bij aan de lading, waarbij alle muzikanten en zangers zo hard mogelijk musiceren. De gierende trompetten zijn hier een mooi voorbeeld van. Alles bij elkaar geeft het thema de woede en onheilspellende kracht van Black Adam goed weer.
Het tweede thema voor deze filmmuziek is het "The Justice Society Theme", wat een groep superhelden voorstelt, waaronder Doctor Fate en Hawkman. De melodie van dit thema is wat subtieler dan het brutale Adam-thema: Vooral de vioolsolo maakt het een stuk menselijker en down to earth. Net als het Adam-thema heeft dit Justice Society-thema meerdere melodieën, met een tweede melodie die tegen het einde van het nummer verschijnt, uitgevoerd door een trompet.
Deze twee thema's vormen de basis voor de gehele score voor Black Adam en aangezien beide uit meerdere delen bestaan, kunnen ze op verschillende manieren gebruikt worden. In elk nummer zijn dan ook elementen van één of beide thema's terug te vinden. Hoewel het leuk was om al deze themadelen te ontleden, resulteerde het er ook in dat veel nummers erg druk en luid waren, omdat de thema's zelf op die manier zijn gecreëerd, waardoor de luisterervaring een beetje overweldigend werd. Pas na het zien van de film kon ik begrijpen hoe alle muziek perfect past bij alle over-the-top krachten, emotie en actie op het scherm. Ik denk dat de soundtrack die Lorne Balfe voor Black Adam schreef perfect past bij wat die specifieke superheld voorstelt en vooral beide thema's, met hun meervoudige melodieën, zijn voortreffelijke creaties.
Luisteren of kopen
Lijst van de nummers
De hoogtepunten zijn vetgedrukt.
Teth-Adam (3:32)
Kahndaq (6:09)
The Awakening (3:04)
The Revolution Starts (1:28)
Introducing the JSA (4:40)
Shaza-Superman (2:23)
Our Only Hope (2:05)
Change Your Name (1:26)
What Kind of Magic? (2:10)
Is It the Champion? (0:57)
Your Enemies (1:50)
Black Adam Spotted (1:37)
Not Interested (1:40)
Just Say Shazam (4:10)
Ancient Palace (3:14)
Little Man (1:40)
Time to Go (1:34)
Release Him (0:56)
Father & Son (3:35)
Black Adam Theme (from "Black Adam") (3:56)
Fly Bikes (3:24)
Nanobots (1:33)
Through the Wall (2:54)
23lbs of Eternium (2:27)
Is This the End? (2:04)
It Was Him (5:49)
Lake Baikal (2:59)
Capes and Corpses (1:07)
Hawkman's Fate (2:10)
The JSA Fights Back (2:11)
A Bad Plan Is a Good Plan (1:56)
Dr. Fate (1:20)
Prison Break (2:34)
Wet Rocks (0:54)
Not a Hero (1:22)
The Doctor's Destiny (0:55)
Slave Champion (1:27)
Legions of Hell (2:16)
The Man in Black (0:46)
Adam's Journey (3:50)
The Justice Society Theme (from "Black Adam") (5:12)
Black Adam Theme (iZNiiK Remix) (4:00)
The Justice Society Theme (iZNiiK Remix) (3:52)
Duur: 1 uur en 49 minuten
WaterTower Music (2022)