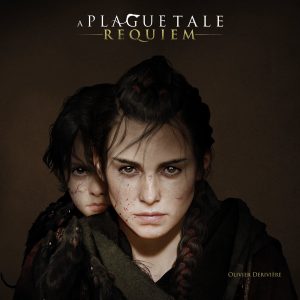 Soms zit ik in een tweestrijd of ik de muziek van vervolgen van games of films van dezelfde componist wel moet recenseren. De belangrijkste reden hiervoor is dat de muziek vaak moet variëren van zijn voorganger, waarbij dezelfde instrumentaties worden gebruikt en bestaande thema's worden herhaald. Gelukkig kunnen componisten hun bestaande materiaal vaak zodanig uitbreiden dat het voor mij de moeite waard word om er toch over te schrijven, zoals het geval is voor de muziek die Olivier Derivière heeft geschreven voor het spel A Plague Tale: Requiem.
Zoals te lezen is in mijn recensie van de voorganger A Plague Tale: Innocence vond ik de muziek geweldig en ik heb de afgelopen jaren een aantal nummers van dat album regelmatig terug geluisterd. Ik was benieuwd naar de nieuwe muziek voor Requiem en na het gehoord te hebben, stelde deze mij niet teleur. Het spel gaat verder met het verhaal van een middeleeuwse broer en zus, die te maken krijgen met grote groepen dodelijke ratten en vele andere tegenstanders die zij tegenkomen. De oudere zus is in het vechten bedrevener geworden en heeft in het nieuwe spel meer mogelijkheden om te zich te kunnen verdedigen, wat ook tot uiting komt in de muziek. Je hoort nog steeds dezelfde schitterende thema's uit het eerste spel, uitgevoerd op vele middeleeuwse instrumenten en door een cellist die mooie melodieën kan uitvoeren, maar ook agressieve strijkslagen op zijn instrument kan maken om spanning te creëren. Naast deze vertrouwde geluiden uit de eerste soundtrack heeft Derivière nog twee muzikale elementen aan de muziek voor Requiem toegevoegd. Het eerste is een middeleeuwse doedelzak, die wordt gekoppeld aan een nieuw personage in het verhaal, maar het tweede element is wat deze muziek geweldig maakt en ervoor zorgde dat ik erover wilde schrijven, namelijk de introductie van een koor. Ik was al helemaal weg van het hoofdthema uit Innocence, maar het koor tilt dit stuk naar een hoger niveau door woorden over de prachtige melodie te zingen, zoals te horen is in "A Plague Tale Requiem".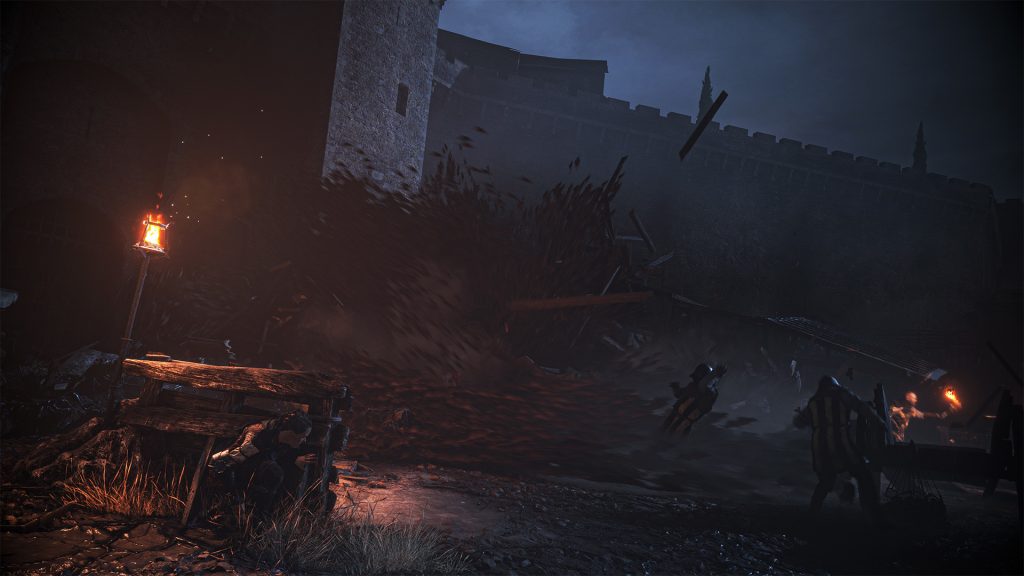 De muziek voor A Plague Tale: Requiem is rustgevender en lievelijker dan in Innocence. Daar is niet alleen het koor verantwoordelijk voor, met veel indrukwekkende nummers in de tweede helft van het album, maar de melodieën in de meeste zijn minder verontrustend dan voor het eerste spel. Het gebrek aan onrust is in zekere zin best onaangenaam als je deze muziekstukken in het spel hoort terwijl er op het scherm gruwelijke moorden plaatsvinden.
Je kunt deze soundtrack beluisteren of kopen op alle gebruikelijke platforms, maar op de Bandcamp-pagina van Derivière kun je een deluxe versie kopen met veel extra nummers. Ik vond de muziek van het eerste spel al geweldig en de muziek voor Requiem is zelfs nog beter.
Luisteren of kopen
Lijst van de nummers
De hoogtepunten zijn vetgedrukt.
A Plague Tale Requiem (4:00)
A Beautiful Morning (1:49)
Hide and Seek (1:16)
The Dream (3:57)
No Turning Back (4:20)
The Friendly Lucas (1:56)
Arnaud's Men (2:30)
The Men After Me (1:16)
The Rage Within (3:15)
Unwilling Violence (3:04)
The Rats and Hugo (1:15)
Reunion (2:42)
A New Foe (3:25)
A Wreck (2:19)
Alone Together (1:25)
Siblings (1:35)
Fragile (1:55)
The Wall (2:11)
The Storm (2:55)
The Island (2:46)
The Child (L'Enfant) (1:58)
The Holy Child (L'Enfant Divin) (2:07)
The Spirit of the Island (3:56)
Heavy Heart (1:18)
The Truth (2:14)
The Night (La Nuit) (5:08)
The Count (1:53)
The Duel (3:02)
A Knight (1:24)
At Peace (1:44)
Love and Friendship (1:18)
Up There (Là‐haut) (4:34)
Brother (4:07)
O Ma Belle Lune (2:17)
Duur: 1 uur en 27 minuten
Ameo Prod, Inc. (2022)