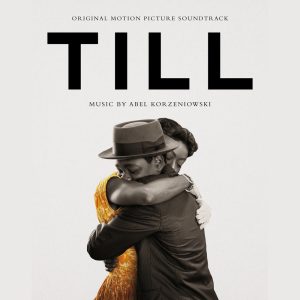 Er gebeurt iets merkwaardigs met films waarvoor Abel Korzeniowski de muziek heeft geschreven. Zoals te lezen is in mijn recensie van The Courier, werd die film wereldwijd op verschillende plaatsen uitgebracht, maar duurde het vele maanden voordat hij in de Nederlandse bioscopen verscheen. Blijkbaar zet die trend zich voort met de film TILL: de meest recente film waarvoor Korzeniowski de muziek heeft gecomponeerd en die op 23 februari 2023 officieel in Nederland uitkomt. Gelukkig is een van zijn sterke punten dat hij beeldschone muziek kan schrijven waar men ook zonder de beelden van de film van kan genieten.
Als het gaat om de muziek voor TILL, hoor ik overeenkomsten met sommige van Korzeniowski's eerdere soundtracks. De belangrijkste reden hiervoor is de keuze van de instrumentatie: het gebruik van strijkers, de piano en enkele aanvullende instrumenten, of kunstmatige geluiden, om de muziek wat meer kleuring te geven. Ik vind het fantastisch hoe hij de muzikanten weet te gebruiken, die zijn heerlijke melodieën uitvoeren, en hoe ze met elkaar samenwerken. In veel nummers hoor je een groep muzikanten de basis leggen waarover anderen hun melodieën kunnen spelen. Ook wisselen ze tijdens veel stukken van rol, waardoor elk instrument een eigen plek krijgt om te kunnen schitteren en waardoor de muziek tegelijkertijd levendig en boeiend blijft.
Er zijn ook enkele verschillen tussen Korzeniowski's eerdere scores en de muziek voor TILL, want het algemene klankbeeld van de filmmuziek is wat treuriger dan ik van hem gewend ben. Ik kan me voorstellen dat dit komt door het tragische verhaal van de film. Het maakt het luisteren naar de muziek echter niet tot een onaangename ervaring, want Korzeniowski's emotionele melodieën en herhalende patronen zijn geruststellend en geven je nog steeds een uitstekende luisterervaring.
Ik kijk altijd uit naar nieuwe muziek van Korzeniowski omdat zijn muziekstijl en melodieën me enthousiast maken en me in een goed humeur kunnen brengen. Vooral na het luisteren naar enkele grote bombastische scores voor blockbusterfilms of grote 'Triple A' videogames, herinnert zijn muziek me er altijd aan dat je niet altijd een groot orkest en koor nodig hebt om een verhaal in een film te ondersteunen. Vaak geldt 'less is more', wat ongetwijfeld het geval is voor de filmmuziek die Abel Korzeniowski voor TILL schreef. Toch zou het een keer leuk zijn om zijn muziek in de bioscoop te kunnen ervaren als er een nieuwe score met zijn muziek is uitgebracht.
Luisteren of kopen
Lijst van de nummers
De hoogtepunten zijn vetgedrukt.
Through the Tunnel (1:42)
Chicago (1:44)
Watch (1:19)
Wolf Whistle (0:44)
They've Come for You! (4:36)
A Perfect Baby (2:49)
The Tallahatchie River (2:09)
Why Is This Happening? (3:28)
Threnody (1:48)
This Is My Boy (4:45)
The Story Must Continue (1:49)
Money, Mississippi (2:24)
Witness (1:53)
We Do the Best We Can (1:46)
I Know What the Verdict Is (1:14)
I'm Ready To Go (4:09)
Emmett's Room (4:01)
Duur: 42 minuten
Mercury Classics Soundtrack & Score (2022)