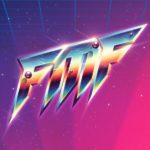 Vorig jaar probeerde het filmmuziekfestival in Krakau iets nieuws: een concert met alleen een piano. Tijdens deze uitvoering werd uiteraard alleen muziek gespeeld gebaseerd op filmmuziek. Aangezien de franse componist Jean-Michel Bernard tijdens de workshops van de vorige editie piano speelde, was het niet meer dan logisch om hem dit jaar een eigen concert te geven.
Als ik Bernard zou moeten omschrijven zou ik gaan voor "Een vrolijke Fransman die graag mag praten". Tijdens de workshop mocht ik graag aanhoren wat hij te vertellen had. Ik was niet verbaasd toen ik hem het podium op zag komen met alleen een grijze broek en een zwarte colbert. Hij begon zijn concert met een mashup van muziek uit allerlei Franse films, inclusief zijn eigen werken. Toen hij hier klaar mee was pakte hij de microfoon voor een klein babbeltje, met zijn sterk Frans accent, met het publiek. Het volgende onderdeel van het programma was een aantal van zijn eigen werken. Hij speelde deze niet alleen: zijn vrouw Kimiko Ono betrad het podium om het liedje "Here with You" uit de film Human Nature te zingen. Ze zong dit heel mooi. Het volgende liedje "Golden Pony Boy" uit de film The Science of Sleep zong Ono ook. Voor dit liedje kwam ook een cellist op het podium om Bernard en Ono te ondersteunen. Deze uitvoering was heel mooi subtiel en charmant.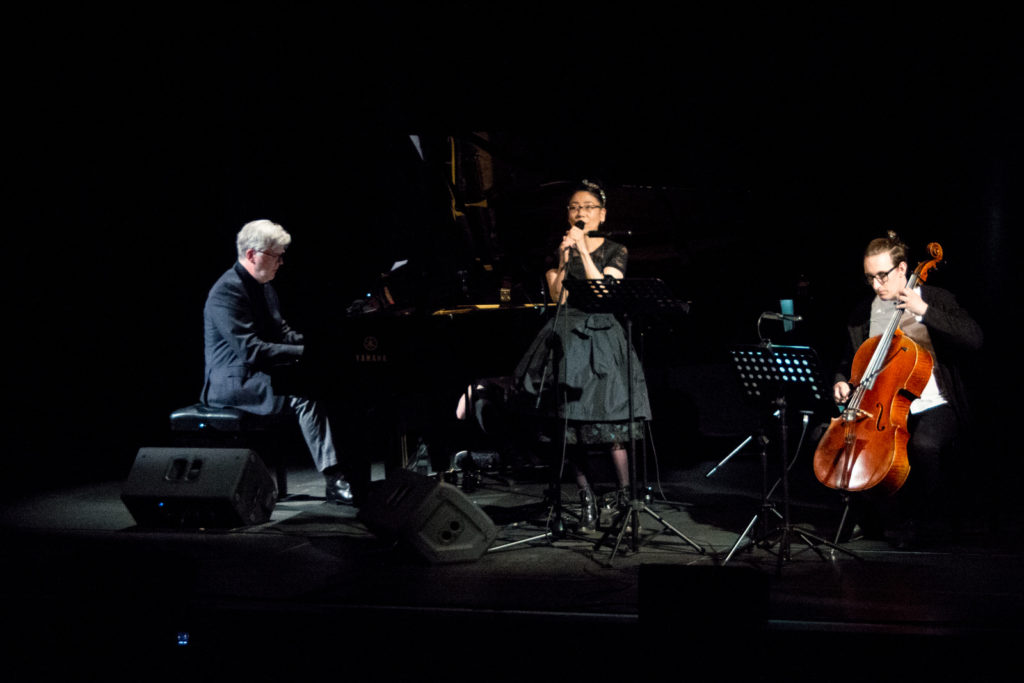 De rest van avond was voornamelijk alleen Bernard op de piano die allerlei klassiekers in de filmmuziek zijn eigen tintje gaf, zoals E.T., Taxi Driver, Mission Impossible en nog veel meer. Ook deed hij nog een grappig "Imperial March" stukje tijdens een liedje tot grote vreugde van het publiek. Vaak sprak hij nog even met het publiek tussen de stukken door. Een paar liedjes werd hij op het podium vergezeld door Sara Andon in een zeer indrukwekkende jurk. De jurk was zo mooi dat Bernard ook even een momentje nodig had om deze jurk in zich op te nemen. Andon is een vaak terugkerende gast op dit muziekfestival en haar vibrato fluitspel was, zoals verwacht, weer zeer precies. Ook Ono kwam nog een keer terug op het podium voor een liedje, en na meer dan twee uur achter elkaar spelen, strekte Bernard nog een keer zijn vingers om het laatste nummer in te zetten.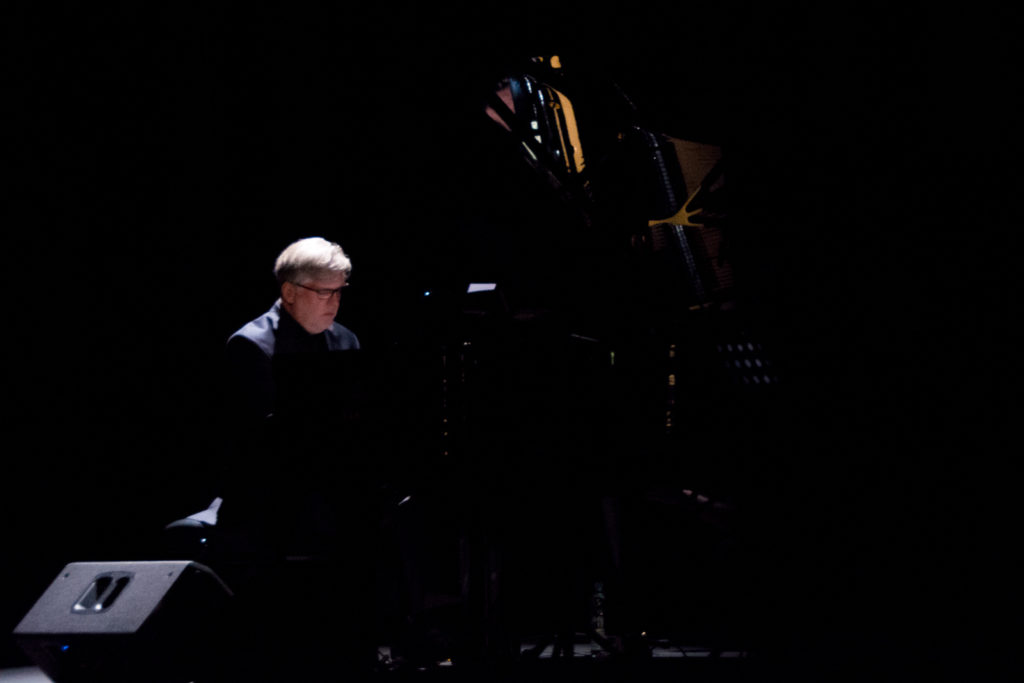 Een avondje uit met Jean-Michel Bernard is zeer vermakelijk. Zijn achtergrond in de jazzmuziek zorgde voor een zeer gevarieerd programma: geen enkel stuk klonk hetzelfde en hij hield het publiek geïnteresseerd in zijn spel. Ook zijn praatjes tussendoor tezamen met zijn medeartiesten zorgden dat de avond fris en vermakelijk bleef. Jean-Michel Bernard liet zien dat voor een geweldig avond met filmmuziek niet altijd een orkest en koor nodig is.
Concertinformatie
Waar en wanneer: Krakau, Polen – 19 mei 2017 tijdens het filmmuziekfestival
Artiesten: Jean-Michel Bernard (piano), Kimiko Ono (zang), Sara Andon (fluit) en Jan Stokłosa (cello)
Programma
Dit programma kan iets afwijken van wat daadwerkelijk is gespeeld.
"Chanson d'Hélène" uit The Things of Life – Philippe Sarde
La Scoumoune – François de Roubaix
Vivre pour Vivre – Francis Lai
Ange et Gabriele – Jean-Michel Bernard
La Science des Rêves – Jean-Michel Bernard
"Hair Everywhere" uit Human Nature – Jean-Michel Bernard
"Here with You" uit Human Nature – Jean-Michel Bernard
"Golden the Pony Boy" uit The Science of Sleep – Jean-Michel Bernard
Radio theme uit Je vous écris du plus lointain de mes rêves – Jean-Michel Bernard
"Mr. Fletcher's Song" uit Be Kind Rewind – Jean-Michel Bernard
E.T. – John Williams
Schindler's List – John Williams
Taxi Driver – Bernard Hermann
Mo'Better Blues – Bill Lee
The Fifith Day of Peace – Ennio Morricone
Merry Christmas Mr. Lawrence – Ryuichi Sakamoto
Cool Hand Luke – Lalo Schifrin
"The Cheketeers Suite" uit The Four Musketeers – Lalo Schifrin (ar. Jean-Michel Bernard)
Mannix – Lalo Schifrin
Mission Impossible – Lalo Schifrin
"That Night" uit The Fox – Lalo Schifrin
Spartacus – Alex North
Basic Instinct – Jerry Goldsmith
One Mint Julep – Rudy Toombs