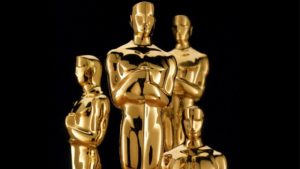 Gisteravond werden de Academy Awards uitgereikt. Deze Oscars worden gezien als de belangrijkste prijs die in de filmindustrie gewonnen kunne worden. Er zijn veel categorieën, maar wij zijn alleen geïnteresseerd in deze twee: "Best Original Score" en "Best Original Song". Hieronder worden alle genomineerden genoemd met de winnaars vetgedrukt.
Best Original Score
Carter Burwell – Three Billboards Outside Ebbing, Missouri
Alexandre Desplat – The Shape of Water
Jonny Greenwood – Phantom Thread
John Williams – Star Wars: The Last Jedi
Hans Zimmer – Dunkirk
Best Original Song
"Mighty River" – Mudbound

Muziek: Raphael Saadiq
Tekst: Mary J. Blige, Raphael Saadiq en Taura Stinson

"Remember Me" – Coco

Muziek en tekst: Kristen Anderson-Lopez en Robert Lopez

"This is Me" – The Greatest Showman

Muziek en tekst: Benj Pasek en Justin Paul

"Mystery of Love" – Call Me by Your Name

Muziek en tekst: Sufjan Stevens

"Stand Up for Something" uit Marshall

Muziek: Diane Warren
Tekst: Common and Diane Warren
Winnaars gefeliciteerd!