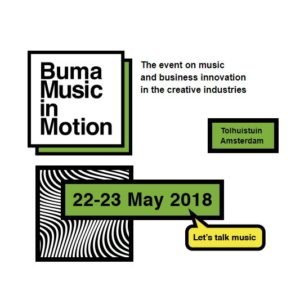 Momenteel vindt het evenement Buma Music In Motion plaats. Ze zeggen zelf over dit evenement:  "The event solely dedicated to the innovative use of music in media that brings together the very best minds and talents in the creative industries".  Meer informatie over dit evenement is te vinden op https://www.buma-music-in-motion.nl. Buma heeft in maart al een awardceremonie gehouden. Maar ze hebben een paar extra categorieën aangekondigd en deze werden tijdens dit evenement uitgereikt.
Hier zijn de winnaars van deze awards:
Buma Award Best Original Composition Documentary, Short Film, Telefilm

Alex Simu voor Back to the Taj Mahal Hotel

Buma Award Best Original Composition in Trailer (for Film, TV, Gaming)

Beau D. Schaepman voor CinemAsia Film Festival Trailer 2017

Buma Music in Motion New Talent Award

Hans Nieuwenhuijsen voor de korte film Catastrophe
Winnaars, gefeliciteerd!