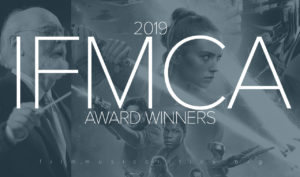 Elk jaar hebben de International Film Music Critics Association hun eigen awards. Deze prijzen hebben niet de glans van een Oscar of een Golden Globe, maar ze worden uitgedeeld door liefhebbers van filmmuziek die deze muziek in hun bloed hebben. Dit maakt hun keuze heel interessant: alle nominaties en winnaars zijn buitengewoon goed.
Hieronder zijn de nominaties voor hun twee hoofdcategorieën met de winnaar vetgedrukt.
Soundtrack van het jaar
Componist van het jaar
Alexandre Desplat
Hildur Guðnadóttir
Bear Mccreary
Thomas Newman
John Williams
Dit zijn niet alle categorieën, ze hebben veel meer subcategorieën. Deze kun je vinden op 2019 IFMCA Awards Winnaars. Of kijk het Youtube filmpje
Proficiat aan alle winnaars!