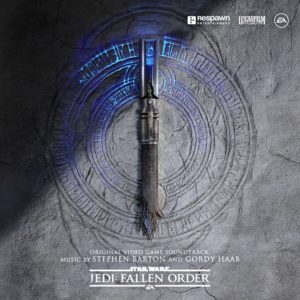 Als je aan muziek voor Star Wars denkt, dan denk je waarschijnlijk aan de muziek van John Williams, maar het Star Wars universum is zo veel groter. Er zijn al films uitgebracht zonder zijn muziek, maar er zijn ook een aantal televisieseries en spellen met muziek geschreven door andere componisten. Dat is ook het geval voor de soundtrack van het spel Star Wars Jedi: Fallen Order met de muziek geschreven door Stephen Barton en Gordy Haab. Het verhaal van het spel gaat over een onervaren Jedi Cal Kestis die zijn leven probeert op te pakken na de dood van zijn leermeester. Barton heeft de muziek voor alle spellen van Respawn geschreven, de studio die ook dit spel heeft gemaakt, maar voor dit project had hij waarschijnlijk wat hulp nodig. Met Haab heeft Respawn meer expertise binnengehaald voor het schrijven van Star Wars muziek, aangezien hij de muziek voor de spellen Star Wars: Battlefront 1 en 2 heeft geschreven.
Het spel is al in november 2019 uitgebracht en als Star Wars-fan heb ik het grootste deel van het spel gezien. Ik was nogal onder de indruk van de wereld en het verhaal, maar ook de muziek was prachtig. Niet alleen klinkt het heel erg als Star Wars, maar het werd ook erkend als prachtige muziek door de critici, zoals blijkt uit het winnen van diverse muziekprijzen, waaronder de ASCAP Composer's Choice Awards voor Video Game Score of the Year. Het was voor mij nogal frustrerend om zoveel lof over de muziek te horen en de uitvoering ervan in het spel te ervaren, terwijl het album nog niet officieel was uitgebracht. Na maanden wachten is het album eindelijk in augustus 2020 op alle digitale platforms verschenen.
Toen ik de officiële soundtrack gevonden had, was ik verbaasd over de hoeveelheid muziek. Het album bestaat uit 44 nummers met in totaal meer dan drie uur aan muziek. Het eerste nummer "Cal Kestis" bevat het prachtige hoofdthema van het spel, dat op zich al een geweldig orkeststuk is om naar te luisteren en ook de rest van de muziek is ook een genot. De muziek klinkt zeer sterk naar de orkestmuziek uit de bekende Star Wars-films. Het voelt alsof Barton en Haab naar elke scène keken en zich afvroegen wat voor soort muziek John Williams ervoor zou componeren. "Fight and Flight" heeft bijvoorbeeld snelle patronen in het koper zoals John Williams heeft gedaan voor de films. Dit alles resulteert in fantastische orkestrale muziek die zeer goed past voor dit deel en deze periode in het Star Wars universum. Als je naar meer orkestrale Star Wars-muziek op zoek bent, geef deze soundtrack dan een goede luistersessie. Ik begrijp helemaal waarom de muziek deze prijzen heeft gewonnen.
Luisteren of kopen
Lijst van de nummers
De hoogtepunten zijn vetgedrukt.
Cal Kestis (5:33)
Jedi Starfighter (2:32)
An Unscheduled Stop (2:24)
The Inquisition (2:45)
Fight and Flight (8:18)
Bogano (5:53)
BD-1 and the Boglings (3:33)
Oggdo Bogdo (5:51)
The Path of the Three Sages (2:48)
To Dathomir (4:43)
Nightsister (3:55)
The Wanderer (4:53)
Kashyyyk (5:27)
AT-AT Hijacked (3:52)
The Mantis Lands (2:30)
Saw's Plan (3:25)
Infiltration (3:14)
Flore and Fauna (4:01)
Wookiee Liberation (3:00)
Saw's Speech (1:19)
Zeffo (3:33)
Project Auger (3:44)
Trilla (1:57)
Crashed Venator (1:54)
Exploring Ancient Tombs (5:59)
The Origin Tree (4:19)
Chieftain Tarfful (2:44)
Flight of the Shyyyo Bird (11:56)
The Ninth Sister (6:18)
Tomb of Kujet (3:15)
Gorgara, The Chyrodactyl (11:38)
Memories of Days Past (4:04)
Broken Saber (6:05)
Ilum (2:52)
Failure Is Not the End (5:28)
A New Saber (2:07)
Confronting the Past (4:14)
Peacekeepers (2:10)
Taron Malicos (5:47)
Merrin (3:11)
Opening the Vault (3:55)
Fortress Inquisitorius (6:36)
The Will of the Force (5:10)
Eno Cordova's Theme (2:44)
Duur: 3 uur en 11 minuten
Lucasfilm Ltd (2020)