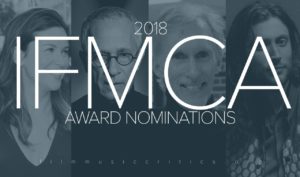 Elk jaar hebben de International Film Music Critics Association hun eigen awards. Deze prijzen hebben niet de glans van een Oscar of een Golden Globe, maar ze worden uitgedeeld door liefhebbers van filmmuziek die deze muziek in hun bloed hebben. Dit maakt hun keuze heel interessant: alle nominaties en winnaars zijn buitengewoon goed.
Hieronder zijn de nominaties voor hun twee hoofdcategorieën met de winnaar vetgedrukt. Daarnaast noemen we dit jaar ook de nominaties en winnaar van "Soundtrack voor beste documentaire" aangezien die geschreven is door onze eigen Matthijs Kieboom, die wij vorig jaar intensief hebben gevolgd. Helaas heeft hij dit jaar deze prijs niet gewonnen.
Soundtrack van het jaar
Black Panther door Ludwig Göransson
First Man door Justin Hurwitz
Mary Poppins Returns door Marc Shaiman
Max And Me door Mark Mckenzie
Solo: A Star Wars Story door John Powell
Componist van het jaar
Roque Baños
Nicholas Britell
Ludwig Göransson
James Newton Howard
Alan Silvestri
Soundtrack voor beste documentaire
Dynasties door Benji Merrison en Will Slater
Free Solo door Marco Beltrami
McQueen door Michael Nyman
Tides Of Fate door Pinar Toprak
Wild door Matthijs Kieboom
Dit zijn niet alle categorieën, ze hebben veel meer subcategorieën. Deze kun je vinden op 2018 IFMCA Awards Winnaars.
Proficiat aan alle winnaars!