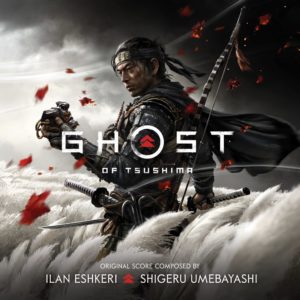 De PlayStation 4-spelcomputer nadert het einde van zijn levenscyclus door zijn opvolger, de PlayStation 5, die eind 2020 uitkomt. Een van de laatste spellen voor de huidige console is Ghost of Tsushima. Veel gamecritici waren verbaasd over hoe mooi het spel er uitziet en hoe goed het presteert op hardware van ongeveer zeven jaar oud. Sommigen vermeldden ook dat ze de muziek in het spel erg goed vonden. Dit maakt het interessant om de soundtrack, geschreven door de Britse componist Ilan Eshkeri en Shigeru Umebayashi uit Japan, onder de loep te nemen.
Bij het werken aan de muziek voor het spel, verdeelden Eshkeri en Umebayashi onderling het werk. Eshkeri richtte zich op het ondersteunen van het verhaal van de hoofdpersoon Jin Sakai, terwijl Umebayashi zich juist richtte op de omgeving daaromheen. Eshkeri schreef de muziek voor Jin Sakai voor zijn reis van een onervaren samoerai naar de antiheld "Ghost", die zwaar betrokken is bij de bestrijding van een Mongoolse invasie op het eiland Tsushima in de 13e eeuw. Hij gebruikt hiervoor een orkest en veel Japanse instrumenten, waaronder een biwa, om een emotionele soundtrack vol rijke melodieën te creëren, die gebaseerd zijn op een prachtig hoofdthema. Het thema is voor het eerst te horen in "The Way of the Ghost", een stuk dat veel emotie met zich meebrengt. Je hoort het verdriet in de hele cue. Het verschijnt in twee solo's: één aan het begin en één aan het einde van het nummer, maar ook in het breed klinkende middendeel met het volledige orkest. Vervolgens blijft Eshkeri het thema op verschillende manieren gebruiken in andere geweldige nummers om die extra emotionele laag toe te voegen aan dat specifieke punt in het verhaal. Aan het einde van Eshkeri's nummers worden we getrakteerd op een andere "The Way of the Ghost", een lied dat gebaseerd is op het thema, dat door Clare Uchima gezongen wordt. Haar stem maakt het thema nog emotioneler, wat ik niet eens voor mogelijk had gehouden.
Na dit lied is het de beurt aan Shigeru Umebayashi om zijn muziek te presenteren met zijn 50 minuten durende "Tsushima Suite". De suite is verdeeld in vijf delen en de muziek wordt gebruikt om de wereld van Tsushima te verbeelden als de hoofdpersoon andere dingen doet in plaats van door het hoofdverhaal te spelen. Hoewel hij ook een orkest met Japanse aanvullingen gebruikt, is zijn muziekstijl heel anders dan die van Eshkeri. Elk deel behoort tot de suite, maar ze kunnen heel goed op zichzelf staan, met elk hun eigen melodie en stijl. Persoonlijk vind ik het tweede deel "Shurai" het mooist met het thema en de strijdkreten.
Twee componisten die aan verschillende onderdelen van hetzelfde project werken, functioneert niet altijd. De muziek kan erg verschillend zijn, omdat deze niet door dezelfde persoon is gecomponeerd en voor andere aspecten van het spel bedoeld is. Dit is absoluut niet het geval voor Ghost of Tsushima. Ik heb het spel niet gespeeld, maar ik zie de muziek voor beide componisten heel goed samengaan. Na het goed beluisteren van de muziek en na het bekijken van delen van het spel op internet, kan ik volledig begrijpen waarom de critici het spel en de muziek ervan prijzen. Het hele album is een plezier om naar te luisteren, waardoor ik kan zien hoe het bijdraagt aan een geweldige beleving voor de speler.
Luisteren of kopen
Lijst van de nummers
1 Ilan Eshkeri 2 Shigeru Umebayashi
De hoogtepunten zijn vetgedrukt.
The Way of the Ghost1 (4:14)
Jin Sakai1 (2:51)
Komoda Beach1 (3:31)
The Way of the Samurai1 (3:19)
Lord Shimura1 (2:15)
No Mercy1 (4:10)
Lady Masako1 (4:01)
A Reckoning in Blood1 (4:35)
The Last of Clan Adachi1 (3:12)
Heart of the Jito1 (4:15)
The Tale of Sensei Ishikawa1 (4:36)
Forgotten Song1 (2:11)
Khotun Khan1 (4:01)
Honour to Ash1 (2:34)
The Fate of Tsushima1 (3:15)
Sacrifice of Tradition1 (4:29)
The Way of the Ghost1 (3:32)
Tsushima Suite: I. Seion2 (9:28)
Tsushima Suite: II. Shurai2 (8:54)
Tsushima Suite: III. Bushido2 (10:17)
Tsushima Suite: IV. Kodoku2 (9:50)
Tsushima Suite: V. Seiiki2 (9:40)
Duur: 1 uur en 49 minuten
Milan (2020)