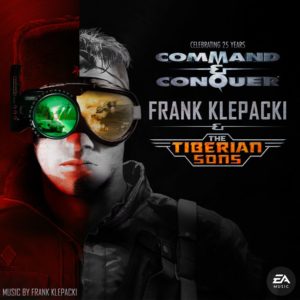 De laatste paar weken heb ik een beetje moeite om nieuwe soundtracks te vinden om te recenseren. Het lijkt erop dat de grote films worden uitgesteld, wachtend tot de bioscopen weer open gaan (tenminste in landen waar de pandemie onder controle begint te raken door grootschalige vaccinaties). Gelukkig meldde een van mijn collega's tijdens een van de online-vergaderingen in mijn dagelijkse werk dat hij was begonnen aan de geremasterde versie van Command & Conquer, een goed onthaald real-time strategiespel uit 1995. Het is recent nieuw leven ingeblazen zodat het op moderne computers kan worden gespeeld, met betere graphics, en, wat voor mij belangrijk is, muziek van betere kwaliteit van Frank Klepacki.
Ik was niet van deze remaster op de hoogte en toen ik de muziek onderzocht, was ik verheugd om nieuwe albums van Klepacki te ontdekken met geremasterde muziek voor Command & Conquer en Command & Conquer: Red Alert, maar ook het compilatiealbum Celebrating 25 Years of Command & Conquer met de beste nummers uit beide computerspellen. Volgens een interview had Klepacki het meeste originele materiaal in zijn bezit en kon hij het mixen met hedendaagse technieken. Van een aantal cues had hij het materiaal echter niet meer, zodat hij zelfs de moeite heeft genomen om sommige nummers zelfs helemaal opnieuw te creëren.
Als je op internet naar Klepacki zoekt, is het eerste wat je opvalt zijn prachtige aangepaste gitaar, met een grote boog vanaf de gitaarbody helemaal tot aan de top van de hals. Als je die plaatjes hebt gezien, zal het niemand verbazen dat de muziek die hij voor de spellen schreef een metal-score is, met uitstekende gitaarriffs, bas, drums, synthesizergeluiden en enkele stemmen uit het spel. Veel nummers op het verzamelalbum worden beschouwd als klassiekers, waaronder "Hell March", "Grinder" en "Act on Instinct", perfect om je hoofd op te laten bewegen terwijl je je met je legers in het spel aan het rondtrekken bent. Afgaand op het aantal luisteraars dat hij op Spotify heeft maar ook de grote aantallen die zijn live concerten hebben bijgewoond, zijn veel mensen zijn al op de hoogte van Klepacki's geweldige muziek. Mocht je daar niet toe behoren en je bent een beetje een metalhead, geef dan zeker zijn nieuwe geremasterde albums een kans. Het is fantastisch om deze geweldige klassiekers op het gebied van gamemuziek te horen in een nog betere kwaliteit dan voorheen.
Luisteren of kopen
Lijst van de nummers
De hoogtepunten zijn vetgedrukt.
Act on Instinct (2:48)
Industrial (2:54)
Target / Mechanical Man (3:02)
Just Do It Up (2:27)
Prepare for Battle (3:23)
Rain in the Night (3:44)
Warfare / Full Stop (3:12)
Bigfoot (5:36)
Workmen (4:24)
Crush (2:58)
Militant Force (2:14)
Dusk Hour (3:54)
Mad Rap (3:38)
No Mercy (3:19)
Slave to the System (2:44)
Got a Present for Ya (2:22)
Grinder 1 & 2 Medley (2:53)
Blow It Up (3:11)
Brain Freeze (4:17)
Command & Conquer (3:03)
Hell March (3:34)
Hell March 2 & 3 Medley (4:12)
Total length: 1 hour and 13 minutes
EA Music (2020)