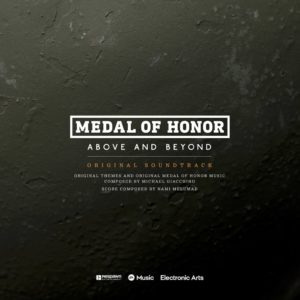 Virtual reality is een van de technologische concepten die de afgelopen tien jaar een opleving heeft meegemaakt. Hoewel het de wereld niet heeft veroverd, zijn er toch een aantal leuke dingen die je ermee kunt doen, en een daarvan is het spelen van videospellen waarin je helemaal op kunt gaan. Een van de nieuwste spellen die voor deze apparaten bedoeld zijn is de recente editie van de Tweede Wereldoorlog-spelserie Medal of Honor genaamd Medal of Honor: Above and Beyond. Ik neem aan dat veel van mijn lezers nog niet eerder van Medal of Honor hebben gehoord, maar componist Michael Giacchino zou wel bekend moeten zijn. Als componist was hij verantwoordelijk voor de muziek van vele spraakmakende films zoals de Jurassic World films, de Spider-Man films, Star Trek, Star Wars: Rogue One, maar ook voor Up, waarvoor Giacchino vele prijzen won, waaronder een Oscar.
Giacchino is al vele jaren componist voor media en hij is vooral bekend geworden door zijn muziek voor de televisieseries Lost en Alias. Mijn eerste kennismaking met zijn muziek was voor het eerste Medal of Honor spel, dat een van de eerste soundtracks was die hij heeft geschreven. Ik weet nog hoe geweldig ik de orkestrale muziek voor dat spel vond, meer dan 20 jaar geleden. Ik was daarom ook erg enthousiast over de aankondiging dat hij terug zou keren voor Above and Beyond na zoveel jaar.
Toen ik deze soundtrack bestudeerde, ontdekte ik dat Giacchino allen verantwoordelijk was voor de thema's voor dit spel, waaronder een schitterend hoofdthema. Daarnaast bevat het album ook wat van zijn muziek uit drie eerdere Medal of Honor games. De componiste die dit alles samenbracht was de Israëlisch-Nederlandse Nami Melumad, met wie Giacchino al eerder heeft samengewerkt en wel voor de film An American Pickle.
Wat ik zo mooi vind aan de originele Medal of Honor-soundtrack, die mij 20 jaar geleden attendeerde op Michael Giacchino, is de orkestrale muziek, die een zekere rust uitstraalt en de heldenmoed van de soldaten tijdens die oorlog eert. Ik was erg blij tijdens het luisteren dat Medal of Honor: Above and Beyond die traditie in ere houdt. Elk nummer is een prachtig orkestraal stuk in dezelfde stijl als het uitstekende hoofdthema. Met uitzondering van de thema's aan het begin van het album weet ik niet zeker welke muziek door Giacchino of Melumad geschreven is, maar het klinkt allemaal geweldig. Ik wist natuurlijk al dat Giacchino een fantastische componist is, maar ik moet ook Nami Melumad, met wie ik blijkbaar een halve nationaliteit deel en daarnaast al veel prijzen heeft gewonnen, in de gaten gaan houden. Ik denk dat ze een mooie toekomst in het verschiet heeft.
Luisteren of kopen
Lijst van de nummers
Nummers 1-5 zijn door Michael Giacchino gecomponeerde thema's. De andere zijn door beide geschreven.
De hoogtepunten zijn vetgedrukt.
Medal of Honor: Above and Beyond (Main Theme) (4:22)
Juliette's Theme (4:46)
Marcel (1:30)
Louis (2:11)
Dr. Gronek (1:48)
Chatsworth Girl (2:13)
The Vino Brothers(2:03)
Dubuisson 1943 (3:20)
The Hotel Dubuisson (2:49)
A Daring Plan (4:13)
First Class Ticket (2:24)
Combat Drop (2:56)
Black Forest Express (3:52)
World's Worst Landing (2:26)
House To House (3:01)
Armored Chess (3:26)
U-Boat Pens (2:37)
Inside Scuttle (3:09)
Dive Dive Dive! (4:01)
Alpine Approach (3:09)
Sneaky Penstocks (3:07)
Set Final Charges (4:04)
After the Crash (2:37)
Capturing Dr. Gronek (3:30)
Pennemünde (3:09)
Bonus Track: Stingers (3:02)
Duur: 1 uur en 19 minuten
Electronic Arts Music (2020)