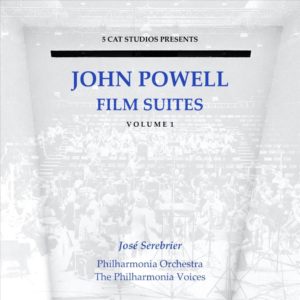 Voordat de pandemie uitbrak, had ik al heel wat concerten bijgewoond die geheel gewijd waren aan de filmmuziek van één componist. Het meest toonaangevende voorbeeld is Hans Zimmer, die in staat is sportarena's uit te laten verkopen, maar ook andere componisten hebben fantastische concerten in kleinere zalen gegeven, waarvan James Newton Howard en Michael Giacchino prachtige voorbeelden zijn. Concerten van sommige componisten heb ik zelfs meer dan eens bijgewoond: ik heb Joe Hisaishi meerdere malen gezien, maar ik ben ook naar Spanje, Duitsland en Tsjechië afgereisd om naar John Powell, een van mijn favoriete componisten, te luisteren, en hem hopelijk ook te ontmoeten.
Omdat ik nogal wat concerten van John Powell heb bijgewoond, heb ik veel van zijn muziek gehoord in de vorm van muzikale suites, die zeer geschikt zijn voor concerten. In plaats van de bladmuziek voor een volgend concert op te bergen, besloot Powell deze naar het Philharmonia Orchestra en de Philharmonia Voices, onder leiding van José Serebrier, te sturen. De muziek is door hen opgenomen en is uitgebracht als een digitaal album met de titel Film Suites Vol. 1.
De muziek op dit album is afkomstig uit een breed scala van Powells vroege repertoire. Je kunt luisteren naar suites van zijn muziek uit live-action films, met X-Men: Last Stand, The Bourne Identity en Mr. & Mrs. Smith, maar ook uit animatiefilms met de eerste twee How to Train Your Dragon films, Ice Age: The Meltdown en Chicken Run. Daarnaast kan je ook naar de romantische kant van Powell luisteren, met "Love Theme" uit Two Weeks Notice. Het laatste nummer dat ik nog niet genoemd heb, is "The Great Tree" uit Endurance, een werk uit een van zijn eerste soundtracks, dat mij vrij onbekend was. Het bevat melodielijnen van allerlei instrumenten die in elkaar overvloeien.
De nummers op dit album klinken anders dan de oorspronkelijke versies, omdat er veel nabewerking wordt gedaan aan de muziek voor een film nadat deze door een orkest is opgenomen. Deze suites zijn perfect aangepast voor de opnamen van dit album en ze geven een goede indruk van hoe Powells voortreffelijke muziek zou klinken in een concertzaal. Als je de programma's bekijkt van de concerten die ik heb bijgewoond, zul je zien dat er een aantal suites op dit album ontbreken. Dit is wat mij betreft uitstekend nieuws, want de kans is groot dat we een Volume 2 zullen gaan zien. Ik heb genoten van al zijn concerten die ik heb bijgewoond en de muziek van Volume 1, en hopelijk van een toekomstige Volume 2, is een fantastische manier om prachtige concertversies van Powell's muziek bij een groter publiek onder de aandacht te brengen.
Luisteren of kopen
Lijst van de nummers
De hoogtepunten zijn vetgedrukt.
"Building the Crate" Suite from Chicken Run (3:48)
"Assassin's Tango" from Mr. & Mrs. Smith (5:17)
Suite from How to Train Your Dragon (10:01)
"Love Theme" from Two Weeks Notice (4:42)
"Main Title" from The Bourne Identity (4:26)
Suite from Ice Age: The Meltdown (5:20)
Suite from X-Men: The Last Stand (4:47)
"The Great Tree" from Endurance (3:14)
Suite from How to Train Your Dragon 2 (7:32)
Duur: 49 minuten
5 Cats Studio (2020)