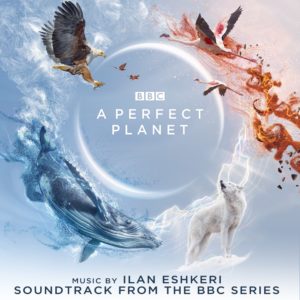 Als je een voorliefde voor natuurdocumentaires hebt, ben je waarschijnlijk wel bekend met de fantastische documentaires van de BBC, alle ingesproken worden door Sir David Attenborough. In de loop der jaren zijn er vele geproduceerd en sommige bevatten uitstekende muziek van bekende componisten zoals Hans Zimmer en Steven Price. De laatste editie is A Perfect Planet, met muziek van Ilan Eshkeri.
De aandacht van A Perfect Planet gaat uit naar vijf natuurkrachten: vulkanen, zon, weer, oceanen en de mens. Elk van de vijf afleveringen concentreert zich op een van hen, met korte verhalen over dieren die zich ergens op de planeet bevinden en die op een of andere manier met die specifieke natuurkracht verbonden zijn. De benadering die Eshkeri koos, was om elk verhaal te behandelen als een eigen entiteit die met muziek moet worden ondersteund.
Als ik bij elk nummer in detail zou treden dan zou deze recensie meerdere pagina's lang worden, dus ik zal daarom enkele nummers bespreken die er voor mij uitsprongen. Het eerste is "Flamingos" met een absoluut prachtige en emotionele melodie, die van het begin van het nummer tot het einde blijft herhalen, maar terwijl dat gebeurt, klinkt zij elke keer anders. Na twee minuten van "Wildebeest" hoor je een fantastisch stuk van snelle patronen met een grillig klinkende melodie er overheen gelegd. Dit jachtthema komt gedurende de serie meerdere malen voor en in "Arctic Foxes" staat de melodie van dit thema zelfs centraal.
De meeste nummers bevatten orkestrale muziek met extra instrumenten of zang. "Sooty Shearwaters" is een prachtig voorbeeld van een mooi orkestraal nummer met een opbouw naar een prachtige finale. Sommige andere nummers maken gebruik van minder traditionele geluiden. "Silver Ants" is bijvoorbeeld een muziekstuk dat vreemde snaargeluiden mengt met elektronica. "Manta Rays" is ook een nummer met veel elektronische geluiden in combinatie met traditionele strijkinstrumenten.
Hoewel ik slechts enkele nummers, die gebruikt worden om de kleine verhalen te ondersteunen, genoemd heb, wil dat niet zeggen dat de andere nummers een mindere luisterervaring zijn, want ik heb geen enkel nummer op dit album gevonden dat ik niet goed vond. Elk van hen is perfect in het ondersteunen van de beelden en geen van hen zit Attenborough's prachtige stem in de weg.
Een potentiële valkuil van elk verhaal als zijn eigen muzikale entiteit beschouwen is de kans om een algemene identiteit voor de serie te verliezen door al die verschillende melodieën en instrumentaties. Maar om dat tegen te gaan gebruikt Eshkeri een eenvoudig maar prachtig hoofdthema dat steeds weer opduikt om alle afzonderlijke delen samen te verbinden. Het mag dan ook geen verrassing zijn dat het meteen aan het begin van het album te horen is in "A Perfect Planet," waarin je verschillende variaties van de melodie kunt horen, uitgevoerd door verschillende instrumenten en zang, waaronder een kinderkoor. Het hoofdthema is voor mij verreweg het hoogtepunt van dit album, en ik was blij om het meerdere keren op het album tegen te komen. Vooral de versie met de snelle fundering van strijkers, die bijvoorbeeld te horen is in "Volcanoes" en in het laatste nummer "A Changing Planet", is uitstekend, maar andere versies zijn ook prachtig, bijvoorbeeld in nummers zoals " Sunlight", "Summer" en "Autumn".
Terwijl ik naar de serie keek, was ik vol bewondering over hoe prachtig en inventief de natuur kan zijn. De indrukwekkende beelden zijn adembenemend en ik denk dat de fraaie muziek van Eshkeri perfect bijdraagt aan de magie. In interviews heeft Eshkeri meerdere malen gezegd dat zijn vijfjarige dochter het hoofdthema continu zat te neuriën, en dat deed me wel glimlachen, want dat is precies wat ik als volwassene ook heb ervaren. Ik krijg het prachtige thema maar niet uit mijn hoofd. In de interviews werd ook vermeld dat het moeilijk was om de muziek tijdens de pandemie op te nemen, maar dat gezegd hebbende, is de soundtrack als resultaat daarvan een zeer sterk en tegelijkertijd een prachtig begin van het jaar 2021.
Luisteren of kopen
Lijst van de nummers
De hoogtepunten zijn vetgedrukt.
A Perfect Planet (3:14)
A Perfect Balance (Episode 1 – Volcanoes) (2:17)
Wildebeest (Episode 1 – Volcanoes) (3:51)
Flamingos (Episode 1 – Volcanoes) (6:21)
Vampire Finches (Episode 1 – Volcanoes) (3:31)
Bears (Episode 1 – Volcanoes) (6:05)
Volcanoes (Episode 1 – Volcanoes) (2:09)
Sunlight (Episode 2 – Sunlight) (1:29)
Gibbons (Episode 2 – Sunlight) (2:34)
Arctic Foxes (Episode 2 – The Sun) (4:30)
Silver Ants (Episode 2 – The Sun) (3:02)
Autumn (Episode 2 – The Sun) (1:38)
Snub-Nosed Monkeys (Episode 2 – The Sun) (2:44)
Sooty Shearwaters (Episode 2 – The Sun) (4:29)
Fire Ants (Episode 3 – Weather) (4:30)
Giant River Turtles (Episode 3 – Weather) (4:25)
Red Crabs (Episode 3 – Weather) (3:52)
Summer (Episode 3 – Weather) (1:31)
Dry Season Pt. 1 (Episode 3 – Weather) (2:32)
Dry Season Pt. 2 (Episode 3 – Weather) (4:10)
A Changing Climate (Episode 3 – Weather) (1:53)
Marine Iguana (Episode 4 – Oceans) (4:16)
Cuttlefish (Episode 4 – Oceans) (3:24)
Mangroves (Episode 4 – Oceans) (4:29)
Manta Rays (Episode 4 – Oceans) (3:52)
Spring (Episode 4 – Oceans) (1:02)
Hardyheads (Episode 4 – Oceans) (3:00)
Rockhopper Penguins (Episode 4 – Oceans) (4:16)
Eden's Whales (Episode 4 – Oceans) (3:20)
Elephant Orphans (Episode 5 – Humans) (2:40)
Climate Refugees (Episode 5 – Humans) (2:28)
The Rainforest (Episode 5 – Humans) (2:49)
Reforestation (Episode 5 – Humans) (1:40)
A Changing Planet (Episode 5 – Humans) (4:28) (3:14)
Duur: 1 uur and 52 minuten
Sony Classical (2021)