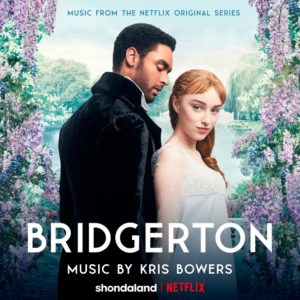 Een van de nieuwste hits op Netflix is het kostuumdrama Bridgerton, een televisieserie over een grote rijke familie rond 1800. Miljoenen mensen hebben de show gebinged maar helaas zal ik daar niet één van zijn, want ik ben niet in staat om langer dan tien seconden naar een drama te kijken. Aan de ene kant ben ik content met de extra tijd die ik daardoor kan besteden aan andere dingen, maar aan de andere kant vind ik het jammer dat ik niet in staat ben om te zien hoe de muziek van Kris Bowers in de serie tot zijn recht komt. Ik heb zijn naam de afgelopen jaren al vaker voorbij horen komen en ik maakte voor het eerst kennis met zijn muziek toen ik Green Book in de bioscoop zag. Na het beluisteren van de soundtrack van Bridgerton besloot ik dat de muziek die hij ervoor geschreven heeft wel wat aandacht verdient, met deze leit review als gevolg.
De orkestrale muziek die Bowers heeft bedacht, past goed bij een serie die zich twee eeuwen geleden afspeelde. De meeste nummers bestaan uit prachtige melodieën, meestal uitgevoerd door de strijkers van het orkest, met hier en daar wat ondersteuning van de houtblazers en de piano. Wat me echt opviel, is het feit dat alle nummers alleen het orkest worden gespeeld. Bowers gaat echter nog een stapje verder door sommige nummers in de klassieke stijl te componeren, alsof het in de tijdsperiode van Bridgerton was geschreven.
Een van mijn goed bewaarde geheimen is het feit dat, hoewel ik van veel orkestrale filmmuziek hou, ik niet dol ben op klassieke muziek. Ik heb een paar klassieke concerten bijgewoond maar het is niet echt mijn soort muziek. Om de een of andere rare en wonderbaarlijke reden, hou ik echter wel van wat Bowers voor deze serie heeft geschreven. Helaas zal ik waarschijnlijk deze serie nog steeds niet kunnen trekken en dat is best jammer, want ik heb gehoord dat zij best goed is. Ik weet in ieder geval dat de muziek indrukwekkend is.
Luisteren of kopen
Lijst van de nummers
De hoogtepunten zijn vetgedrukt.
Flawless My Dear (1:43)
The Latest Whistledown (1:34)
We Could Form an Attachment (3:07)
Shock and Delight (4:02)
Simon and Lady Danbury (4:42)
What Women Do Best (2:47)
Call Me Simon (0:58)
Sommerset House (1:05)
When You Are Alone (2:46)
Feeling Exceptional (3:10)
What You Saw Was a Lie (5:15)
The Duel (7:13)
A Love Based on Friendship (4:19)
All is Fair in Love and War (2:20)
Miserable Together, Happy Apart (3:34)
Come With Me (2:27)
One Last Dance (2:44)
Love is a Choice (2:20)
A Grand Finish (3:33)
Duur: 59 minuten
Lakeshore Records (2020)