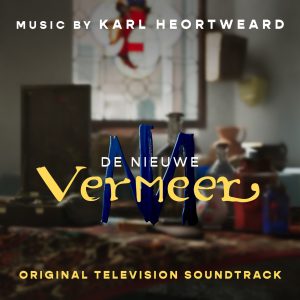 Johannes Vermeer is een van de beroemdste Nederlandse schilders uit de 17e eeuw. Hij heeft magnifieke wereldberoemde werken gemaakt, waaronder Het melkmeisje en Meisje met de parel. In het Nederlandse televisieprogramma De Nieuwe Vermeer proberen creatieve geesten verloren gewaande schilderijen van Vermeer nieuw leven in te blazen door hun eigen kunstwerken te creëren, maar dan wel in de geest van de beroemde schilder. De Nederlandse componist Karl Heortweard verzorgde de muziek voor deze serie. Hij is al vertrouwd met televisie en kunst, want hij schreef ook de muziek voor Project Rembrandt, waarvan ik de soundtrack van het tweede seizoen heb gerecenseerd.
Zoals al vermeld in mijn recensie van Project Rembrandt, was ik behoorlijk ingenomen met de verzameling heerlijke deuntjes die Heortweard voor die serie had geschreven en ik hoor de voortzetting van die trend in de muziek voor De Nieuwe Vermeer. Op het album staan 31 korte nummers. Elk daarvan is een op zichzelf staand stuk met opbeurende melodieën en orkestrale elementen, voornamelijk door strijkers en houtblazers, gecombineerd met aanvullende instrumenten en andere geluiden.
Omdat de kunstenaars een schilderij niet perfect de stijl van Vermeer hoeven na te bootsen, zijn er allerlei verschillende andere soorten kunstwerken te bewonderen. Dit concept is ook van toepassing op de muziek voor De Nieuwe Vermeer. In zekere zin kan "The Great Expedition" worden gezien als een origineel schilderij van Vermeer, waarbij het orkestrale thema beeldschoon maar ook traditioneel van klank is, terwijl vele andere nummers kunnen worden gezien als andere vormen van muzikale kunst. "Figuring it Out" en "Moments of Bliss" met synthesizerklanken maken de muziek bijvoorbeeld meer futuristisch. Nummers zoals "Wonder", met de prachtige cellosolo en "Ripening the Idea", met het geluid van het masseren met een natte vinger van de bovenkant van glazen, maken de muziek daarentegen meer menselijk.
Net als bij Project Rembrandt is de soundtrack een heerlijke luisterervaring met allerlei verschillende en boeiende melodieën. Het televisieprogramma draait voornamelijk om discussies over kunst en de beroemde schilder. Er is daardoor helaas weinig ruimte voor de muziek van Heortweard om te schitteren tussen alle dialogen en ze is vaak alleen zacht op de achtergrond te horen. Maar gelukkig hebben we dit uitstekende album om er alsnog naar te kunnen luisteren.
Luisteren of kopen
Lijst van de nummers
De hoogtepunten zijn vetgedrukt.
The Great Expedition (1:32)
Swimmingly (1:35)
Trial and Error (1:17)
Messing Around (1:54)
Figuring it Out (1:36)
Wonder (1:26)
Making Steps (1:50)
Peeling Off the Layers (1:24)
Working on Sunday (1:25)
A Fruitful Search (1:39)
Cracking the Code (1:31)
I'm Losing It (1:33)
Like a Breeze (1:48)
I Found Something (1:31)
It's All in the Details (1:50)
Almost Done (1:15)
Distractions (1:19)
Gone Missing (1:42)
Dreaming of Pearl Earrings (1:39)
Moment of Bliss (1:23)
Time's Up (1:05)
Looking for Answers (1:39)
With Some Resistance (1:52)
On a Mission (1:23)
Ripening the Idea (2:13)
All Rise for the Jury (1:28)
The Master's Test (1:42)
Hidden Depths (1:41)
Bright Strokes (1:24)
Rising to the Occasion (1:43)
Getting Somewhere (1:43)
Duur: 49 minuten
Heortweard (2023)