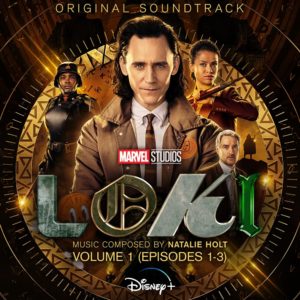 Als er een nieuwe Marvel-productie wordt aangekondigd, ben ik altijd benieuwd of de componist een Marvel-veteraan is of een nieuweling voor de franchise. Dat laatste is het geval voor Natalie Holt, die de muziek voor de nieuwe Marvel-televisieserie Loki heeft geschreven. Niet alleen heeft Holt nog niet eerder voor Marvel geschreven, maar daarnaast ben ik haar naam ook nog nooit eerder tegengekomen. Ik keek er dan ook naar uit om haar muziek voor deze recensie te verkennen.
Loki is beschikbaar op Disney+ en Disney staat erom bekend voor elk seizoen meerdere soundtrack albums digitaal uit te brengen. In het geval van Loki zijn er twee albums gereleased, voor beide helften van het seizoen, enbeide zal ik in deze recensie behandelen. Ik luister altijd graag eerst naar de muziek voor ik naar de serie ga kijken en ik was erg geïntrigeerd toen ik de muziek voor Loki voor het eerst hoorde. De muziek is een mix van verschillende stijlen, met onder andere analoge synthesizergeluiden, orkestrale elementen, emotionele momenten door een cello en mijn favoriete toevoeging aan de muziek: een grote rol voor de theremin.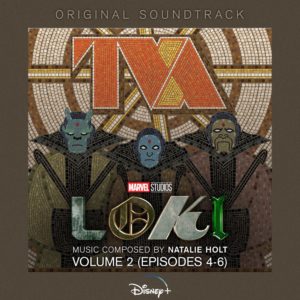 Het zien van de beelden is zeker nodig om deze ongewone combinatie van instrumenten te begrijpen, maar de muzikale stijl past zeer goed bij de serie. De esthetiek van de show heeft veel weg van science fiction films uit de jaren '50, wat het gebruik van de theremin perfect verklaart, maar andere scènes uit de serie spelen zich ook af in verschillende tijdsperiodes en naast impactvolle en serieuze climaxen, zijn er ook enkele dwaze momenten. De muziek die Holt voor dit alles heeft geschreven past perfect bij al deze stijlen, maar terwijl ze dat doet, verandert het algemene gevoel voor de muziek nauwelijks, wat het voor mij een aangename luisterervaring maakt. Als je een indruk wilt krijgen van deze muziekstijl, raad ik je aan om naar de nummers "TVA" en "Loki Green Theme" te luisteren.
Het ontdekken van nieuwe componisten is iets wat ik erg leuk vind. Elke componist heeft haar eigen ideeën en muziekstijlen. Ik heb nog geen ander werk van Natalie Holt gehoord, maar wat ik wel weet is dat Loki heel anders is dan ander materiaal uit het Marvel universum en wat Natalie Holt ervoor heeft geschreven is vrij uniek, vernieuwend en past heel goed bij de serie. Bovendien is de muziek op zichzelf ook prima om naar te luisteren. Ik vind het een voortreffelijk debuut van Holt in het Marvel universum.
Luisteren of kopen
Lijst van de nummers
De hoogtepunten zijn vetgedrukt.
Episodes 1-3
TVA (2:28)
New York, 2012 (1:30)
Gobi, 2012 (3:00)
TVA First View (1:06)
Loki Green Theme (2:24)
Loki Processing (2:16)
Aix‐En‐Provence, 1549 (2:34)
Miss Minutes (2:00)
Mischievous Scamp (1:28)
Dangerous Variant (1:37)
Frigga (2:21)
TVA Inner Workings (1:48)
DB Cooper (1:35)
Oshkosh, 1985 (1:53)
Catch Up (1:37)
Jet Ski (2:11)
Glorious Purpose (2:34)
The Archives (2:08)
Salina, 1858 (1:39)
Roxxcart, 2050 (2:06)
I Miss Randy (1:52)
Reset Charges (2:27)
TVA Title Card (1:38)
Very Full (1:25)
Duur: 49 minuten
Episodes 4-6
Headless (2:17)
Temptation (2:12)
Pep Talk (4:04)
Wild (4:05)
Time Loop (2:13)
Lokius (3:00)
Alligator Bite (3:11)
God of Outcasts (2:53)
Reunion (2:37)
Secret Hide Out (1:51)
Goodbyes (3:26)
Living Storm (2:18)
Classic Builds (2:41)
Time (2:45)
Pruned (2:44)
Ravonna's Mission (2:07)
B15's Memories (1:24)
Ohio, 2018 (2:55)
Fibbed (4:12)
Stop (3:17)
Be (4:58)
Back in the TVA (2:12)
He Who Remains (2:55)
Duur: 1 uur and 6 minuten
Hollywood Records (2021)