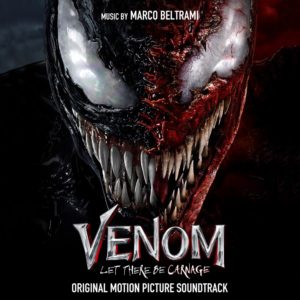 Een van de meest succesvolle filmfranchises moeten de films zijn die gebaseerd zijn op de Marvel superhelden. De meeste daarvan worden door Disney geproduceerd en zijn meestal gericht op de Avengers, maar niet allemaal, want de Spider-Man licentie is eigendom van Sony. De menselijke spin is de enige Marvel superheld van het bedrijf en omdat de laatste Spider-Man films het goed deden, besloten ze creatief te zijn en maakten ze de film Venom, die gebaseerd is op een schurk uit het Spider-Man universum. Blijkbaar was de film succesvol genoeg voor een vervolg Venom: Let There Be Carnage.
De muziek voor de eerste film werd gecomponeerd door Ludwig Göransson, maar wat vaak het bij een vervolg gebeurt, is dat de opdracht aan een andere componist wordt gegeven. In dit geval aan Marco Beltrami, die ook voor andere Marvel films heeft geschreven, namelijk Logan en Wolverine. De muziek die Beltrami heeft gecomponeerd voor Venom 2 is vooral orkestraal, met wat elektrische gitaren er doorheen gemixt, en heeft meestal een ondersteunende rol voor de scènes.
Terwijl de meeste muziek voor ondersteuning zorgt en daarmee niet zo aangenaam is om er los naar te luisteren, heeft Beltrami daarnaast ook een aantal interessante ideeën uitgewerkt. Een prachtig voorbeeld hiervan is "Eddie Draws", met allerlei maffe en leuke geluiden, maar waar ik het meest van geniet zijn de twee hoofdthema's voor hoofdrolspeler Eddie Brock – met de Venom symbioot – en de massamoordenaar Cletus Kasady – met de parasiet Carnage. De reden waarom ik ze zo mooi vind, is dat ze allebei een basis hebben in de piano, maar dan op totaal verschillende manieren. Voor Brock is het thema als een blues, zoals te horen is in "Venom and Blues", wat op de piano begint, voordat het overgaat in een orkestraal werk. Het thema van Cletus is nog glorieuzer. Zijn thema is angstaanjagend en wordt gespeeld op een piano waarbij het klinkt alsof een toets van die piano kapot is en een hogere toon produceert als deze wordt aangeraakt. Het thema is te horen in "St. Estes Reform School", samen met meer prachtige, maar ook griezelige, geluiden.
De meeste muziek van het album is voor mij vrij gemakkelijk te vergeten, omdat deze de film nodig heeft vanwege de context, maar er zijn toch enkele juweeltjes te vinden, zoals ik hierboven al heb beschreven. Ik zal na deze recensie waarschijnlijk niet veel meer aan deze filmmuziek denken, maar als een van de thema's willekeurig in mijn Spotify-lijst opduikt, ben ik er zeker van dat het mij zal laten glimlachen.
Luisteren of kopen
Lijst van de nummers
De hoogtepunten zijn vetgedrukt.
St. Estes Reform School (Extended) (3:26)
Cletus' Cell (2:44)
Eddie Draws (1:30)
Brock's Revival (0:59)
Lucky Slaughterhouse (1:45)
Ann's News (1:06)
Take the Hit (1:29)
Postcard From the Edge (1:52)
No Touching! (3:31)
Eddie Hangs on the Line (1:03)
Lethal Rejection (2:04)
Carnage Unleashed (2:04)
Mulligan Visits Eddie (2:45)
There is Only Carnage (1:40)
Get Shriek (2:39)
The Great Escape (2:19)
Venom Needs Food (1:15)
People Seeing Monsters (1:30)
Find Venom (1:56)
Turn on the Charm (1:40)
Eddie Escapes (2:25)
Shriek Comes Home (2:23)
You Can Eat Them All (1:38)
Unholy Matrimony Pt. 1 (6:16)
Unholy Matrimony Pt. 2 (4:02)
He Did Not Taste Good (2:17)
Panza and Quixote (1:00)
Venom and Blues (2:33)
Venom's Suite Tooth (3:12)
Brock and Roll (2:44)
Duur: 1 uur en 7 minuten
Sony Classical (2021)