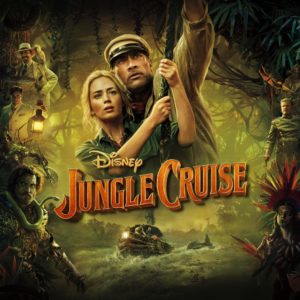 Disney en James Newton Howard kunnen het blijkbaar zakelijk goed met elkaar vinden. Na een voortreffelijke soundtrack voor Raya and the Last Dragon eerder dit jaar, schreef hij ook de muziek voor de spraakmakende Disney-film Jungle Cruise. Deze film is gebaseerd op een attractie die in veel Disney-parken te vinden is. De film is ook een avonturenfilm zoals Pirates of the Caribbean en Indiana Jones en heeft Dwayne Johnson als Frank en Emily Blunt als Lily in de hoofdrol. Voor de muziekstijl, creëerde Howard een volledig orkestrale score. Er zijn wel wat andere instrumenten te horen, zoals Spaanse gitaren, elektrische gitaren, drums en fluiten, maar het merendeel van de muziek wordt uitgevoerd door een volledig orkest.
Er zijn twee grote hoogtepunten op het album te vinden. Het eerste is een suite die de meeste thema's bevat en is het eerste nummer op het album met de titel "Jungle Cruise Suite". In dit acht minuten durende nummer hoor je zo'n zeven of acht thema's voor de meeste personages en concepten uit de film, te beginnen met de speels klinkende thema's voor Frank en Lily en tegen het einde kun je naar het prachtige thema luisteren dat de schat voorstelt waar Frank en Lily naar op zoek zijn. Dit laatste thema is geweldig geschreven in een specifieke stijl die alleen James Newton Howard kan. Het is halverwege "Petal Negotiations" prominent te horen.
Het tweede hoogtepunt is heel interessant. Ik hoorde de muziek voor het eerst op Spotify tijdens een van mijn lunchwandelingen en opeens begon ik Metallica's "Nothing Else Matters" te horen. Ik dacht dat mijn Spotify naar een andere afspeellijst, of naar mijn persoonlijke muziekcollectie op de telefoon, was overgeschakeld, maar blijkbaar was er een samenwerking tussen Metallica en Howard voor een instrumentale versie van het nummer voor de film, dat te horen is in "Nothing Else Matters (Jungle Cruise version)" part one en part two. Het nummer wordt gebruikt in een scène in de film en Howard's persoonlijke stijl eraan is ronduit verbluffend, maar het nummer zelf voelde een beetje misplaatst in de film. Er is niet echt een verband tussen dit nummer en de rest van de muziek.
De muziek die Howard heeft geschreven, is zeer reactief op wat er op het scherm gebeurt. Het album bevat, naast de hoogtepunten die ik al heb genoemd, veel korte nummers met deze reactieve stijl van muziek. Je hoort een aantal uitstekende toepassingen van de thema's, maar soms, vooral tijdens sommige actiescènes, gaat de reactieve muziek een beetje te lang door als je gewoon naar de muziek zonder de beelden wilt luisteren. Maar dat gezegd hebbende, vind ik wel dat James Newton Howard prachtige filmmuziek heeft geschreven. Het is zeldzaam dat de soundtrack voor een actiefilm volledig orkestraal is en als bonus bevat hij veel geweldige integraties van de thema's. De muziek voor Jungle Cruise is weer een geweldige score van filmmuziekveteraan James Newton Howard.
Luisteren of kopen
Lijst van de nummers
De hoogtepunten zijn vetgedrukt.
Jungle Cruise Suite (8:20)
Nothing Else Matters (Jungle Cruise version, pt. 1) (1:26)
Breaking Into the Archives (4:02)
Stop Her! (2:33)
A Steamer to Brazil (1:56)
Jungle Cruise (1:53)
Nilo (1:12)
Frank Breaks In (1:18)
Preparing to Set Sail (2:53)
Market Chase (2:45)
Sub Attack (2:14)
Encantado (1:18)
The Rapids (3:42)
Lily Snoops (2:29)
Trader Sam (1:24)
The Tree Fight (5:56)
Lily Finds Frank (1:17)
Joachim and the Bees (1:10)
Nothing Else Matters (Jungle Cruise version, pt. 2) (4:29)
I Built a Boat (2:00)
La Luna Rota (1:23)
Underwater Puzzle (4:35)
Petal Negotiations (3:43)
Conquistadors Arrive (2:38)
One Last Cruise (1:19)
I Want You to Rest Now (3:46)
Absolutely Exhausting (1:00)
Duur: 1 uur and 12 minuten
Walt Disney Records (2021)