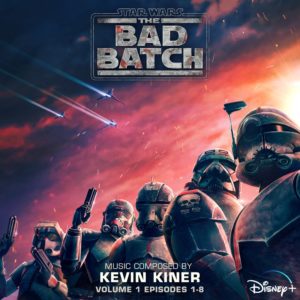 Als je een willekeurig iemand vraagt wie de meeste Star Wars muziek heeft gecomponeerd, zal diegene waarschijnlijk John Williams als antwoord geven. Om eerlijk te zijn zou dat ook de eerste naam zijn die in mij opkomt, maar het goede antwoord is waarschijnlijk Kevin Kiner. Terwijl Williams de muziek componeerde voor negen Star Wars films, schreef Kiner voor allerlei geanimeerde Star Wars projecten, te weten: The Clone Wars film, zeven seizoenen van de gelijknamige televisieserie en twee seizoenen van Rebels. Zijn recenste toevoeging aan het Star Wars universum is de muziek die hij schreef voor de nieuwste Disney+ serie Star Wars: The Bad Batch. Zoals gebruikelijk begint te worden voor een nieuwe serie op dit streamingplatform, brengen ze de soundtracks graag uit in digitaal formaat, waarbij ze de afleveringen groeperen op één of meerdere albums. Voor The Bad Batch werden er twee albums uitgebracht, die meer dan vier uur muziek, verdeeld over 75 tracks, bevatten.
The Bad Batch is een serie over een groep ongewone clone troopers en het verhaal heeft raakvlakken met zowel The Clone Wars als Rebels, wat een goede gelegenheid is voor Kiner om alle thema's die hij daarvoor heeft geschreven opnieuw te gebruiken. Ik heb naar wat muziek uit de andere series geluisterd, maar ik heb het niet uitgebreid bestudeerd. Het zou een zeer interessante oefening zijn om de vele uren aan muziek uit die series te onderzoeken, naast de vier uur uit de huidige show, maar helaas heb ik niet zoveel tijd. Ik wil echter wel twee belangrijke thema's uit The Bad Batch naar voren brengen. Het eerste is een thema dat uit het laatste seizoen van The Clone Wars komt, aangezien daarin The Bad Batch compagnie wordt geïntroduceerd en een eigen thema van Kiner heeft gekregen. In de nieuwe serie is dit thema natuurlijk verder uitgewerkt en de beste versie is te horen in "End Credits (Star Wars: The Bad Batch)".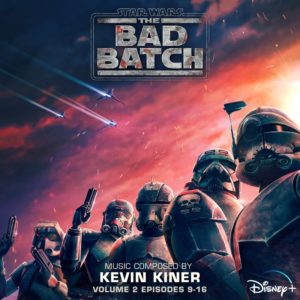 Het andere thema waar ik graag je aandacht op wil vestigen is het thema voor het nieuw geïntroduceerde personage Omega, een jonge vrouwelijke kloon. Het thema, dat te horen is in "Omega's Theme", begint rustig en emotioneel en met de melodie van het thema, en naarmate het stuk vordert komen er meer instrumenten bij, wat resulteert in een glorieuze orkestrale finale. Dit thema is het waard om op elk toekomstig Star Wars concert gespeeld te worden. Het is een genot om ernaar te luisteren.
De meeste muziek op beide albums is specifiek geschreven voor de bijbehorende scènes en ik heb de indruk dat er heel wat gebeurt met de thema's uit allerlei series, inclusief de thema's van John Williams. Ik herken wel de twee thema's die ik in deze recensie heb uitgelicht, maar er zijn er waarschijnlijk nog veel meer voor allerlei andere personages en concepten. Het is waarschijnlijk een prachtige demonstratie van hoe je thema's kunt toepassen in orkestrale muziek om de beelden te ondersteunen, wat de manier is waarop de meeste Star Wars muziek wordt geschreven en het werkt perfect voor de serie, maar voor mij zijn ze minder interessant om los naar te luisteren. Ik vind wel dat het een hele prestatie is om zoveel Star Wars muziek te kunnen schrijven en de muziek toch interessant en fris te houden en als bonus maakte ik kennis met een schitterend nieuw thema voor Omega, dat ik als een van de betere thema's beschouw die ik in 2021 heb gehoord. Als je een uurtje of vier over hebt, moet je deze twee albums echt eens beluisteren.
Luisteren of kopen
Lijst van de nummers
De hoogtepunten zijn vetgedrukt.
Volume 1 (Episodes 1-8)
Logo (Star Wars: The Bad Batch) (0:18)
Omega's Theme (2:58)
Civil War About to Begin (3:21)
Onderon (3:06)
Battle Simulation (4:46)
Experimental Tactics (2:34)
Omega Warns Hunter (2:34)
Caleb at the Cliff (3:01)
End of the War (3:17)
Tension with Crosshair (3:54)
Disobeying Orders (4:52)
First Time in Space (2:07)
Nexu Attack (1:57)
Raising Kids (3:31)
Smuggled Themselves (4:47)
Ordo Moon Dragon (4:24)
First Elite Squad (3:56)
Financial Incentives (3:23)
Danger at the Market (3:13)
Pantora Chase (3:12)
Fennec Shand (2:40)
Zygerrian Camp (3:22)
Muchi Unchained (2:58)
Monster Challenge (2:26)
Decommissioned Factory (4:25)
Police Droids (3:36)
A Diversion (3:31)
Stranger at the Bar (1:27)
To Bracca (2:32)
Stay Above the Water Line (3:02)
Chip Disorders (3:34)
Bomb Disposal Training (2:46)
Incoming Vessels (2:26)
Fight in the Artillery Room (2:44)
Breakaway Plan (3:49)
The Bounty Hunter Is Back (2:29)
Cid's Jukebox Mix Vol. 1 (4:48)
Duur: 2 uur en 58 minuten
Volume 2 (Episodes 9–16)
Omega the Prisoner (2:26)
Bane vs Shand (3:01)
Weird Creatures (2:45)
Target Is Getting Away (4:01)
Raxus Under the Empire (3:37)
Move In (3:42)
Walker Chase (3:52)
Tension in Ryloth (3:56)
Different Perspectives (2:10)
Flying Is a Feeling (2:50)
Guilty of Treason (3:59)
Rampart Interrogates (2:53)
Hera's Plan (4:33)
Howzer's Sacrifice (4:11)
Farewell to Hera (3:21)
Roland Durand (2:28)
Mining Tunnels (3:55)
The Hives (3:12)
Retrieving the Spice (4:17)
Searching for Gregor (4:35)
Into the Base (3:16)
Hallway Fight (2:06)
Rescue Mission Escalates (4:27)
Secret Landing Pad (3:52)
Into the Labs (2:12)
Back to Tipoca City (2:36)
Weren't Loyal to Me (3:11)
Fire When Ready (2:34)
Standoff (4:01)
Collapse (5:18)
Underwater Tunnel (3:25)
Saberjowl Attack (2:16)
To the Surface (3:59)
Leaving Kamino (2:50)
Lama Su (2:30)
End Credits (Star Wars: The Bad Batch) (0:43)
Cid's Jukebox Mix, Vol. 2 (7:24)
Roland's Jukebox Mix (5:31)
Duur: 2 uur en 12 minuten
Walt Disney Records (2021)