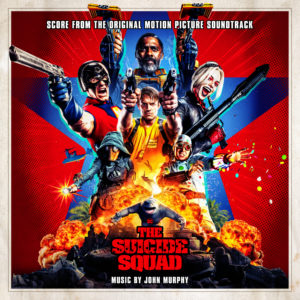 De keuze voor een filmtitel is soms een beetje verwarrend, zoals ook het geval is met de nieuwste film in het DC Universum: The Suicide Squad. Deze film speelt zich af in dezelfde wereld als Man of Steel en Justice League, maar heeft daarnaast nog nauwere banden met de directe prequels Birds of Prey en Suicide Squad – ja, een film met bijna dezelfde titel, maar dan zonder het lidwoord 'the.' De muziek voor deze laatste twee films werd gecomponeerd door Daniel Pemberton en Steven Price. Voor The Suicide Squad werd een nieuwe componist geïntroduceerd in het DC Universum, aangezien John Murphy de opdracht kreeg.
Het eerste nummer "So This Is the Famous Suicide Squad" geeft een goede indruk van wat voor muziek je kunt verwachten bij een bende die uit antihelden bestaat. Het nummer begint met een ritmisch patroon van één noot, waarbij gebruik wordt gemaakt van een luide elektrische gitaar. Het duurt niet lang voordat de gitaar wordt ondersteund door extra gitaren, een basgitaar en drums, waardoor een eenvoudig, maar leuk stukje muziek ontstaat. De inzet van een rockband die gebruik maakt van ritmische patronen in plaats van meer complexe melodieën is hoe Murphy de squad representeert tijdens hun missie. Andere gelijkwaardige rocknummers zijn "Approaching the Beach", "Mayhem on the Beach", het einde van "Approaching the Guerrilla Camp", "Breaking Into Jotunheim" en "The Star-Crossed Wake Up". In "The Squad Fight Back" zorgen de gitaren voor de ondersteuning van de squad tijdens hun heroïsche moment in de film.
Er staan ook enkele emotionele nummers op het album. Sommige worden gebruikt om de herkomstverhalen van bepaalde squadleden te onderstrepen, zoals de synthesizergeluiden in "Interdimensional Virus" en het emotionele viool- en gitaarspel in "Ratcatcher's Story". Er zijn twee momenten in de film voor bendelid Harley Quinn die wat emotie nodig hebben. Ze zijn te horen in "Red Flag" en "Harley Sings", waarbij het laatste nummer gewoon een kortere versie van de eerste is. Deze twee laatste nummers zijn perfecte voorbeelden van hoe Murphy een scène emotioneel probeert te maken, door namelijk lange orkestrale lijnen te gebruiken. Andere voorbeelden hiervan zijn te vinden in "Dirty Little Secrets", "Panic on the Streets" en "Bloodsport's Deal".
Er zijn twee muzikale hoogtepunten op het album die worden afgespeeld tijdens twee specifieke scènes. Het eerste is "King Shark and the Clyrax", dat een soort slaapliedje is, gezongen door een zangeres, die in het begin alleen door een gitaar wordt ondersteund totdat het orkest mee begint te doen. Het andere hoogtepunt is "Ratism", dat op een rocknummer lijkt met een vrouwenkoor dat de melodie zingt. Ze werken allemaal naar een climax toe, met zelfs de hulp van het orkest aan het eind.
Na het zien van de film en analyse van de muziek, kwam ik tot de conclusie dat er wel wat plezier voor zo'n donkere volwassen komedie te beleven valt aan de muziek, maar dat deze over het algemeen geen grote rol speelt in de film. Het merendeel is er gewoon om de scènes te ondersteunen en soms moet je echt goed luisteren om de muziek zelfs maar te horen. Toch heb ik me vermaakt tijdens de film. Het sterke begin met de gitaren in "So This Is the Famous Suicide Squad" en de nummers "King Shark and the Clyrax" en "Ratism" zijn prachtig geschreven, maar naar mijn mening kon de film wel wat meer van dit soort stukken gebruiken. Het zou het bekijken van de film voor mij een nog betere ervaring hebben gemaakt.
Luisteren of kopen
Lijst van de nummers
De hoogtepunten zijn vetgedrukt.
So This Is the Famous Suicide Squad (1:49)
Approaching the Beach (1:12)
Mayhem on the Beach (2:13)
Waller's Deal – Meet the Team (2:19)
Harley Gets the Javelin (0:58)
Approaching the Guerrilla Camp (1:46)
Project Starfish (2:03)
Red Flag (2:48)
Interdimensional Virus (2:26)
Ratcatcher's Story (3:09)
Harley Sings (1:31)
Breaking Into Jotunheim (1:37)
Dirty Little Secrets (2:23)
Peacemaker… What a Joke (1:41)
King Shark and the Clyrax (2:16)
Bombs Go Off! (2:57)
Suicide Squad Vs. Starro the Conqueror (3:55)
The Star‐Crossed Wake Up (1:47)
Panic on the Streets (1:17)
The Squad Turn Back (1:32)
The Squad Fight Back (3:30)
Ratism (3:28)
Bloodsport's Deal (2:10)
Duur: 50 minuten
Troll Court (2021)