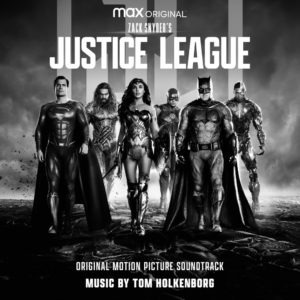 Dit is misschien wel een van de vreemdste recensies die ik geschreven heb, want in 2017 schreef ik een recensie over de muziek van Danny Elfman voor Justice League en nu schrijf ik nogmaals een recensie voor in principe dezelfde, maar daarnaast ook juist een andere film: Zack Snyder's Justice League, ook wel bekend als de Snyder Cut. Zack Snyder was de oorspronkelijke regisseur en het brein achter de Justice League film, maar na de opnamefase moest hij terugtreden vanwege een tragisch voorval in zijn familie en moest regisseur Joss Whedon het overnemen voor de post-productie en enkele extra opnames. Blijkbaar was het eindproduct niet precies wat Snyder voor ogen had, dus creëerde de regisseur een nieuwe film op basis van al het bestaande beeldmateriaal dat hij had opgenomen, voegde hij nieuwe visuele effecten toe en maakte hij extra opnames voor een aantal nieuwe scènes.
Niet alleen zijn de scènes en het verhaal aanzienlijk aangepast, maar ook de filmmuziek is volledig herschreven. Een van de interessante feiten over de film uit 2017 is dat, ten tijde van de overname door Whedon, Tom Holkenborg werd vervangen door Elfman, terwijl hij al ongeveer de helft van de muziek had geschreven. Met de Snyder Cut werd Holkenborg gevraagd om terug te keren en de muziek te schrijven voor de vier uur durende film en hij maakte van deze gelegenheid gebruik om al het oude materiaal dat hij schreef te schrappen en helemaal overnieuw te beginnen.
Als je mijn recensie van Elfman's muziek voor Justice League hebt gelezen, dan weet je dat ik er niet echt van onder de indruk was, behalve de toespelingen op John Williams' Superman thema en Elfman's eigen originele Batman thema. Ik schreef ook het volgende in deze recensie: "Ik ben echter wel erg blij om een orkest te horen in plaats van muziek met veel percussie en synthesizers, wat nu regelmatig de norm is voor actie-georiënteerde films" en omdat ik weet wat voor muziek Holkenborg schrijft voor actiefilms, wist ik wat ik kon verwachten.
Je hoeft maar een paar seconden naar de muziek van de Snyder Cut te luisteren om onmiskenbaar de 'Holkenborg'-sound te horen, waarin hij zwaar bewerkte orkestklanken mengt met synthesizers en een hoop percussie. Als je een indruk van de muziek wilt krijgen, raad ik je aan de laatste zeven nummers van dit vier uur durende album te beluisteren. Dit zijn namelijk suites die in de film zijn verwerkt. Daarin hoor je Holkenborgs nieuwe Batman thema, het thema voor de League en zijn bewerking van het Wonder Woman thema dat ook in andere films in het DC Universum is gebruikt.
Omdat ik Holkenborgs carrière op de voet volg, weet ik dat hij een grote groep fans heeft die van zijn gedurfde en rauwe klanken houdt en voor al die fans heeft hij het helemaal voor elkaar gekregen. Voor mij zijn deze klanken gewoon niet voldoende. Ik geef de voorkeur aan orkestmuziek die natuurlijker van klank is, waar je nog steeds de muzikant het instrument hoort bespelen. Ik hoor verder ook graag allerlei subtiele patronen in onderdelen van het orkest, maar bij deze muziek ligt de nadruk op vier zwaar bewerkte klankgroepen bestaande uit slagwerk, koperblazers, de strijkers en met af en toe koorgeluiden voor extra ondersteuning waar dat nodig is. Ik weet dat er meer muzikale details in de muziek zitten, maar die worden gewoon weggeblazen door de massieve klanken. Ik ben blij voor de Holkenborg fans dat ze nieuwe muziek hebben om van te genieten, maar als ik in de stemming ben voor wat Holkenborg muziek, zou ik liever teruggrijpen naar White Lines, Brimstone of Alita: Battle Angel.
Luisteren of kopen
Lijst van de nummers
De hoogtepunten zijn vetgedrukt.
Song to the Siren (3:17)
A Hunter Gathers (7:56)
Migratory (0:56)
Things Fall Apart (1:03)
Wonder Woman Defending / And What Rough Beast (7:19)
World Ending Fire (9:22)
Middle Mass (1:18)
Long Division (1:12)
No Paradise, No Fall (4:10)
The Center Will Not Hold, Twenty Centuries of Stony Sleep (8:56)
As Above, So Below (2:27)
No Dog, No Master (8:13)
Take This Kingdom by Force (1:44)
A Splinter from the Thorn That Pricked You (1:09)
Cyborg Becoming / Human All Too Human (10:35)
The Path Chooses You (2:11)
Aquaman Returning / Carry Your Own Water (8:22)
The Provenance of Something Gathered (1:14)
We Do This Together (12:57)
The Will to Power (5:20)
Smoke Become Fire (1:39)
I Teach You, the Overman (4:18)
A Glimmer at the Door of the Living (1:00)
How We Achieve Ourselves (1:42)
The Sun Forever Rising (1:30)
Underworld (5:49)
Superman Rising, Pt. 1 / A Book of Hours (2:40)
Beyond Good and Evil (4:24)
Monument Builder (2:29)
Monument Destroyer (6:07)
Urgrund (1:49)
So Begins the End (4:49)
The House of Belonging (2:37)
Earthling (3:23)
Flight Is Our Nature (1:54)
Indivisible (2:32)
And the Lion-Earth Did Roar, Pt. 1 (5:22)
And the Lion-Earth Did Roar, Pt. 2 (5:32)
Superman Rising, Pt. 2 / Immovable (1:55)
At the Speed of Force (4:20)
My Broken Boy (2:15)
That Terrible Strength (1:51)
An Eternal Reoccurrence of Change (1:44)
We Slay Ourselves (5:52)
Your Own House Turned to Ashes (3:16)
All of You Undisturbed Cities (6:15)
The Art of Preserving Fire (1:27)
The Crew at Warpower (6:49)
The Foundation Theme (from Zack Snyder's Justice League) (2:07)
Batman, a Duty to Fight / To See (5:29)
Batman, an Invocation to Heal / To Be Seen (8:36)
Wonder Woman, a Call to Stand / A World Awakened (5:09)
Flash, The Space to Win / Our Legacy Is Now (11:13)
Hallelujah (6:10)
Duur: 3 uur en 53 minuten
WaterTower Music (2021)