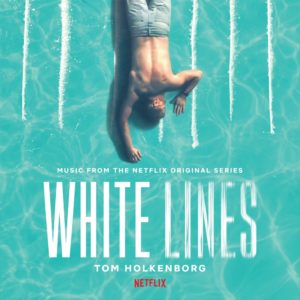 Als Nederlandse filmmuziekrecensent heb ik Tom Holkenborg altijd in de gaten gehouden, omdat hij op dit moment de meest succesvolle Nederlandse filmmuziekcomponist in Hollywood is. Ik ken Holkenborg voornamelijk van zijn bombastische orkestklanken, die vaak met veel percussie gepaard gaan. In de afgelopen jaren heb ik echter nogal wat veranderingen in zijn muziek gezien. Mijn nieuwsgierigheid werd gewekt door de aankondiging van de Netflix serie White Lines. Deze serie gaat over een vrouw die de moord op haar broer op het Spaanse feesteiland Ibiza onderzoekt. Het verhaal is een goede aanleiding voor Holkenborg om als componist voor deze serie terug te keren naar zijn vorige succesvolle carrière als DJ JunkieXL. Helaas heb ik geen tijd gehad om de volledige serie van 10 afleveringen te bekijken. Ik heb alleen een gedeelte van de eerste aflevering gezien om een gevoel voor de muziek te krijgen, dus ik zal de muziek de "leit" behandeling geven, in plaats van een diepgaande recensie.
Er zijn twee belangrijke dingen die me opvielen aan de muziek. Het eerste is de aanwezigheid van het oude JunkieXL gevoel. Er staan prachtige dansnummers op het album, die de muziek meer dan 20 jaar terug in de tijd sturen. Het tweede wat me opviel, is een reeks van drie noten die door het hele album heen verstrengeld zijn. Je hoort ze in verschillende variaties. Een zeer duidelijke versie is te horen in "On the Road", waar het op een gitaar gespeeld wordt, maar Holkenborg heeft zijn best gedaan om deze noten in bijna elk nummer op een of andere manier te gebruiken. In sommige stukken kun je deze noten duidelijk horen, in andere moet je er naar zoeken.
Er is ook een patroon op dit album te vinden, dat af en toe terugkomt. Het bestaat uit twee delen die elk vijf tonen bevatten die zich steeds herhalen, maar in het tweede deel hoor je één noot die anders is en veel hoger klinkt. Het patroon is het beste te horen in "Manchester Life", waar het door de piano gespeeld wordt. Die ene noot is ontzettend belangrijk, want samen met andere belangrijke noten in het patroon kun je de drie noten uit de andere reeks herkennen. In "Closure", wat een prachtig orkestraal stuk is, kun je zowel het patroon als de drie notenreeks horen.
Het is geen verrassing dat Holkenborg in staat is om een soundtrack met perfect uitgewerkte dansmuziek te creëren, want dat is een onderdeel van zijn muzikale identiteit. Maar als je goed naar de muziek luistert, hoor je dat er veel meer achter zit en niet alleen in de dansnummers, maar ook in andere delen op het album. Holkenborg heeft de laatste jaren behoorlijk wat potentie laten zien. Voor mij is hij niet langer de componist die altijd voor de bombastische orkestklanken gaat. Deze muziek is weer een staaltje van Holkenborg als veelzijdig componist, die veel aandacht besteedt aan de melodieën en klanken voor zijn soundtracks.
Luisteren of kopen
Lijst van de nummers
De hoogtepunten zijn vetgedrukt.
Zoe's Arrival (1:36)
Time Gone By (1:50)
Darker Night (3:23)
Missing You (2:10)
On The Road (0:49)
Ibiza Bar (2:09)
I'm Happy For You (1:02)
Live Life (2:56)
Manchester Life (1:58)
In The Club (1:49)
Boxer (3:08)
It Was Ours (1:15)
Infinity (9:29)
The Past (1:18)
Repercussions (2:07)
Romance (1:46)
Retrace The Path (2:53)
My Goddess (5:52)
New Day (1:06)
Discoveries (2:43)
Accident (2:06)
Closure (2:06)
Diving For Prizes (1:16)
Family Troubles (1:18)
Memories (2:29)
Zoe (2:51)
Duur:1 hour and 3 minutes
Milan (2020)