"and the Fantabulous Emancipation of One Harley Quinn"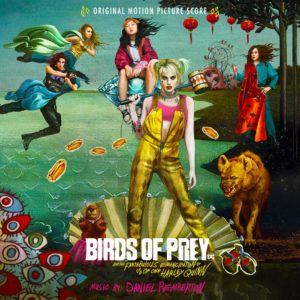 Films met superhelden uit het DC-universum hebben al jaren hun ups en downs. Er was eindelijk weer een groot succes met Joker, met muziek van Hildur Guðnadóttir, maar Suicide Squad, waarin Will Smith Deadshot speelde en Margot Robbie de rol van Harley Quinn op zich had genomen, werd beschouwd als een enorme flop. Robbie gaf de moed echter niet op en ze vertolkte opnieuw de rol van Harley Quinn in Birds of Prey and the Fantabulous Emancipation of One Harley Quinn. 
Het lijkt erop dat de DC-films in een andere richting gaan, te beginnen met Joker. In plaats van de standaard actiefilms voor superhelden, richten ze zich, afhankelijk van de held of schurk, op verschillende manieren op het vertellen van verhalen op verschillende aspecten van het personage. Voor Joker, met zijn langzame en donkere verhaal, waren de melodieën van Guðnadóttir een goede aanvulling. Ze waren zelfs zo goed dat ze er een Oscar voor won. Harley Quinn is echter een heel ander soort schurk. Ze is een zeer intrigerend persoon, die slim en dom tegelijk kan zijn en die zich sterk richt op het maken van plezier en ondeugend zijn. Als er één persoon is die in staat is om "fantabuleuze" filmmuziek voor haar te schrijven, dan moet het Daniel Pemberton zijn. Hij is namelijk in staat om indrukwekkende en unieke muzikale ideeën te bedenken, die perfect zijn voor Harley Quinn.
Het hoofdthema is een goed voorbeeld van wat je van de muziek kunt verwachten. Het 'koeh koeh koeh' gezang is geweldig en er zijn een paar prachtige variaties op dit thema. Aan de ene kant kan het eenvoudig en emotioneel zijn en aan de andere kant kan het geïntegreerd worden in zware, snelle en chaotische elektronische muziek. Naast dat de melodie ge-'koeh'-ed kan worden, kan dezelfde melodie ook worden geschreeuwd. Er zijn meer thema's in de filmmuziek te vinden, waarbij een van mijn favoriete thema's is geschreven voor het Huntress personage, met een melodie die gespeeld wordt op een soort van etnische fluit die steeds weer in allerlei variaties door de muziek heen opduikt.
De muziek zit vol met allerlei verschillende muziekstijlen. Zo hoor je in het ene nummer een bandje jammen met drums en gitaren en in het andere nummer rare funky elektronica. Sommige hebben geweldige vrouwenzang geïntegreerd op een unieke manier, wat de muziek een vrouwelijk tintje geeft dat perfect is voor deze film. Het is voor mij geen verrassing dat Pemberton met deze soundtrack echt iets moois aflevert. Hij was niet alleen in staat om met originele muzikale ideeën te komen, maar daarnaast is de muziek ook erg prettig om los naar te luisteren. Als je op zoek bent naar een nieuwe moderne originele soundtrack, hoef je niet verder te zoeken. Daniel Pemberton is de man die je moet hebben.
Luisteren of kopen
Lijst van de nummers
De hoogtepunten zijn vetgedrukt.
Flying High (Birds of Prey) (1:53)
The Fantabulous Emancipation Explosion (1:32)
Harley Quinn (Danger Danger) (3:06)
Birds of Prey (2:16)
Harley Gogo Agogo (1:56)
The Black Mask Club (1:54)
Stolen Diamond (1:55)
Bad Ass Broad (Whistle MF) (3:07)
Lonely in Gotham (0:50)
Black Canary Echo (1:08)
The Bertinelli Massacre (The Huntress Story) (2:29)
Bump It! (2:19)
Roman Sionis (2:42)
Lockdown (2:27)
Bruce and the Beaver (1:26)
Lotus Flower (1:40)
Femme Fatale (0:19)
Breakout! (4:20)
The Bertinelli Revenge (1:57)
I Want To Kill You Because I Can (3:13)
Zsasz Showdown (2:30)
Work Together (2:05)
Battle Commence (2:33)
Fight Together (Birds Of Prey) (4:59)
Founders Pier (1:46)
Roller Vs Rollers (3:27)
The Fantabulous Emancipation of One Harley Quinn (2:03)
Duur: 1 uur en 2 minuten
WaterTower Music  (2020)