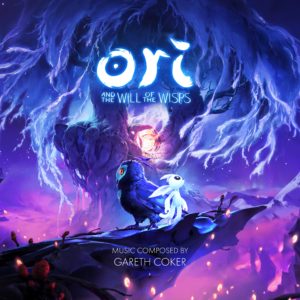 Het zal niet de eerste keer zijn dat ik vertel dat fantastische soundtracks niet alleen maar voor films of televisie worden geschreven. Bepaalde muziek die voor videogames is geschreven, is gewoon meesterlijk. Het zijn niet langer de bliepgeluiden die we kennen van spelletjes van decennia geleden en veel spellen hebben tegenwoordig geweldige orkestrale muziek. Een van mijn favoriete scores van de laatste tien jaar is uit Ori and the Blind Forest, wat een zeer gewaardeerd platformspel is met schitterende beelden en prachtige muziek van Gareth Coker. Gamers waren zeer opgetogen toen het vervolg Ori and the Will of the Wisps werd aangekondigd, maar ook soundtrackfans zoals ik waren blij, want Coker keerde terug als componist.
Toen ik vol verwachting mijn Spotify opende, was ik aangenaam verrast dat Coker meer dan drie uur muziek voor het spel had uitgebracht. Veel nummers hebben een sterke focus op orkestrale muziek, maar er zijn ook nummers die gebruik maken van een kleinere bezetting, waaronder een groot aantal verschillende houten blaasinstrumenten, die volgens Croker op twitter allemaal door Kristin Naigus werden bespeeld. Er zijn ook een aantal prachtige nummers met een koor en zangeres Aeralie Brighton maakt haar rentree voor het vervolg, na een geweldige prestatie op het eerste Ori-album.
Zoals te verwachten was, keert het magnifieke hoofdthema van het eerste spel, dat Ori vertegenwoordigt, terug in het vervolg, maar ditmaal wordt het niet zo prominent gebruikt. In plaats daarvan kun je bijvoorbeeld luisteren naar fantastische nieuw geschreven thema's voor nieuwe personages zoals Ku, de kleine uil en het verkeerd begrepen schepsel Shriek. Naast de themamuziek schreef Coker ook andere schitterende melodische stukken, die te horen zijn terwijl de speler Ori door het verbluffend mooie bos laat bewegen.
Zoals ik aan het begin al zei, is de soundtrack drie uur lang en alles is gewoon geweldig om naar te luisteren. De thema's, de melodieën, de instrumentatie, alles klinkt verbluffend en vult de spectaculaire beelden van het spel zeer goed aan. Het is een fantastische voortzetting van het eerste Ori spel en als ik eerlijk ben, hoop ik op nog een Ori spel met meer prachtige muziek. Coker heeft niet alleen laten zien dat hij zeer goed in staat is om muziek te schrijven voor een vervolg op een spel, maar hij geeft ook een fantastische demonstratie van hoe geweldig spelmuziek kan zijn.
Luisteren of kopen
Lijst van de nummers
De hoogtepunten zijn vetgedrukt.
Main Theme (1:56)
We Named Her Ku (1:01)
A Yearning for the Sky (0:31)
A Keepsake from the Past (2:22)
Ku's First Flight (2:44)
Separated by the Storm (3:47)
Howl (1:06)
Now Use the Light, We Want to See! (5:25)
A Shine Upon Inkwater Marsh (3:06)
Overlooking the Mill (3:44)
The Eyes of Kwolok (4:37)
Kwolok's Hollow (4:08)
Hornbug (1:53
Dashing and Bashing (4:19
Meeting Kwolok (1:09)
Kwolok's Throne Room (2:41)
Sanctuary in the Glades (2:45)
The Ancient Wellspring (2:54)
A Look Inside (3:08)
Trouble Within (0:42)
Turn, Turn, Turn Again (3:36)
Amelioration (2:09)
Escaping a Foul Presence (2:05)
Silent Woodlands (3:40)
Reunification (3:05)
Ash and Bone (3:40)
Shriek (1:21)
Fading of the Light (4:09)
The Story of Niwen (2:15)
Shadows of Mouldwood (5:10)
Mora the Spider (5:57)
The Eyes of the Forest (1:26)
The Darkness Lifted (3:59)
Luma Pools (5:05)
Kwolok's Malaise (3:19)
Strength of the Forest (1:20)
Resolution in Paradise (4:29)
Midnight Burrows (4:12)
Baur's Reach (5:07)
A Snowy Skirmish (1:17)
In Wonderment of Winter (3:26)
Baur's Peak (1:11)
Escape with the Memory of the Forest (1:55)
Shriek's Tale (2:53)
The Windswept Wastes (3:34)
Burrowing (4:17)
Approaching the Ruins (2:13)
The Heart Knows It's Safe (0:41)
The Windtorn Ruins (2:20)
Seir (2:01)
Escaping the Sandworm (2:08)
The Weeping Ridge (3:34)
Willow's End (4:55)
Decay (5:52)
Unblocking the Way (3:24)
The Spirit Willow (2:54)
Shriek and Ori (6:09)
Remaining in Darkness (1:38)
A Stirring of Memories (2:22)
Ori, Embracing the Light (3:51)
Duur: 3 uur and 6 minuten
Microsoft Studios Music (2020)