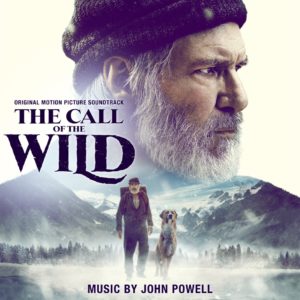 Er is een klein minpuntje als het gaat om sommige van John Powell's soundtracks. Ik heb dit meegemaakt met How to Train Your Dragon: The Hidden World en het gebeurde opnieuw met The Call of the Wild. Het probleem met deze films is dat ze in Nederland als kinderfilms worden beschouwd en daardoor alleen 's middags in de bioscoop worden vertoond. Als je snel genoeg bent, kun je ze in een weekend zien zoals ik met Hidden World heb gedaan, maar helaas heb ik dat niet kunnen doen voor The Call of the Wild. Toen ik hem wilde zien in mijn vaste bioscoop, waar ik een abonnement heb, was hij alleen 's middags beschikbaar met Nederlandse nasynchronisatie. Nu het coronavirus door ons land en de rest van de wereld raast, zijn de bioscopen gesloten, waardoor het nog lastiger werd om deze film te zien. John Powell is een van mijn favoriete componisten en na het beluisteren van het album, wil ik er toch wel wat over zeggen. Zonder de film gezien te hebben, is de recent geïntroduceerde leit review formule een goede manier om de muziek toch nog wat exposure te geven.
Zoals ik al had verwacht, is dit echt weer typische filmmuziek van John Powell. Zijn muziekstijl is door de hele soundtrack heen te horen. Niet alleen is er een sterke focus op een handvol thema's, waarbij het hoofdthema gewoonweg briljant is, maar deze thema's zijn ook terug te horen in allerlei stijlen en emoties, allemaal verzorgd door het orkest, koor en enkele folkband instrumenten zoals de banjo, piano, viool en fluiten. Eén van Powell's grootste pluspunten is dat hij zijn thema's inzet om een verhaal te vertellen en niet alleen door een specifiek thema muzikaal te manipuleren, maar ook door ze samen te voegen in één enkel werk, wat resulteert in een aantal prachtige nummers op dit album, met "Buck Takes The Lead" als mijn absolute favoriet.
Voor mij persoonlijk is het retorische vraag of deze filmmuziek wel goed is. Naar mijn eerlijke mening schrijft John Powell niet gewoonweg goede filmmuziek. Elke soundtrack die hij de afgelopen jaren heeft geschreven is een meesterwerk, waaronder ook deze. Het irriteert mij echt dat ik de muziek nog niet heb kunnen beleven in combinatie met de beelden en het verhaal enik kijk er echt naar uit om me te verdiepen in de details van de manier waarop Powell specifieke thema's heeft gebruikt om te ondersteunen wat er op het scherm gebeurt. Powell is altijd in staat om mij te verrassen met nieuwe slimme manieren om muziek te gebruiken om een verhaal te vertellen bij elke film waarvoor hij de muziek componeert. Ik kan niet wachten tot deze film digitaal beschikbaar is om helemaal op te gaan in de muziek.
Luisteren of kopen
Lijst van de nummers
De hoogtepunten zijn vetgedrukt.
Wake the Girls (2:37)
Train North (4:01)
Skagway, Alaska (2:30)
Snowy Climb (1:24)
First Sledding Attempt (2:27)
The Ghost Wolf of Dreams (1:05)
Joining the Team (2:58)
Ice Rescue (2:26)
Sometimes Nature's Cruel and Gods Fight (4:57)
Buck Takes the Lead (4:54)
We Carry Love (3:01)
Couldn't Find the Words (2:21)
Overpacked Sled (2:31)
Newfangled Telegram (2:23)
In My Bed? (2:53)
Buck & Thornton's Big Adventure (4:35)
Finding Bears and Love in the Woods (2:56)
They've All Gone (2:51)
Rewilding (3:47)
Animal Nature (2:34)
Come Say Goodbye (2:08)
What An Adventure (3:01)
The Call of the Wild (2:51)
Duur: 1 uur en 7 minuten
Hollywood Records (2020)