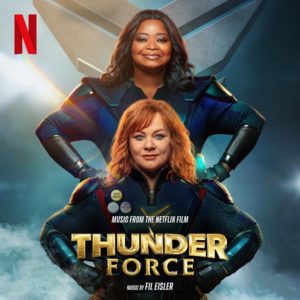 Een van de dingen die ik leuk vind aan het recenseren van soundtracks is het ontdekken van muziek van componisten waar ik nog niet eerder van gehoord heb. Netflix is soms erg agressief met het promoten van hun eigen films, wat ook het geval was voor Thunder Force. Zoals gewoonlijk neem ik voor mijn besluit of de film de moeite waard is mee wie de muziek heeft geschreven. Componist Fil Eisler had mijn pad nog nooit gekruist, dus ik was meteen overtuigd om de film een kans te geven en speciale aandacht te geven aan de muziek.
De film is geen traditionele superheldenfilm, zoals te zien is aan de cover van het album en na het zien van de film weet ik niet zeker wat de visie voor deze film was. Wat voor soort film is het? Soms voelde het een beetje kinderachtig, maar ik had niet de indruk dat het voor kinderen bedoeld was. Misschien was het bedoeld als komedie, maar het was niet echt mijn humor. Ik heb echter wel de indruk dat Eisler een visie had voor de muziek, met een interessante combinatie van orkestrale klanken en heavy metal-elementen.
Het eerste nummer "Thunder Force" is een nummer dat de rest van de muziek zeer goed weergeeft en de lijst van heavy metal artiesten die eraan meewerkt is vrij indrukwekkend, met Corey Taylor (Slipknot) en Lzzy Hale (Halestorm) op zang, Scott Ian (Anthrax) op gitaar en Dave Lombardo (Slayer) op drums, maar het nummer bevat ook een solo op elektrische cello door Tina Guo. Als je geïnteresseerd bent in het soort muziek dat Eisler voor de film heeft geschreven inclusief deze metal-elementen is "Thunder Force Suite" een uitstekende nummer om naar te luisteren. Het bevat de thematische ideeën die Eisler voor de film heeft gecomponeerd, inclusief het hoofdthema aan het begin van het stuk.
Veel nummers bevatten deze door Ian en Lombardo uitgevoerde metal-elementen, met "Lydia Goes Apes***t" en "6AM Day Two" als goede voorbeelden. Sommige andere nummers, zoals "Angel Wings" en "Thought This One Through", zijn puur orkestraal, om de meer emotionele kant van de helden te benadrukken. Het eindresultaat is interessante muziek voor een middelmatige film.
Toen ik naar de muziek van Thunder Force luisterde, realiseerde ik me dat het gebruik van heavy metal niet zo vaak voorkomt in filmmuziek. Hoewel je metal vaker hoort in computerspellen, is de laatste filmmuziek met gitaren die ik me kan herinneren Pacific Rim van Ramin Djawadi en dat verbaast me. Het gebruik van metal is perfect om de muziek wat extra flair en kracht te geven en omdat die delen door echte mensenhanden worden uitgevoerd, behoudt het nog steeds zijn ziel, wat niet het geval is met kunstmatige synthesizergeluiden die tegenwoordig vaker gebruikt worden om filmmuziek te verbeteren. Ik moet Eisler in de gaten gaan houden want zijn muziek voor Thunder Force is heel aangenaam en verfrissend om naar te luisteren.
Luisteren of kopen
Lijst van de nummers
De hoogtepunten zijn vetgedrukt.
Thunder Force (3:41)
Thunder Force Suite (5:25)
This Town's Gonna Get What It Deserves (1:31)
Angel Wings (1:11)
History of the Miscreants (1:14)
Lydia Goes Apes***t (0:34)
What Does This Button Do? (1:42)
Enter Laser (0:57)
Super Person (1:21)
The Stanton Building (1:01)
Training Begins (1:02)
Seems Like Overkill (0:32)
Social Visit (2:36)
6AM Day Two (1:09)
Cooked (1:01)
Go Time (1:13)
Super Suits (0:32)
Purple Lambo (1:17)
The Diner Attack (2:58)
The Special One (2:05)
Training Complete (1:03)
Like Thunder (1:13)
I Like 'em Thick (1:11)
Hold It Calamari (0:54)
Boom (2:49)
In the Public Eye (0:50)
It Feels Like I Need to Kill Them (2:08)
Dumpster Fight (0:50)
What Brings You By (0:47)
The Crab (1:37)
Boss Battle (5:29)
Thought This One Through (2:13)
Thunder Force Out (2:25)
Duur: 56 minutes
Sony Music (2021)