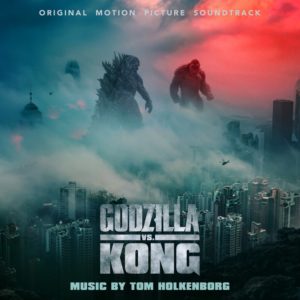 Blijkbaar heeft Tom Holkenborg het nogal druk gehad tijdens de pandemie. Ik heb White Lines al in juni 2020 gerecenseerd en slechts een maand geleden heb ik zijn muziek voor de langverwachte film Justice League onder de loep genomen. Die laatste film is echter niet de enige recentelijke en spraakmakende film waar Holkenborg de muziek voor heeft geschreven, want nu is het tijd om te kijken wat Holkenborg voor Godzilla vs. Kong heeft gecreëerd.
Godzilla vs. Kong, wat deel uitmaakt van de grotere monsterfranchise met de films Godzilla, Kong: Skull Island en Godzilla: King of the Monsters als prequels, werd vol verwachting ontvangen. Fans waren benieuwd wie van de twee grote monsters, Godzilla of King Kong, als winnaar van dit gevecht uit de bus zou komen. Holkenborg was verantwoordelijk voor het schrijven van de muziek voor deze epische confrontatie en aangezien er vanaf de jaren '50 Kong en Godzilla films gemaakt zijn met veel memorabele muziek, was het voor mij heel interessant om Holkenborgs aanpak te bestuderen.
De thema's voor Godzilla vs. Kong zijn te horen in de eerste twee nummers, waarbij elk nummer het thema voor een monster bevat. In "Pensacola, Florida (Godzilla Theme)" is te horen hoe Holkenborg de paar noten van het beroemde openingsstatement van het originele Godzilla-thema omvormt tot zijn eigen versie. Met een handvol noten geeft hij het thema zijn kracht door de opgenomen orkestmuziek te versterken en te manipuleren tot een voller en groter geluid.
Terwijl het nummer voor Godzilla slechts ongeveer twee minuten duurt, is het nummer voor Kong, "Skull Island (Kong Theme)," vijf minuten langer. Daarin hoor je het thema voor de gigantische aap, beginnend met een groots klinkend orkeststuk, gevolgd door een emotioneler en gevoeliger middendeel, waarin het thema wordt uitgevoerd op een blokfluit, waarna gaat het over in een percussiedeel, dat de liefde van het monster voor de jungle weergeeft, voordat het stuk eindigt met een grote orkestrale finale.
In de andere nummers hoor je de twee thema's geïntegreerd in een hoop actiemuziek met zwaar bewerkte orkestklanken, percussie en elektronica, en als je mijn Justice League recensie gelezen hebt, weet je dat dit niet mijn soort muziek is. Als je naar de melodieën van beide thema's luistert, kun je horen dat ze niet overdreven complex zijn, maar dat de extra klankmatige toevoegingen ze tot de groots klinkende stukken maken, waar de Holkenborg-fans dol op zijn. Ik ben ervan overtuigd dat er andere manieren zijn om de thema's op te waarderen door gebruik te maken van het volledige arsenaal van een orkest, met de ondersteuning van wat extra instrumenten en subtiele elektronische invloeden. Deze aanpak zou de monsters wat meer ziel geven voor de dierlijke en zelfs mensachtige trekken die ze beiden uitstralen. De soundtracks van de voorlopers gingen meer die kant op, waardoor de muziek voor Godzilla vs. Kong voor mij de zwakste soundtrack in de reeks is.
Luisteren of kopen
Koop deze soundtrack op Amazon.com of Apple Music
Luister naar deze soundtrack op Spotify
Lijst van de nummers
De hoogtepunten zijn vetgedrukt.
Pensacola, Florida (Godzilla Theme) (2:19)
Skull Island (Kong Theme) (7:25)
Apex Cybernetics (2:01)
A New Language (2:28)
Just Now (1:49)
Tasman Sea (9:29)
Through There (1:24)
Antarctica (2:35)
Hollow Earth (3:47)
The Throne (2:10)
Lunch (1:58)
Nuclear Blast (3:58)
The Royal Axe (4:47)
Mega (7:38)
Hong Kong (13:13)
Duur: 1 uur and 7 minuten
WaterTower Music (2021)