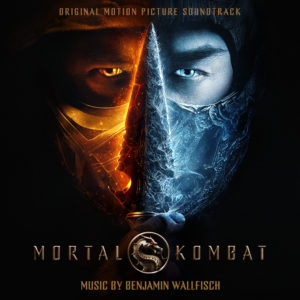 In sommige landen, waar het coronavirus onder controle begint te komen met regelgeving en vaccinaties, beginnen de zogenaamde blockbusters weer in de bioscoop te draaien. In Nederland zijn de bioscopen nog steeds gesloten, maar gelukkig is de film Mortal Kombat, waarvoor Benjamin Wallfisch de muziek heeft gecomponeerd, ook op digitale platforms te zien. Ik was best nieuwsgierig naar deze film. Hij is namelijk gebaseerd op een vechtspel uit de jaren '90, dat ik als tiener heb gespeeld. Er komen nog steeds nieuwe versies van het spel uit, waarvan Mortal Kombat 11 de meest recente is. De spellen zijn nogal berucht om hun gruwelijke visualisaties wanneer een tegenstander op brute wijze wordt vermoord, nadat hij het gevecht verloren heeft.
Mortal Kombat is niet de eerste film die gebaseerd is op het gelijknamige computerspel. In de jaren '90 zijn er al twee films uitgekomen met de degelijke film Mortal Kombat (1995) en het afschuwelijk slechte vervolg Mortal Kombat: Annihilation (1997). De tweede film ben ik gelukkig al bijna helemaal vergeten, maar van de eerste herinner ik me nog wel wat van de muziek en dan heb ik het vreemd genoeg niet over de filmmuziek, die door George S. Clinton geschreven is, maar een aantal nummers die in de film gebruikt zijn, zoals Orbital's "Halcyon + On + On", Traci Lords' "Control" en natuurlijk "Techno Syndrome" van The Immortals.
"Techno Syndrome" is een typische dancetrack uit de jaren '90 en aangezien mensen zich deze het best herinneren van Mortal Kombat (1995), wordt het beschouwd als het hoofdthema. Wat ik zo bijzonder vind aan de nieuwe Mortal Kombat film is dat Wallfisch er zijn eigen moderne versie voor heeft gemaakt met "Techno Syndrome 2021 (Mortal Kombat)". Dit is ook een dancetrack, maar dan in de stijl van de huidige dancetracks en als je goed luistert naar het hoofdthema in "Lord Raiden," kun je de melodie van de originele "Techno Syndrome" nummer terughoren als de basis voor de melodie van het nieuwe thema.
Voor zover ik kan nagaan, heeft Wallfisch veel muziek geschreven ter ondersteuning van de scènes. Er zijn enkele melodische stukken op dit album te vinden, zoals te horen is in "Hanzo Hasashi", "Lui Kang" en "Birthmark," maar het grootste deel van de muziek is gericht op de actie en bevat veel muzikale patronen van orkestrale en synthesizer elementen, ondersteund door veel percussie en soms hoor je een hint naar het originele of het nieuwe thema. Hoewel deze stukken goed werken in de film, vind ik ze niet erg interessant om op zichzelf te beluisteren.
Wat ik het mooist aan de soundtrack vind, zijn de knipogen naar de muziek uit Mortal Kombat (1995). Dat is wel een interessant concept, aangezien Mortal Kombat geen vervolg is, maar een reboot. Hoewel er veel nummers op de soundtrack staan die me niet echt interesseren, staan er ook enkele prachtige orkestrale stukken op, waaronder een eenvoudig maar zeer memorabel nieuw hoofdthema.
Luisteren of kopen
Lijst van de nummers
De hoogtepunten zijn vetgedrukt.
Techno Syndrome 2021 (Mortal Kombat) (3:06)
Hanzo Hasashi (7:14)
Lord Raiden (2:24)
Bi-Han (2:42)
Shang Tsung (1:37)
Cole Young (1:41)
Birthmark (2:46)
Sonya Blade (4:22)
Kano v Reptile (2:59)
Liu Kang (5:59)
The Great Protector (2:27)
Sub-Zero (3:01)
Kung Lao (3:13)
Origins (3:08)
Kabal (2:59)
Goro (2:57)
Arcana (3:58)
Jax Briggs (2:34)
The Void (4:12)
The Tournament (5:00)
Sub-Zero v Cole Young (1:18)
I Am Scorpion (3:15)
We Fight as One (2:49)
Get Over Here (3:56)
Duur: 1 uur en 19 minuten
WaterTower Music (2021)