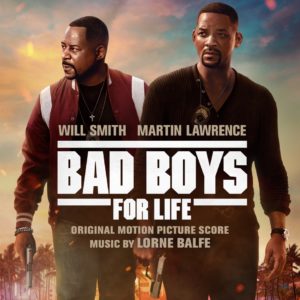 De Hollywoodtraditie van het maken van sequels van oude films met dezelfde acteurs is nog steeds in volle gang. Het meest recente voorbeeld van deze trend is Bad Boys for Life, de derde Bad Boys-film, na Bad Boys (1995) en Bad Boys II (2003). De muziek voor de tweede film, gecomponeerd door Trevor Rabin, is naar mijn mening vrij inspiratieloos, maar de muziek van Mark Mancina uit de eerste film, in het bijzonder het hoofdthema, is vrij indrukwekkend. Het duurde heel lang voordat deze soundtrack werd uitgebracht, al waren er wel  bootlegs in omloop, maar gelukkig kreeg het een officiële release in 2012, waar veel filmmuziekliefhebbers blij van werden. Blijkbaar vond Lorne Balfe, die als componist voor deze derde film was aangesteld, de muziek van Mancina ook goed, want zijn oorspronkelijke thema staat centraal in de muziek voor Bad Boys for Life.
Balfe's versie van het thema is fantastisch en het heeft een beetje een modern tintje gekregen, met meer orkestrale en elektronische klanken. Een ander verbazingwekkend aspect van de muziek is de integratie van het thema in de actiescènes. Balfe heeft natuurlijk ook origineel materiaal geschreven en  ik ben vooral fan van zijn overdreven lange melodielijnen, die door een koor wordt gezongen. De slechteriken hebben een eigen thema met lange, donkere lijnen, die als een golf klinken, en met mysterieuze gitaren op de achtergrond. Tussen de thema's door hoor je emotionele lijnen en ritmische actiemuziek met bongo's, die Balfe's handelsmerk beginnen te worden. Toen ik Bad Boys for Life in the bioscoop bekeek, merkte ik echter dat veel van Balfe's muziek naar de achtergrond verdween tijdens alle actiescènes.
De grote vraag is of Balfe's muziek kan tippen aan de originele muziek. Hoewel zijn versie van het thema, met de toevoeging van de koordelen, zeer goed is, was Mancina's muziek in de eerste film unieker en meer op de voorgrond aanwezig. Ik vind het echter prachtig om 25 jaar later nieuwe muziek te kunnen ervaren die gebaseerd is op het geweldige Bad Boys thema. Ze hadden voor deze film volledig nieuwe muziek kunnen maken, maar de makers zijn die weg niet ingeslagen en dat kan ik alleen maar toejuichen.
Luisteren of kopen
Lijst van de nummers
De hoogtepunten zijn vetgedrukt.
Bad Boys for Life (2:47)
It's Good Shit Lieutenant (3:19)
Take Back What's Ours (2:09)
We're Dangerous People (3:46)
What Else You Got (3:13)
Prayer (3:12)
God's Gun (2:37)
The Truth (4:52)
Promise to God (2:59)
We Ride Together, We Die Together (6:02)
Ambulance Heist (2:59)
One Last Time (1:57)
Duur: 39 minuten
Sony Music Entertainment (2019)