"Battlestar Galactica Live"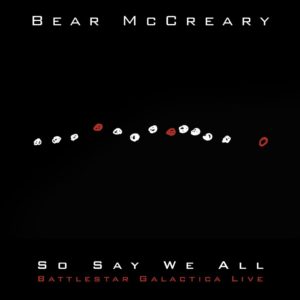 Frequente bezoekers van deze site weten dat de inhoud van de site in twee grote categorieën kan worden onderverdeeld. De eerste en grootste bevat de soundtrackrecensies en de tweede zijn mijn concertverslagen. Dat maakt deze recensie bijzonder, omdat hij een beetje van beide is. Als je regelmatig mijn recensies leest, weet je vast dat ik de muziek van Bear McCreary zeer waardeer. Dat begon al met zijn grote doorbraak met de muziek voor Battlestar Galactica, een zeer succesvolle televisieserie die van 2004 tot 2009 werd uitgezonden en een remake was van de gelijknamige serie uit eind jaren '70.
Voor deze serie werkte hij samen met veel muzikanten, waaronder familie en vrienden, zoals zijn vrouw Raya Yarbrough en zijn broer Brendan, maar ook met bekende muzikanten als Tina Guo op cello en M.B. Gordy op percussie. Blijkbaar werkten ze zo goed samen dat het hen een goed idee leek om op tournee te gaan om de muziek uit Battlestar Galactica uit te voeren. Nu meer dan tien jaar later heeft McCreary de moeite genomen om de muziek van deze concerten te remasteren en beschikbaar te stellen als een gloednieuw album met de titel So Say We All: Battlestar Galactica Live.
Hoewel de muziek voor Battlestar Galactica orkestrale elementen bevat, werden de concerten verzorgd door een kleinere groep muzikanten, gebruikmakende van gitaren, etnische fluiten, twee violen, cello en veel percussie, waaronder taiko drums – het kenmerkende instrument voor de Battlestar Galactica muziek – en Bear McCreary zelf op de toetsen. Op het album kun je luisteren naar hun interpretatie van de originele muziek. Alle muzikale hoogtepunten van de serie zijn te horen, waaronder "Prelude to War", "All Along the Watchtower", met een inleiding op piano door actrice Katee Sackhoff, en mijn twee favoriete nummers uit de serie: "Apocalypse" en "Colonial Anthem / Black Market".
Ik heb stukjes van deze concerten gezien in onofficiële YouTube video's en ik ben heel gelukkig met deze officiële release. Wat ik zo goed aan dit album vind, is dat het niet alleen de hoogtepunten van vier seizoenen vol uitstekende muziek laat horen, maar dat het als een liveregistratie ook de rauwe emoties van de musici zelf bevat, wat een van de redenen is waarom ik zo van live muziek hou. Hopelijk wordt dit album een groot succes. Misschien gaat McCreary in de toekomst meer van dit soort concerten doen, die ik graag zou willen bijwonen. Als je niet bekend bent met McCreary's prachtige muziek voor Battlestar Galactica, luister dan eens naar dit album en als het je bevalt, heeft McCreary nog meer uitstekend nieuws voor je: samen met dit concertalbum verschenen ook geremasterde versies van de originele soundtracks uit de serie.
Luisteren of kopen
Lijst van de nummers
De hoogtepunten zijn vetgedrukt.
Distant Sadness (3:59)
Prelude to War (8:10)
Baltar's Dream (6:02)
Roslin and Adama (2:59)
Apocalypse (5:34)
Fight Night (4:03)
Something Dark Is Coming (6:16)
Wander My Friends (5:42)
Lords of Kobol (3:55)
Storming New Caprica (8:02)
Heeding the Call (2:44)
All Along the Watchtower (4:21)
Colonial Anthem / Black Market (7:29)
Duur: 1 uur en 9 minuten
Sparks & Shadows (2021)