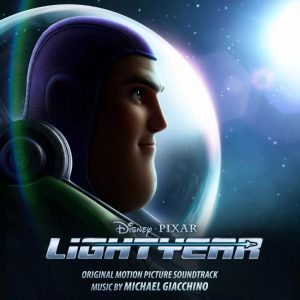 Animatiestudio Pixar en componist Michael Giacchino hebben al aan heel wat films samengewerkt, waaronder The Incredibles, Incredibles 2, en Up, waarvoor Giacchino zelfs een Oscar won. Hun relatie floreert nog steeds, want Giacchino schreef ook de muziek voor Pixar's meest recente animatiefilm Lightyear. De film gaat over Buzz Lightyear, een van de personages uit Toy Story. In 1995 maakte deze film de weg vrij voor het succes van Pixar. Randy Newman's muziek voor die film is ook nog steeds een genot om naar te luisteren, met zijn pakkende liedjes en algehele luchthartigheid. Hoewel Lightyear geïnspireerd is door het speelgoedpoppetje, wordt het achtergrondverhaal van de held uitgediept en is het dus iets serieuzer, wat ook tot uiting komt in de muziek.
Giacchino houdt ervan om thema's te schrijven voor personages en aspecten van een film en normaal gesproken reikt hij die op een presenteerblaadje aan aan de luisteraars. Traditiegetrouw houdt hij ervan om schitterende suites te creëren voor op het album te plaatsen, en met het nummer "One Suite Buzz" heeft hij dat voor Lightyear weer gedaan. In deze suite vind je wonderbaarlijke versies van de drie hoofdthema's uit de film. Het eerste thema is voor Buzz Lightyear en het klinkt heerlijk heldhaftig. De melodie is zeer aanstekelijk en heeft de potentie om lang in je hoofd te blijven hangen. Het tweede thema is voor de slechterik Zurg, die een schurkachtig klinkende mars heeft gekregen, die mij aan Giacchino's muziek voor Rogue One doet denken. Het derde thema is nogal een contrast met die mars, want het is een fraai emotioneel orkestraal stuk en het is bedoeld voor Lightyear's vriend Hawthorne en haar familie.
De drie thema's zijn, zoals te verwachten was, wonderwel geïntegreerd in briljante filmmuziek. Zoals ik al eerder zei, is de muziek wat serieuzer dan in Giacchino's andere soundtracks voor Pixar-films, maar ze past perfect bij de film en tilt de kwaliteit ervan zelfs naar een hoger niveau. Het voelde heroïsch, emotioneel of luchtig aan op precies de juiste momenten. Giacchino is altijd al in staat om gepaste muziek voor een film te schrijven en hij heeft het weer gedaan voor Lightyear.
Luisteren of kopen
Lijst van de nummers
De hoogtepunten zijn vetgedrukt.
Mission Log (2:23)
Initial Greetings (3:26)
Lightyear (2:45)
The Best Laid Flight Plans of Space and Men (1:15)
Blown on Course (1:37)
A Hyper Failure (0:54)
Lightyear's Behind (1:44)
Mission Perpetual (2:40)
The Lone Space Ranger (2:23)
Afternoon Delight Speed (4:42)
Light Speed at the End of the Tunnel (0:33)
Relative Success (0:41)
Zurg Awakens (1:53)
Operation Surprise Party (0:43)
A Good Day to Not Die (2:37)
Zurg's Displeasure (0:30)
Space Afraiders (3:57)
Zurg‐onomics (2:00)
Oh, Hover (2:56)
Mistake It All In (1:32)
Buzz, Meet Zurg (1:32)
To Infinity and Be Gone (4:13)
Hawthorn in Her Side (0:59)
World's Worst Self‐Destruct Sequence (1:38)
Time to Space Your Fears (4:00)
Hiding from Yourself (1:20)
Improv‐Izzy‐tion (0:49)
Back to Buzzness (3:09)
Home on the Space Range (2:58)
Infinite MOEtion (2:05)
One Suite Buzz (12:19)
Duur: 1 uur and 16 minuten
Walt Disney Records (2022)