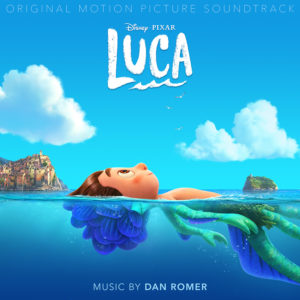 Disney heeft de afgelopen maanden niet stilgezeten. Niet alleen brengen ze gloednieuwe series uit op Disney+ zoals de Marvel-series The Falcon and the Winter Soldier en Loki of de nieuwe Star Wars-animatie The Bad Batch, maar ook films zoals Cruella voor hun VIP-abonnees en de nieuwste Pixar-film Luca voor hun reguliere abonnementen. Pixar animatiefilms hebben regelmatig geleid tot geweldige soundtracks, waarvan films als Up, Finding Nemo en Soul Oscars hebben gewonnen voor beste muziek en dat maakt Luca een interessante soundtrack om te verkennen.
Het verhaal van Luca gaat over een jong zeemonster, dat in een mens verandert als hij aan land komt en zich probeert aan te passen in de gevaarlijke wereld van deze landmonsters. Zoals gebruikelijk voor een Pixar-film, is het verhaal luchtig met een enigszins verborgen boodschap en de opdracht om de muziek ervoor te verzorgen werd gegeven aan Dan Romer. Romer heeft al heel wat muziek geschreven in zijn carrière, maar ik ken hem het best van zijn muziek voor Beasts of the Southern Wild en Wendy. Beide soundtracks hebben iets luchtigs, met een sterke basis van muzikale patronen en een prachtige melodie die daaroverheen gespeeld wordt en ik was heel blij om dezelfde stijl te horen in de muziek voor Luca.
Het eerste nummer "Meet Luca" is een goed voorbeeld van wat je van de rest van het album kunt verwachten. Hierin vind je niet alleen het hoofdthema, dat gefloten en uitgevoerd wordt op een klarinet, maar hoor je ook lieflijke patronen, meestal getokkeld door de strijkers, wat vrolijkheid en tederheid aan de muziek toevoegt. Het gebruik van akoestische gitaren en Romer's eigen instrument, de accordeon, geeft de muziek ook een Zuid-Europese klank, wat de omgeving waarin het verhaal zich afspeelt benadrukt. Vooral "That is the Dream" is een goed voorbeeld van Romer's prachtige muziekstijl, met een stevige muzikale basis door orkest, piano en percussie, waar het hoofdthema overheen wordt gespeeld. Er zijn ook enkele andere thema's, met als een van de hoogtepunten het thema voor de ouders, dat te horen is in "Land Monsters Everywhere", uitgevoerd door een basklarinet en een tuba.
De muziek die Romer voor Luca heeft geschreven past perfect bij de film. De tederheid en vrolijkheid van de muziek dragen bij aan het verhaal. Het weerspiegelt dat geen van de personages in de film echt monsters zijn (land of zee) en maakt het bekijken van de film over het algemeen een aangename en leuke ervaring. De muziek zal waarschijnlijk geen Oscarnominatie krijgen, omdat hij niet echt in de muziekstijl van de recente nominaties past, maar het is niettemin een goed uitgevoerde soundtrack.
Luisteren of kopen
Lijst van de nummers
De hoogtepunten zijn vetgedrukt.
Meet Luca (4:08)
Did You Hide? (1:04)
The Curious Fish (1:39)
You Forgot Your Harpoon (0:39)
Phantom Tail (2:09)
Walking Is Just Like Swimming (2:02)
Vespa è Libertà (1:42)
You Hold the Ramp (0:59)
Silenzio Bruno (0:41)
That's the Dream (2:05)
The Bottom of the Ocean (1:52)
Take Me, Gravity (1:44)
Portorosso (1:36)
Signor Vespa (1:17)
This Isn't Any Old Race (2:55)
Buonanotte, Boys (1:27)
Land Monsters Everywhere (0:55)
Buongiorno Massimo (3:03)
The Out of Town Weirdo Tax (1:48)
Rules Are for Rule People (1:08)
How Humans Swim (1:03)
Not Our Kid (0:49)
Telescope (2:46)
Beyond the Solar System (1:02)
We Don't Need Anybody (1:54)
The Sea Monster (3:33)
I Wish I Could Take It Back (4:01)
The Portorosso Cup (7:34)
How to Find the Good Ones (5:14)
Go Find Out for Me (1:39)
Total length: 1 hour and 4 minutes
Walt Disney Records (2021)