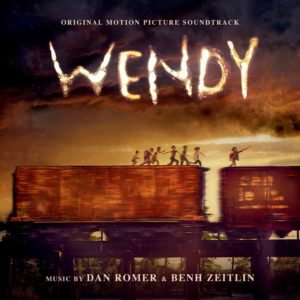 Als filmmuziekrecensent zie ik nogal wat soundtracks voorbij komen. Ik vind ze op de tijdlijnen van mijn sociale media met recensies van mijn collega recensenten of ze worden genoemd in e-mails die ik ontvang van mensen uit de filmmuziekindustrie. Blijkbaar word ik licht beïnvloed door de voorkant van een soundtrackalbum bij het besluit of ik een soundtrack wel of niet wil onderzoeken. Ik heb de omslag van de film Wendy meerdere malen onder ogen gehad, maar die trok mijn aandacht nooit. Toen ik er echter achter kwam dat de muziek door Dan Romer, samen met de regisseur van de film, Benh Zeitlin, geschreven was, was ik ineens erg geïntrigeerd. Wendy is Zeitlins tweede film als regisseur en vertelt een andere versie van het beroemde Peter Pan-verhaal. Ik ken hun muziek uit Beasts of the Southern Wild, wat ik geweldige filmmuziek vind en ik kon niet wachten om me te verdiepen in de muziek uit hun laatste samenwerking.
De muziek voor deze film was precies waar ik op hoopte. Op dit album vind je veel fantastische melodieën en patronen in verschillende stijlen. Er zijn enkele stukken die herinneringen oproepen aan het prachtige nummer "Once There Was a Hushpuppy" uit Beasts of the Southern Wild, zoals bijvoorbeeld te horen is in "Never Grow Up", waar instrumenten met en om elkaar heen spelen en zo een schitterend en melodieus stuk creëren. Andere nummers, zoals "The Old Hand", hebben een mysterieuze vibe met meer elektronische klanken. "I Love My Mother" is een nummer dat door meerdere zangers wordt gezongen. Ik weet dat een groep zangers normaal gesproken een koor wordt genoemd, maar daar waar in een koor alle stemmen als één klinken, kun je in dit nummer echt de individuele stemmen horen en dat geeftde muziek een persoonlijk tintje. Het laatste nummer dat ik wil noemen is het opzwepende "Straight On 'till Morning". Als ik hiernaar luister, kan ik gewoon niet stil blijven staan.
Ik heb de kans gemist om deze film in de bioscoop te zien, omdat de zalen nu dicht zijn. Met al die prachtige muziek ben ik erg benieuwd hoe het bij de beelden past, zeker met de regisseur als medecomponist. Ik denk dat de muziek zich uitstekend zal blijken te mengen met de beelden. Als ik de kans krijg, wil ik de film zeker zien, maar het is niet eens echt nodig. Deze filmmuziek is ook op zichzelf buitengewoon plezierig om naar te luisteren.
Luisteren of kopen
Lijst van de nummers
De hoogtepunten zijn vetgedrukt.
Sneak Away (1:24)
Straight On 'till Morning (2:21)
The Haunted Train (2:06)
Into the Night (1:40)
Neverbirds (1:44)
The Mother (2:42)
Never Grow Up (3:45)
The Old Hand (3:29)
Where Lost Boys Go (2:06)
Want To Fly? (6:07)
To Grow Up is a Great Adventure (1:36)
Battle for Mañana (4:23)
I Love My Mother (3:15)
Counting the Days (2:31)
The Story of Wendy (5:13)
Once There Was a Mother (1:38)
Total length: 46 minutes
Milan Records (2020)