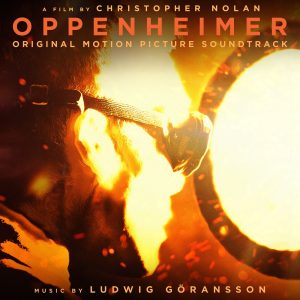 Regisseur Christopher Nolan staat bekend om het maken van veelgeprezen films met een groot budget, en zoals vermeld in mijn recensie van TENET nam Ludwig Göransson het schrijven van muziek van Hans Zimmer over na een zeer lange werkrelatie tussen die twee. Blijkbaar vond Nolan de muziek voor TENET erg goed, want de samenwerking tussen Göransson en Nolan wordt voortgezet met Nolans nieuwste project, Oppenheimer.
Elke Nolan-film heeft een interessant verhaal. Sommige zijn futuristisch, zoals Interstellar en Inception, maar hij heeft ook het verleden verkend met de Tweede Wereldoorlog-film Dunkirk. Oppenheimer is zijn tweede historische film en die gaat over de natuurkundige J. Robert Oppenheimer, die het project leidde waarbij de eerste atoombom werd gemaakt. Wat Oppenheimer tot een unieke Nolan-film maakt, is dat het meer over Oppenheimer zelf gaat en de mensen met wie hij tijdens zijn leven te maken heeft gehad, in plaats van de gebruikelijke actiescènes uit eerdere films, wat terug te horen is in de muziek. In plaats van grootse klanken, zoals bij eerdere Nolan-films, is de muziek die Göransson voor Oppenheimer componeerde intiemer en gevoeliger, met een sterke focus op slechts een kleine groep strijkers, wat piano en veel synthetische geluiden om de sfeer te versterken.
Er zijn thema's te vinden in de filmmuziek. Ze zijn subtiel en niet zo gemakkelijk te herkennen, maar ze werken wel heel goed in de film. Er is er één voor Oppenheimer, met alleen een paar tonen, die vaak te horen zijn, inclusief in het eerste nummer "Fission" en het laatste nummer "Oppenheimer" op het album. Zijn thema wordt voornamelijk gespeeld door slechts één viool. Zijn vrouw heeft ook een thematisch idee, dat meer een opeenvolging van akkoorden op de piano is. Deze akkoorden kun je in "Meeting Kitty" en "Kitty Comes to Testify" terugvinden.
Elk nummer op het album is een prachtig op zichzelf staand werk dat de sfeer perfect neerzet voor de bijbehorende scène. Sommige bevatten schitterende melodieën die de schoonheid van de wetenschap weergeven, zoals te horen is in "Can You Hear the Music", "Quantum Mechanics" en "Gravity Swallows Light". Omdat de film over de wetenschapper gaat en niet over de atoombom, zie je de bombardementen op de Japanse steden, waarbij meer dan 200.000 mensen omkwamen, niet terug. De bom wordt echter wel getest  en dit is te zien met een lange opbouw tot het moment van de ontsteking, die in "Trinity" door Göransson briljant muzikaal ondersteund wordt.
Aangezien ik van melodieuze soundtracks houd, bij voorkeur met veel herkenbare thema-integratie, had ik verwacht dat ik niet veel plezier zou beleven aan de muziek voor Oppenheimer. Integendeel, ik bleef maar terugkeren naar de muziek, vooral na het zien van de film. Ik denk dat de soundtrack die Göransson voor de film schreef perfect past bij het verhaal van zo'n belangrijk persoon in onze geschiedenis, en hij is zeker het beluisteren waard. De muziek voor Oppenheimer is het resultaat van weer een vruchtbare samenwerking tussen Christopher Nolan en Ludwig Göransson, en het wekt bij mij de vraag op wat ze voor een mogelijk toekomstig project zullen gaan bedenken.
Luisteren of kopen
Lijst van de nummers
De hoogtepunten zijn vetgedrukt.
Fission (4:38)
Can You Hear the Music (1:50)
A Lowly Shoe Salesman (3:34)
Quantum Mechanics (3:00)
Gravity Swallows Light (3:30)
Meeting Kitty (5:47)
Groves (3:03)
Manhattan Project (3:01)
American Prometheus (2:37)
Atmospheric Ignition (3:28)
Los Alamos (2:38)
Fusion (3:55)
Colonel Pash (4:57)
Theorists (3:14)
Ground Zero (4:21)
Trinity (7:52)
What We Have Done (5:45)
Power Stays in the Shadows (4:10)
The Trial (5:32)
Dr. Hill (4:23)
Kitty Comes to Testify (4:52)
Something More Important (3:25)
Destroyer of Worlds (2:54)
Oppenheimer (2:16)
Duur: 1 uur en 34 minuten
Back Lot Music (2023)