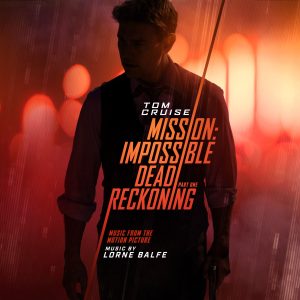 De Mission: Impossible franchise gaat al tientallen jaren mee. Daarmee bedoel ik niet alleen de televisieserie uit de jaren '60, maar ook de Mission Impossible-films met Tom Cruise in de hoofdrol, die in 1996 zijn begonnen. De nieuwste film is Mission: Impossible – Dead Reckoning Part One met muziek van Lorne Balfe, die terugkeerde nadat hij de muziek voor de voorganger van deze film Mission Impossible: Fallout heeft geschreven. Zoals je in mijn recensie kunt lezen, was ik niet dol op die specifieke filmmuziek. De afgelopen jaren wist Balfe me echter te verrassen met veel opwindende soundtracks voor andere films. Ik hoopte dat die trend zou worden voortgezet met Dead Reckoning Part One en om op de zaken vooruit te lopen: Dat heeft hij zeker gedaan.
In mijn recensie van Fallout zei ik dat ik één bepaald nummer wel goed vond, namelijk "Stairs and Rooftops", die ik perfect bij die film vond horen. Dat nummer gebruikt bongo's en het orkest in harmonie, om een leuk nummer te maken dat voor de scène werkte en prettig was om naar te luisteren zonder de context van de film. De reden waarom ik het in deze recensie zo uitgebreid over een nummer uit een andere film heb, is dat de hele score van Dead Reckoning Part One me dezelfde indruk geeft. Als je Mission Impossible in gedachten neemt, denk je waarschijnlijk aan het hoofdthema en Balfe heeft een deel ervan omgezet in het thema voor Ethan Hunt, dat hij ook in Fallout heeft gebruikt. De melodie vormt opnieuw de fundering voor de muziek voor Dead Reckoning Part One, samen met originele thema's van Lalo Schifrin uit de jaren zestig. Balfe schreef ook nieuw thematisch materiaal, bijvoorbeeld voor de tegenstanders Gabriel en The Entity, dat slim in de muziek is geïntegreerd en op de juiste momenten in de film tevoorschijn komt.
Wat opvalt is hoe boeiend de soundtrack van Dead Reckoning Part One blijft. De film heeft veel scènes die vrij lang zijn, met veel aspecten die op het scherm gebeuren en zonder enige dialoog. In die scènes mag de muziek schitteren. Balfe gebruikt niet alleen verschillende orkestrale elementen om de muziek gaande te houden, zonder daarbij saai te worden, maar hij weet ook zijn iconische bongo's er uitzonderlijk goed in te verwerken. Daarnaast gebruikte hij voor deze score ook militaire trommels, om nog meer frisheid aan de soundtrack toe te voegen. Ik was de hele tijd geboeid toen ik naar de film keek en de muziek droeg daar echt aan bij. Ik ben erg nieuwsgierig naar Part Two. Ik ben benieuwd wat de muziek ervoor zal brengen.
Luisteren of kopen
Lijst van de nummers
De hoogtepunten zijn vetgedrukt.
The Sevastopol (2:07)
The Phantom (3:05)
Collision Alarm (1:31)
A Ghost in the Machine (2:38)
The Sum of Our Choices (1:24)
Dead Reckoning Opening Titles (1:12)
The Entity (3:22)
Your Mission… (2:34)
This Is Not a Drill (2:13)
The Plot Thickens (8:21)
You Are Dunn (5:54)
Get Out Now (1:56)
A Colourful Past (3:11)
Rush Hour in Rome (3:33)
Roman Getaway (2:46)
You're Driving (2:04)
Hit It (2:10)
He Calls Himself Gabriel (6:22)
A Most Probable Next (5:20)
Run As Far As You Can (1:59)
You Are Done (3:28)
Chasing Grace (2:51)
I Was Hoping It'd Be You (1:41)
Ponte Dei Conzafelzi (2:19)
To Be a Ghost (2:21)
What Is Your Objective (4:27)
Murder and The Orient Express (3:34)
Mask of Lies (2:37)
I Missed the Train (3:05)
Key Details (3:36)
The Moment of Truth (2:17)
Should You Choose to Accept (1:59)
Leap of Faith (1:36)
Consequences (1:41)
You Stop the Train (3:48)
Chaos on the Line (2:48)
Countdown (2:54)
This Was the Plan (6:15)
Curtain Call (1:01)
Duur: 1 uur en 58 minuten
Sony Classical (2023)