Als je deze website regelmatig bezoekt, heb je misschien gemerkt dat er wat tijd tussen de reviews zit. De reden hiervoor was dat ik een paar weken op vakantie was. Omdat mijn motor het op de derde dag begaf, heb ik in mijn eentje 4000 km gereden in een leenauto, waardoor ik soundtracks kan inhalen die al in 2023 waren uitgekomen. Ik wil daarom dit eerste Spotlights-artikel voor 2023 gebruiken om er een paar hiervan uit te lichten die er voor mij uitsprongen..
Tahlequah the Whale: A Dance of Grief – Lolita Ritmanis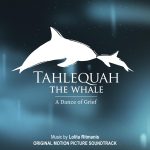 Tahlequah the Whale: A Dance of Grief is een korte animatiefilm over een rouwende moederorka die haar dode kind 1600 kilometer lang meedroeg in een ogenschijnlijke vertoning van rouw die wereldwijd de aandacht trok. De muziek van componist Lolita Ritmanis is slechts 20 minuten, wat niet verwonderlijk is voor een korte, 15 minuten durende film. De extra 5 minuten komen voort uit een concert suite, die een schitterende showcase is van deze prachtige soundtrack. Het verhaal is triest en mooi tegelijk, en de beeldschone en emotionele lijnen die Ritmanis schreef, passen daar perfect bij, waarin je het verdriet en de liefde van een moeder voor haar verloren kind kunt horen.
Label
Lolita Ritmanis
(2023)

Creation of The Gods I – Feng Shen Trilogy – Gordy Haab en Munkhjul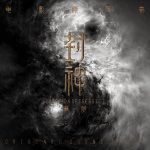 Een van de hoogtepunten tijdens mijn vakantieritjes was de muziek voor de Chinese fantasiefilm Creation of The Gods I – Feng Shen Trilogy. Deze Chinese films zijn altijd interessant om naar te kijken, met hun eigen unieke verhalen en over-the-top visuele gevechten. Veel componisten hebben fantastische soundtracks geschreven voor dit soort films en nu kan componist Gordy Haab aan die lijst worden toegevoegd, want zijn werk voor Fen Shen Trilogy is een genot om naar te luisteren. Haab gebruikt het orkest uitzonderlijk goed door de volle kracht van het orkest te gebruiken om heroïek uit te drukken, vooral door de kopersectie, maar in andere delen van de muziek is het orkest heerlijk emotioneel en melodieus. De soundtrack voor Feng Shen Trilogy is een perfecte showcase van de diversiteit van een orkest om alle emotionele aspecten van een film te ondersteunen. Er zijn ook enkele extra nummers van Munkhjul aan het einde van het album te vinden, die meer traditioneel Chinees klinken.
Label
Hangzhou Yuyinniaoniao
Culture Media
(2023)

One Piece – Sonya Belousova en Giona Ostinelli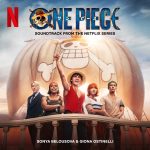 De laatste jaren is er een trend gaande dat streamingdiensten populaire Japanse animaties omzetten naar live-action en één daarvan is One Piece. De originele animatieserie begon eind jaren '90 en heeft nu meer dan duizend afleveringen. De anime heeft me altijd geïntrigeerd, maar ik wilde me niet toewijden aan het kijken ervan omdat het zoveel afleveringen heeft. Daarom weet ik niet veel over de muziek van de anime, maar ik weet wel dat de muziek die Sonya Belousova en Giona Ostinelli hebben geschreven voor de Netflix live-action serie een hele prestatie is. Ze hebben een leuk klinkende score geschreven met knappe thema-integraties in allerlei varianten. Ze gebruikten niet alleen een orkest, maar je vindt er ook veel verschillende instrumenten uit andere delen van de wereld, om de rijke wereld van One Piece te benadrukken. Als ik één opmerking moet maken over iets wat ik minder goed aan de soundtrack vind, is de lengte van het album. Blijkbaar was de helft van de muziek al uit het album geknipt, maar zelfs na deze curatie is het album nog steeds meer dan vier uur lang. Hoewel de meeste muziek geweldig is, begint na een paar uur de vermoeidheid toe te slaan. Als de muziek wat meer opgeschoond was, zou het album nog beter zijn geweest dan het nu al is.