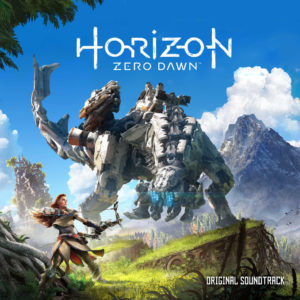 Soms heb je soundtracks op de stapel liggen die je heel graag wilt recenseren maar waar je gewoon niet aan toekomt. Een voorbeeld daarvan is de soundtrack van het spel Horizon Zero Dawn, met muziek die niet alleen geschreven is door hoofdcomponist Joris de Man, maar ook door een aantal andere mensen. Horizon Zero Dawn is een computerspel exclusief gemaakt voor PlayStation 4 en is in Nederland ontwikkeld door de gamestudio Guerilla Games. Horizon Zero Dawn is een spel dat zich in een post-apocalyptische wereld afspeelt waar de mensheid weer teruggevallen is naar een primitieve levensstijl, maar waar, om mysterieuze redenen, wel grote beestachtige robots rondlopen die verslagen moeten worden. Aan de hoofdpersoon Aloy, een roodharige vrouw, de taak om uit te zoeken wat er aan de hand is en voor Joris de Man en zijn mede-componisten om daar mooie muziek voor te schrijven.
In het spel kun je je uren vermaken, wat resulteert in 4 uur muziek op het album. Dit is verdeeld over vier "Parts" die ik voor het gemak in dit stuk aktes ga noemen. Deze uren zijn weer verdeeld over De Man en zijn team, en het valt ook al snel op waar ieder zijn kwaliteiten liggen. Als ik eerlijk ben, vind ik de muziek van Joris de Man het sterkst en dit is al gelijk aan het begin te horen. In "Prologue" zijn heel mooie fluit- en vioolmelodieën te horen. Verder wordt hier zangeres Julie Elven haar fantastische zwoele stem ook in geïntroduceerd. Het is dan ook een voorbode voor mijn persoonlijke favoriete nummer van 2017: "Aloy's Theme". De melodie in dit thema, gezongen door Elven, raakt mij simpelweg op het emotionele vlak. Gelukkig komt Elven regelmatig terug op dit album. Goede voorbeelden hiervan zijn onder andere "The Good News", met futuristische klanken, briljante vioolpatronen en haar stem, "Victory", "Homecoming", met mooi spel van piano en cello, "Song for Aloy", waarin ze alleen zingt, en tot slot in het laatste gedeelte van "Will Against Will". Joris de Man heeft daarnaast nog een aantal nummers geschreven zonder haar die ook geweldig klinken, zoals bijvoorbeeld "Her Breath, Her Land", met een mooi stukje fluit erin verwerkt. Een ander favoriet nummer van mij is "City on The Mesa", wat een heel mooie vioolmelodie heeft die in je hoofd blijft zitten, geschreven over een goede basis van gitaren.
Verder bevat de soundtrack ook heel veel muziek van het componistenduo The Flight. Ze hebben voornamelijk veel sfeermuziek geschreven met veel lange elektronische lijnen. Soms doorbreken ze het zelf een beetje zoals in bijvoorbeeld "The Memory of Old Walls", door naast deze lijnen ook een cellosolo op te nemen, of in "Your Hand of Sun and Jewels", wat heel traditioneel and Oosters klinkt. Van hun werk vind ik "Years of Training" het mooist, met een goed ritme en opbouw met het thema door een cello uitgevoerd. Hun muziek is voornamelijk te vinden in de derde en vierde akte. Verder heeft componist en percussionist Niels van der Leest een aantal percussiestukken geschreven voor dit spel. Deze stukken zijn uitgevoerd door de Nederlandse percussiegroep Circle Percussion, die voor goed lopende ritmische klanken zorgen, zoals in "To The Hunt!" en "Drums in The Sun-Ring". Tot slot moeten we de componist Jonathan Williams niet vergeten. Hij heeft vier zeer interessante stukken geschreven die tevens de laatste werken van de derde akte zijn. De eerste drie vormen een drieluik genaamd "Song To The Sun", wat door een groep mannen wordt gezongen. Het is heel clean, zuiver en integer. In contrast hiermee staat het vierde werk "Nora u Norawea", wat juist door een groep vrouwen wordt gezongen, in de vorm van een vraag en antwoord spelletje wat erg vrolijk klinkt.
Deze soundtrack bevat van alles. Voornamelijk de nummers van Joris de Man in combinatie met Julie Elven haar stem zijn geweldig om naar luisteren. De vier werken van Jonathan Williams zouden daarnaast zo ergens in een kerk uitgevoerd kunnen worden, zo wonderschoon. Ik kan mij voorstellen dat voor een aantal mensen deze volledige soundtrack erg lang is, maar persoonlijk is deze muziek prima op te zetten terwijl ik aan het werk ben. Bij sommige nummers stop ik dan wel even met werken om deze even goed in mij door te laten dringen, zoals mijn favoriet: "Aloy's Theme". Het album is digitaal te verkrijgen en is zelfs uitgekomen op CD, deze bevat echter alleen de hoogtepunten. Op zich is dit geen probleem, maar de CD kost meer geld en je hebt minder muziek. Voor mij is het niet heel moeilijk om voor de digitale versie te kiezen.
Verder is er in de tussentijd ook een uitbreiding op het spel uitgekomen, getiteld Horizon Zero Dawn: Frozen Wilds. Hiervoor hebben dezelfde componisten ook de muziek geschreven die te vinden is op iTunes en Spotify. Deze uitbreiding bevat goede muziek, deze vind ik echter niet zo sterk als het origineel. Het origineel beluister ik, na een jaar dat het is uitgebracht, nog steeds regelmatig. Voor deze site moet ik veel nieuwe muziek luisteren, maar soms betrap ik mijzelf er op dat ik terugval op deze vier uur aan muziek. In die tijd had ik een nieuw album drie of vier keer kunnen afluisteren. Dit album zal nog lang op mijn afspeellijst blijven staan. Voor mij bevat het gewoon de beste spelmuziek die in 2017 is uitgekomen.
Luisteren of kopen
Lijst van nummers
Muziek: Joris de Man1, The Flight (Joe Henson en Alexis Smith)2, Niels van der Leest3 en Jonathan Williams4
Zang: Julie Elven
Percussie: Circle Percussion
De hoogtepunten zijn vetgedrukt.
Akte 1 – Motherland
Prologue (feat. Julie Elven)1 (5:29)
Aloy's Theme (feat. Julie Elven)1 (2:31)
Motherless (feat. Julie Elven)1 (1:41)
Vanished Voices (feat. Julie Elven)1 (1:25)
Seal Your Lips1 (1:32)
The Welcome Of Stones1 (1:21)
Tell Me (feat. Julie Elven)1 (2:06)
The Point Of The Spear1 (1:44)
Years Of Training2 (2:23)
The Blessing2 (1:53)
The Proving (feat. Julie Elven & Circle Percussion)1 (1:43)
A Boon1 (1:38)
Where You Came From (feat. Julie Elven)1,2 (2:24)
Identification2 (1:02)
What The Seeker Had Sought (feat. Julie Elven)1 (1:21)
Anointed1 (2:26)
Seized From The Depths1 (2:00)
Hologram Myth (feat. Julie Elven)1 (3:36)
The Bad News (feat. Julie Elven)1 (3:05)
The Good News (feat. Julie Elven)1 (3:47)
The Cavalry Breaks Through (feat. Julie Elven, Circle Percussion)1 (1:46)
Victory (feat. Julie Elven)1 (3:03)
Homecoming (feat. Julie Elven)1 (2:57)
To The Hunt! (feat. Circle Percussion)3 (4:29)
Prologue (Early Style Sketch)1 (1:30)
Song For Aloy (feat. Julie Elven)1 (1:25)
Akte 2 – Out Of The Embrace
Within The Embrace1 (4:21)
In Great Strides1,2 (4:24)
Her Breath, Her Land1 (4:59)
On Our Mother's Shoulders1 (4:46)
Haze And Renewal2 (1:08)
A Truth Whispered At Night1 (4:05)
Trails In The Darkness1 (4:23)
Machine Dreams1 (4:51)
Cloudpart2 (0:50)
The World And All Its Lessons1,2 (3:39)
This New Wilderness1,2 (5:22)
Territory Of None2 (6:43)
A Wanderer's Work2 (6:34)
Brave, New1,2 (5:20)
The Memory Of Old Walls2 (4:31)
Akte 3 – Onwards To Meridian
Aloy's Journey (feat. Julie Elven)1 (3:03)
Meridian, Shining1 (4:00)
City On The Mesa1 (4:07)
Envoys1 (2:19)
Beads Fallen On Bronze2 (0:50)
All That The Light Reaches2 (7:12)
A Resplendent Soil2 (5:11)
Another Day Rusts2 (1:17)
Across The Daybrink2 (1:24)
Delver's Hymna1,2 (4:04)
To Call Our Own1 (4:37)
Your Hand Of Sun and Jewels (Carja traditional)2 (2:09)
KunaBass Solo2 (1:01)
Iron Pendulum Solo2 (0:29)
Braumdrum Solo2 (0:51)
Go Like Time Around An Arrow (feat. Circle Percussion)3 (5:38)
Song To The Sun – Dawning4 (2:18)
Song To The Sun – Midday4 (3:23)
Song To The Sun – Evening4 (3:54)
Nora u Norawea4 (2:12)
Akte 4 – Secrets Of The Earth
The Spreading Eclipse2 (5:36)
The Demon Remade2 (1:26)
Force Multiplication1 (4:00)
Buried Shadow2 (0:57)
Battle Begins2 (1:53)
The Future By Its Throat2 (3:13)
Hold The Ridge2 (3:54)
Overrun2 (1:31)
Countdown To Zero2 (1:25)
Planned Obsolescence2 (3:24)
Colossal1 (4:15)
Threat Assessment2 (1:46)
Will Against Will (feat. Julie Elven)1,2 (3:06)
Drawn To Strife1 (2:45)
Little Ones2 (3:38)
Beasts Of Steel1 (2:45)
Drums in The Sun-Ring (feat. Circle Percussion)3 (6:07)
Death and Rebirth2 (1:13)
A Storm In The West2 (1:19)
Totale lengte: 4 uur
Sony Interactive Entertainment Europe (2017)