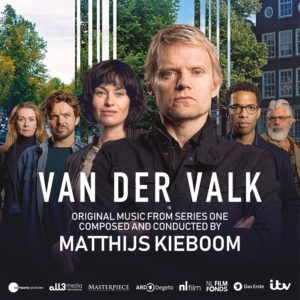 De tv-serie Van der Valk was in het Verenigd Koninkrijk in de jaren '70 erg populair en er werden in een periode van 20 jaar in totaal vijf seizoenen gemaakt. Wat interessant is, is dat er veel Nederlandse elementen in het programma zitten. Allereerst is de hoofdpersoon Piet van der Valk, een Nederlandse detective die in Amsterdam woont. Daarnaast is het hoofdthema van de serie, getiteld "Eye Level", gecomponeerd door de Nederlandse componist Jan Stoeckart en uitgevoerd door het Simon Park Orchestra en was het in 1973 in Engeland een enorme hit die een paar weken lang de nummer één plek wist te behouden. Zoals vandaag de dag vaak gebeurt met populaire series, werd Van der Valk nieuw leven ingeblazen en natuurlijk heeft de nieuwe variant ook Nederlandse invloeden. De detective is nog steeds een Nederlands personage, dat in Amsterdam woont, maar de show is ook mede geproduceerd door NL Film en nog belangrijker voor ons is dat de muziek gecomponeerd is door Matthijs Kieboom.
Voor deze serie had Kieboom een behoorlijke uitdaging. "Eye Level" is namelijk extreem iconisch voor de originele show en fans van die show verwachten waarschijnlijk dat dit thema ook veel voor zal komen in de nieuwe versie. Ik heb naar het origineel geluisterd en ik heb het probleem meteen begrepen: het deuntje is simpel en klinkt voor mij zonder nostalgische gevoelens een beetje ouderwets. Aangezien ik de enige aflevering die hier in Nederland is uitgezonden gemist heb, heb ik er niet naar de nieuwe serie kunnen kijken, maar een glimp van de omslag van dit album laat me zien dat het nieuwe album veel moderner is. Als je naar de muziek luistert, hoor je dat de show volwassener is, aangezien de muziek vooral geschreven is als achtergrondmuziek ter ondersteuning van de scènes en de sfeer van de beelden. Dit wordt gedaan met behulp van elektronische klanken, wat gitaar en ondersteuning door een strijkorkest om de muziek een organisch tintje te geven. Hoewel Kieboom het oude thema niet in zijn volle glorie heeft gebruikt, zijn er in "Lover's Confession", "Arlette" en in de hoofdtitel "Dutch Detective" enkele mooie hints van de melodie, die door de piano of de strijkers worden gespeeld, te vinden.
Het is voor mij altijd moeilijk om mijn mening te geven over een soundtrack met een focus waar de muziek zich meer op de achtergrond bevindt voor het ondersteunen van de scènes, als ik de beelden niet heb gezien. Ik begrijp wel waarom "Eye Level" niet is gebruikt in de muziek van deze revival: het past niet bij de rest wat Kieboom heeft geschreven om het nieuwe verhaal te ondersteunen. Ik vind de hints echter wel een aangename knipoog naar de oude tijd.
Luisteren of kopen
Lijst van de nummers
De hoogtepunten zijn vetgedrukt.
Cloovers to the Rescue (3:04)
Body Count Statistics (3:52)
Trailing & Chasing (2:59)
Lover's Confession (2:59)
Lucy Gets Stabbed (2:42)
Right-wing Art (1:11)
Rescue Operation Started (1:20)
Don't Do It (2:22)
Confrontation (2:16)
Webcam Murder (0:58)
Library Visit (2:06)
The Ritual (1:44)
Connecting the Dots (1:46)
Brad De Vries (2:41)
Museum Shootout (4:37)
You Are Dead to Me (3:16)
Rooftop Rumble (3:17)
On the Payroll (1:08)
Banner Research (1:39)
Catwalk Catastrophe (2:29)
Guns, Fists and a Frying Pan (4:49)
Corruption (1:12)
Nighttime Kidnapping (1:48)
Arlette (2:41)
Dutch Detective (0:44)
Duur: 60 minuten
All3Media Ltd (2020)