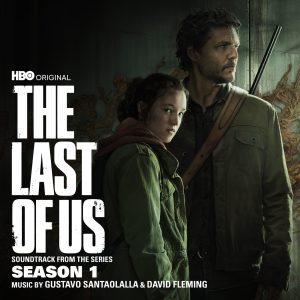 De laatste jaren hebben twee soorten media een impuls gekregen in hun populariteit: videogames en televisieshows op streamingdiensten. Soms zie je zelfs een combinatie van die twee: een serie die gebaseerd is op een populaire videogame. Dit is het geval voor The Last of Us op het streamingplatform van HBO, dat gebaseerd is op het populaire spel met dezelfde naam. Een paar andere spellen hebben dezelfde behandeling gekregen met The Witcher en Halo als perfecte voorbeelden, maar er is één belangrijk verschil tussen die twee en The Last of Us: de keuze van de componisten. Games zoals The Witcher en vooral Halo met zijn iconische thema, hebben fantastische muziek. Toch kozen hun televisie-tegenhangers voor een andere muzikale aanpak door andere componisten in te huren. Dit was niet het geval voor The Last of Us, aangezien de belangrijkste componist Gustavo Santaolalla voor de twee spellen, The Last of Us en The Last of Us Part II, ook betrokken was bij het schrijven van muziek voor de serie.
Ik vind het geweldig dat de programmamakers Santaolalla de gelegenheid gaven zijn materiaal opnieuw te mogen gebruiken voor hetzelfde verhaal, maar dan voor een ander medium met andere acteurs. Hij nam thema's uit het spel, zoals het hoofdthema "Vanishing Grace" en "All Gone", en integreerde ze in de muziek voor deze televisieserie. Zijn muziek kan je op een emotioneel niveau raken en weerspiegelt het verdriet dat zo kenmerkend is voor dit verhaal.
Voor het eerste spel was Santaolalla verantwoordelijk voor de meeste muziek, maar voor het tweede spel werd Mac Quayle ook ingehuurd om donkere, sombere en meer atmosferische muziekstukken te schrijven. Hoewel Quayle niet terugkeerde voor deze serie, werd de traditie van het toevoegen van duistere muziek aan de soundtrack behouden door die opdracht aan David Fleming te geven. Fleming gebruikte allerlei elektronische geluiden en percussie om deze soundscapes te realiseren, die in verschillende nummers op het album te horen zijn.
Het voelt onrechtvaardig tegenover Fleming, maar zoals ik schreef voor The Last of Us Part II, geef ik weinig om de meer sfeervolle muziek. Zij dient het doel voor de scènes waarvoor het geschreven is. Zijn muziek hoort op het album thuis omdat zij een essentieel onderdeel is in de serie maar vooral in contrast met het wonderschone en emotionele gitaarspel van Santaolalla, is het geen prettige luisterervaring. Santaolalla's nieuwe variaties op bestaande thema's en nieuw geschreven stukken zijn een genot om naar te luisteren en ik zou willen dat meer televisieseries bestaande muziek van de oorspronkelijke componisten zouden omarmen. The Last of Us serie wordt goed beoordeeld. Hopelijk zullen daarom meer series dit idee overnemen.
Luisteren of kopen
Lijst van de nummers
De hoogtepunten zijn vetgedrukt.
1 Gustavo Santaolalla 2 David Fleming
The Last of Us (1:07)1
Reflections (0:16)1
Get Out (7:13)2
All Gone (1:34)1
The Quarantine Zone (1:45)1
Don't Look (2:07)2
Forsaken (0:42)1
Breaching the Wall (3:44)2
Cargo (1:01)1
Radio Silence (2:41)1
Hope (0:41)1
Greater Purpose (1:03)1
Haven (1:33)1
Set Everything Right (1:21)1
Hive Mind (1:38)1
Resolve (1:48)1
Shortcut (6:12)2
The Swarm (2:08)1
Invited (1:34)1
Long Long Time (1:12)
There Is No Girl (1:05)1
It Can't Last (Sunset) (1:48)1
Raiders (1:46)2
Longing (0:56)1
All Gone (Affliction) (1:22)1
Surveillance (1:58)1
Vanishing Grace (1:25)1
All Gone (Purpose) (1:21)1
Stockpile (1:17)1
All Gone (Isolation) (0:51)1
Salvation (1:25)1
Warning Signs (2:45)2
The Last of Us (Prevail) (0:48)1
All Gone (Reunion) (1:37)1
Bravery (1:26)1
Subterranean (2:49)2
Murals (1:31)1
Endure (1:29)2
Survive (4:32)
A Great Man (1:58)1
All Gone (Promise) (1:17)1
All Gone (Flashbacks) (1:10)1
The Last of Us (Protection) (1:13)1
Never Let Me Down Again (3:29)
Left Behind (Together) (1:08)1
Fleeting (0:54)1
Vanishing Grace (Devotion) (0:51)1
Vanishing Grace (Radiant) (1:16)1
Refuge (0:45)1
The Choice (1:23)1
Left Behind (3:11)1
All Gone (Embrace) (1:30)1
Collateral (1:08)1
Resolve (Isolation) (1:19)1
Complications (2:32)2
Uncertain Course (1:21)1
Breathless (1:32)1
Unbroken (1:28)1
All Gone (Elegy) (0:44)1
Wounds (1:23)1
Safe Surrender (2:46)2
The Last of Us (Vengeance) (2:59)1
All Gone (In Vain) (1:05)1
All Gone (Ephemeral) (1:48)1
The Settlement (0:50)1
The Path (1:40)1
Duur: 1 uur en 56 minuten
Milan Records (2023)