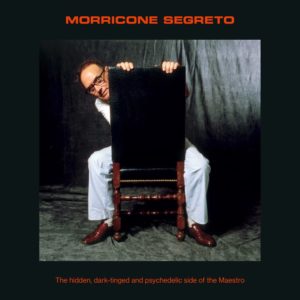 10 november zou de 92ste verjaardag van Ennio Morricone zijn geweest. Helaas is hij eerder dit jaar op 6 juli overleden. Als een van de vooraanstaande filmmuziekcomponisten ter wereld, met meer dan 500 soundtracks die hij in zijn lange carrière heeft geschreven, zal hij zeer gemist worden. Velen van ons dachten dat dit het einde zou betekenen van het kunnen luisteren naar nieuwe muziek van maestro Morricone, maar tot verrassing van veel fans werd een gloednieuw album aangekondigd met de titel Morricone Segreto. Dit album bevat een selectie van stukken die hij vanaf eind jaren 60 tot halverwege de jaren 80 heeft geschreven, waaronder muziek die niet eerder was uitgekomen.
In deze 20 jaar heeft Morricone veel interessante, vernieuwende en experimentele muziek geschreven en voor dit album is een mooie selectie gemaakt van veelal luchtige stukken. Er zijn nogal wat nummers die echt de jaren 60 en 70 stijl hebben en sommige klinken bijna als liedjes, met gitaren, basgitaar en een drumstel, zoals bijvoorbeeld beide nummers uit L'automobile. Sommige andere nummers hebben nogal een jazzy feel, zoals je bijvoorbeeld in "18 Pari" uit Un uomo da rispettare kunt horen. Dit ze naar liedjes zouden klinken lijkt misschien wat minachtend, maar dat is absoluut niet wat ik bedoel, want Morricone's keuze voor de instrumenten en melodieën maken ze allemaal voortreffelijk om naar te luisteren.
Er staan ook enkele nummers op het album waar we de experimentele of zelfs een beetje de eigenzinnige kant van Ennio Morricone kunnen horen. Het nummer "Eat It" is een interessant voorbeeld, met geschreeuw en vreemde melodieën en "Ore 22", met een lage fagot en fluitjes, is ook uitstekend.
Over het algemeen is dit album een voortreffelijke showcase van Morricone's vermogen om magnifieke muziek te schrijven, die perfect voor film geschikt is. Een van de sterke punten is dat de muziek laat zien dat een handvol instrumenten genoeg kan zijn om een geweldige soundtrack te creëren. Dit album is gewoon perfect voor een donkere avond met kaarslicht, waar je de vinyl op de platenspeler legt, een lekker glaasje whisky erbij inschenkt en dan te genieten van de muziek.
Luisteren of kopen
Lijst van de nummers
1 Nieuw release 2 Nieuw op vinyl
De hoogtepunten zijn vetgedrukt.
Vie-Ni – From "Quando l'amore è sensualità" (4:35)1
Fantasmi grotteschi – From "Stark System" (1:48)2
Vita e malavita – From "Storie di vita e malavita" (2:40)
Tette e antenne, tetti e gonne – From "La smagliatura" (5:11)
Patrizia – From "Incontro" (2:02)1
Per Dalila (I) – From "Il Bandito Dagli Occhi Azzurri" Soundtrack (2:42)
18 Pari – From "Un uomo da rispettare" (3:16)
Psychedelic Mood – From "Lui per lei" (3:06)1
Fuggire Lontano – From "L'automobile" (3:51)2
Jukebox Psychédélique – From "Peur sur la ville" (3:06)
Fondati timori – From "La smagliatura" (1:31)
Edda bocca chiusa – From "Lui per lei" (0:13)1
Non può essere vero – From "Mio caro assassino" (1:48)
Eat It – Versione singolo / From "Eat It" (3:50)
Nascosta nell'ombra – From "Quando l'amore è sensualità" (1:09)
Dramma Su Di Noi – From The "Spogliati, Protesta, Uccidi" Soundtrack (1:35)
Lui Per Lei – From The "Senza Sapere Niente Di Lei" Soundtrack (3:08)2
Beat per quattro ruote – From "L'automobile" (0:50)1
Stark System – From "Stark System" (2:13)2
Tema No. 5 – From "Il clan dei Siciliani" (2:36)1
René la Canne – From "René la Canne" (2:57)
Ore 22 – From "San Babila ore 20: Un delitto inutile" (2:59)2
Sinfonia di una città (IV) – From "Copkiller" (2:48)
L'incarico – From "Un uomo da rispettare" (2:03)
L'immoralità – From "L'immoralità" (3:08)
Inseguimento mortale – From "La tarantola dal ventre nero" (1:27)1
Macchie solari (The Victim) – Versione singolo (2:37)
Duur: 1 uur and 9 minuten
Decca Records (2020)