Met betrekking tot spoilers: Ik heb details over het verhaal in deze recensie vermeden, maar ik moet het wel over wat algemenere concepten hebben, die je misschien niet wilt weten.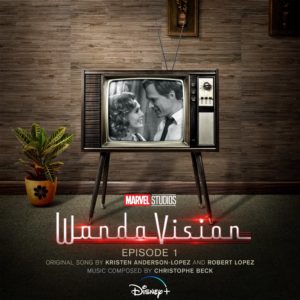 Toen Disney zijn eigen streaming platform Disney+ aankondigde, was ik nogal sceptisch over de kans van slagen. Disney heeft veel verschillende succesvolle franchises, maar ik dacht niet dat ze in staat zouden zijn om een solide bibliotheek te hebben om de mensen geïnteresseerd te houden, maar wat had ik het bij het verkeerde eind. Niet alleen was hun bestaande catalogus al vrij groot, maar ze begonnen ook met het uitbrengen van exclusieve content op hun dienst, waaronder de meest recente Mulan film en de Star Wars hitserie The Mandalorian, waardoor hun streamingdienst een groot succes werd.
Star Wars is niet de enige grote Disney franchise die succesvolle televisieseries kan opleveren, want WandaVision van hun Marvel-franchise was ook een enorme hit. De serie heeft nogal een interessant concept. Het verhaal speelt zich af na de gebeurtenissen van Avengers: Endgame, maar de teasers die ik had gezien, gingen over een jaren '50 komedie in het zwart-wit, met de superhelden Wanda Maximoff en The Vision als echtpaar. Het idee van WandaVision was dat elke aflevering als een komedie zou zijn, waarbij elke nieuwe aflevering zich tien jaar later afspeelt dan de voorgaande. Je kunt je de uitdaging voor elke aflevering wel voorstellen, met andere kleren, kapsels, huisinterieurs, maar ook de muziek in de stijl uit het tijdperk dat de aflevering probeert weer te geven en die uitdaging werd aan Christophe Beck gegeven.
Net als bij het eerste seizoen van The Mandalorian, werd voor elke aflevering een klein digitaal album uitgebracht. Veel mini-albums bevatten een verzameling korte nummers die perfect passen bij de komedie uit die tijd. In Episode 1 en Episode 2, die respectievelijk de jaren '50 en de jaren '60 vertegenwoordigen, bestaat de muziek uit vrolijk klinkende, orkestrale deuntjes die de dwaasheid op het scherm weerspiegelen. In Episode 3 is de muziek meer jazzy, met gitaren en slagwerk – perfect voor een show uit de jaren '70. In aflevering 5 weerspiegelt de muziek een komedie uit de jaren '80 en lijkt de muziek meer op popdeuntjes.
Naast de korte nummers van Beck kan je ook luisteren naar originele WandaVision introductieliedjes, geschreven door Kristen Anderson-Lopez en Robert Lopez, die al eerder met Beck samenwerkten aan Frozen en Frozen 2. Elk liedje past perfect bij elke komedie-aflevering en je kan in Beck's muziek horen dat de soundtrack en de bijhorende thema's met elkaar verbonden zijn. Het is prachtig om te zien hoeveel moeite er is gestoken in het maken van originele liedjes voor een televisieserie die nep is en bedoeld zijn om maar één keer te horen, met "We Got Something Cooking" als mijn favoriet.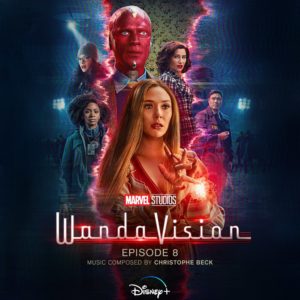 De introducties zijn, samen met de muziek voor de komische zotheid, echter niet de enige muziek in de serie. De eerste hint van een wereld buiten de komedies is al te horen op het album van Episode 1 met "Wanda's Theme (End Credits from "WandaVision")". Het is het thema dat Beck heeft gecomponeerd voor Wanda Maximoff en het is een onheilspellend klinkend orkestraal stuk, met een zangeres die nog meer mysterie toevoegt. De volledige orkestrale muziek staat in schril contrast met de komedie-gekheid, die perfect is voor de serie, en geeft de spanning weer die het verhaal met zich meebrengt. Naarmate het seizoen vordert, hoor je meer 'echte wereld'-muziek, die een goede mix bevat van orkestrale muziek en synthesizergeluiden. Er is ook een ander thema in de soundtrack te vinden, bedoeld voor het getrouwde stel, dat te horen is in de introducties die de Lopez's hebben geschreven en Beck heeft die melodie omgevormd tot een prachtig liefdesthema, dat in zijn geheel te horen is in "Wanda and Vision (Love Theme from "WandaVision")".
Ik ben er niet zeker van of deze soundtrack op zichzelf een aangename luisterervaring is. De komedienummers zijn te kort om er echt in te komen, en ze klinken natuurlijk nogal wat afgezaagd. De 'echte wereld' muziek is, met uitzondering van de thema's, ook zeer in dienst van de ondersteuning van de scènes, maar dat gezegd hebbende, Beck ging een echte uitdaging aan om de muziek te schrijven voor zo'n complexe serie en voor mij heeft hij die helemaal waargemaakt. Elk muziekstuk past perfect bij het moment waarvoor het geschreven was, van de jaren '50 tot aan nu.
Luisteren of kopen
Lijst van de nummers
1 geschreven door Kristen Anderson‐Lopez en Robert Lopez
De hoogtepunten zijn vetgedrukt.
Episode 1
A Newlywed Couple1 (0:54)
Toast-Mate 2000 (0:53)
Dinner Is Served (0:25)
Calendar Confusion (1:04)
Frog in My Throat (1:48)
Thank You for Coming (0:44)
Parcheesi (1:03)
Rings (0:36)
Wanda's Theme (End Credits from "WandaVision") (1:47)
Duur: 9 minuten
Episode 2
WandaVision! (0:53)
Rehearsal (0:55)
Unwelcome Visitor (0:59)
Strucker (0:37)
Giddy Up (0:32)
Beekeeper (1:05)
Exit Stage Left (1:44)
It's Really Happening (0:52)
Duur: 7 minuten
Episode 3
We Got Something Cooking1 (1:07)
Uncharted Waters (1:06)
The Strangest Thing (1:17)
Hydra-Soak (0:39)
A Stork in the House (0:49)
Fish Pants (0:52)
A Child Is Born (1:27)
Twins (1:40)
No Home (3:30)
Duur: 12 minuten
Episode 4
The Awakening (2:19)
Three Weeks Later (2:17)
Westview (2:42)
S.W.O.R.D. (1:01)
The Players (2:02)
Stay Tuned (2:28)
Everything Is Under Control (1:01)
Mission Failure (1:48)
Who Are You? (2:35)
Duur: 18 minuten
Episode 5
Making It Up As We Go Along1 (1:42)
Ten Years Old (0:36)
Lagos (0:30)
Evaluation (3:08)
Family Is Forever (0:53)
Missile Strike (4:02)
Cue Credits (0:29)
Ode to Sparky (1:48)
Pietro (3:11)
Duur: 16 minuten
Episode 6
Let's Keep It Going1 (0:56)
Traffic Light (0:30)
Fish to Share (0:15)
Water Balloon (0:31)
Chile Con Carne (0:33)
Hayward's Secrets (2:08)
Yo Magic (0:43)
Frankenherb (1:01)
Charming As Hell (0:46)
Dead or Alive (4:51)
Super Speed (0:42)
Freeze Framed (0:56)
Hexpansion (5:36)
Duur: 19 minuten
Episode 7
W-V 2000 (Instrumental)1 (0:34)
Agatha All Along1 (1:02)
Mondays (0:54)
The New Clown (1:00)
She's Perfect (1:49)
Getting Weird (0:27)
Your House My House (0:44)
Nexus (1:13)
Godspeed, Captain (2:57)
Rebirth (2:01)
Storytelling (0:54)
Trespasser (2:38)
Lovely to Meet You (2:30)
Duur: 18 minuten
Episode 8
Salem (1:40)
Witchnapped (4:49)
Sokovia (2:10)
War Zone (4:30)
The Mind Stone (2:29)
What Is Grief (3:53)
Some Assembly Required (2:40)
Genesis (6:07)
Ready for Launch (1:24)
Wanda and Vision (Love Theme from "WandaVision") (2:32)
Duur: 32 minuten
Episode 9
Not a Witch (1:58)
Surrender Your Magic (3:26)
We Feel Your Pain (2:38)
I Am Vision (3:07)
Unintended Consequences (1:53)
Born For It (2:12)
I Want More (3:22)
Home Again (3:43)
Stand Down (1:49)
Ascendant (2:41)
What Am I (5:12)
Now Leaving Westview (2:44)
Reborn (1:21)
Duur: 36 minuten
Hollywood Records (2021)