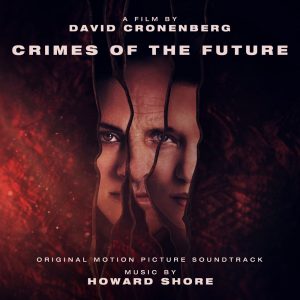 Als je aan de muziek van Howard Shore denkt, komt zijn werk voor The Lord of the Rings waarschijnlijk als eerste in je op. Zijn muziek voor deze trilogie is meesterlijke orkestrale muziek, die veel thematische ideeën en leidmotieven bevat. Hij won er dan ook twee Oscars mee: voor de eerste en de laatste film van de trilogie. Het komt misschien als een verrassing dat deze muziek niet zijn typische stijl van componeren weergeeft. Zijn muziekstijl gaat meer over atmosferische soundscapes dan het gebruik van een voltallig orkest met thema's. Vooral zijn muziek voor de films van regisseur David Cronenberg, met wie Shore veel heeft samengewerkt, staat zeer goed aangeschreven, waaronder de muziek voor Videodrome, The Fly, M. Butterfly en Crash.
De films van Cronenberg zijn uniek, met vreemde, verontrustende verhalen en horror- en fetisj-elementen. Zijn meest recente film, Crimes of the Future, is niet anders. Het vertelt het verhaal van een nabije toekomst waarin pijn niet meer bestaat. Dit is nuttig voor degenen die hun oorspronkelijke organen willen laten vervangen door exotische nieuwe synthetische varianten zonder enige vorm van verdoving. Het was weer aan Shore om zo'n gruwelijk verhaal muzikaal te ondersteunen en hij deed dat door terug te keren naar zijn oude stijl van componeren voor Cronenberg's films. In plaats van een volledig orkest dat thema's en leitmotieven speelt, creëerde Shore klankatmosferen met behulp van elektronica en een handvol strijkers.
Hoewel het album in het algemeen geen aangename luisterervaring is zonder de context van de beelden en verhaal, zijn er twee essentiële muzikale concepten die van tijd tot tijd opduiken die ik wil uitlichten. Het eerste is een eenvoudige melodie die over een interessante en herkenbare akkoordprogressie wordt gelegd. Het tweede noemenswaardige element is een dalend patroon dat de muziek een futuristisch tintje geeft. Beide elementen zijn te horen in het eerste nummer "Crimes of the Future".
De muziek die Howard Shore schreef voor Crimes of the Future is waarschijnlijk geen Oscar waard. Maar voor Cronenbergs ongebruikelijke films is de muziek van Howard Shore altijd een goede keuze geweest. Ik vind het geweldig dat Shore deze onconventionele scores blijft maken voor regisseurs zoals Cronenberg na zijn succes met The Lord of the Rings en ik juich dat toe. Hij had orkestrale muziek kunnen blijven schrijven, maar hij koos ervoor om verschillende stijlen te blijven proberen. Het is verfrissend.
Luisteren of kopen
Lijst van de nummers
De hoogtepunten zijn vetgedrukt.
Crimes of the Future (2:10)
A Novel Organ (1:28)
Caprice (2:07)
Sark Lust (0:30)
Body Is Reality (2:58)
Brecken (2:46)
Klinek (3:17)
Primordial Rapture (2:47)
Router & Berst (1:22)
Inner Beauty Pageant (1:18)
Deviant Digestive System (1:33)
Surgery Is The New Sex (0:53)
Odile (1:16)
The Old Sex (1:11)
First Autopsy (6:22)
Time To Try (3:18)
The Future (2:56)
Total length: 38 minutes
Decca Records (2022)