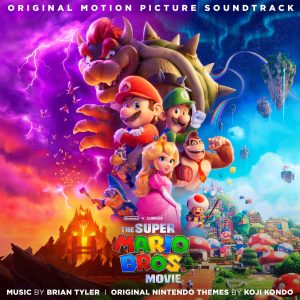 In het afgelopen decennium hebben we een aanzienlijke toename gezien in het verfilmen van videogames voor het witte doek. Het succesvolste voorbeeld hiervan zijn de twee Sonic the Hedgehog films, gebaseerd op het computerspel-personage uit de vroege jaren '90. Dit Sonic-personage werd destijds beschouwd als de mascotte van de spelcomputers van SEGA en zijn grootste concurrent voor populariteit destijds was de Super Mario Bros. franchise van Nintendo. Deze concurrentie duurt nog steeds voort, want na de succesvolle Sonic-films besloot Nintendo een eigen film te maken. De Super Mario Bros. Movie is een animatiefilm die de avonturen volgt van Mario, zijn broer Luigi, hun tegenstander Bowser, maar ook Princess Peach en vele andere personages uit de populaire Mario-spellen.
Een van de iconische kenmerken van de oude Mario-spellen zijn de muziekthema's, die nostalgie opwekken bij degenen die deze spellen vele jaren geleden hebben gespeeld. The Super Mario Bros. Movie is echter een film die in deze tijd wordt uitgebracht en zal naast nostalgie ook een jonger publiek moeten gaan aanspreken. Het schrijven van de soundtrack voor zo'n film, om zowel de fans van vroeger als de kinderen van nu aan te trekken, kan een uitdaging zijn. Brian Tyler is een componist van wie kan worden verwacht dat hij dat perfect doet, omdat hij, zoals hij onlangs in een interview verklaarde, alle Mario-spellen heeft gespeeld toen hij jong was – en Tyler heeft in de loop der jaren veel succesvolle scores geschreven.
Ik wist niet wat voor soort muziek ik kon verwachten voor deze film, maar ik was aangenaam verrast door wat Tyler heeft uitgedacht. Het eerste wat me opviel is hoe hij de originele thema's uit de spellen, gecomponeerd door Koji Kondo, perfect met een traditionele orkestrale score en zijn thematische ideeën mengt. Tyler creëerde een aantal originele thema's voor de film, waarvan het hoofdthema het meest in het oog springt. Het is het beste te horen in "Super Mario Bros. Opus", dat ook een perfect voorbeeld is van de vermenging van het nostalgische thema van het originele Mario-spel met Tylers eigen thema, dat vele malen te horen is in de score. Naast het hoofdthema, dat de twee Mario-broers vertegenwoordigt, zijn af en toe ook geweldige thema's voor Bowser en Princess Peach te horen.
Het tweede aspect waarom ik de muziek zo goed vind, is misschien nog wel briljanter. De soundtrack duurt vrij lang, met bijna 90 minuten aan muziek en zit boordevol met allerlei melodieën, maar wat de muziek zo fantastisch maakt is de integratie van vele – en ik bedoel vele – verborgen muzikale elementen uit de vele Mario-spellen, schitterend geïntegreerd met de rest van de orkestrale klanken.
Meestal vind ik een ingekort, meer samengesteld, album fijner, maar in de muziek die Tyler heeft geschreven valt weinig te knippen. Het is allemaal heerlijk van klank en uniek, vooral met alle kleine nostalgische muzikale elementen. De film is een wereldwijd succes en heeft allerlei records gebroken. Ik ben ervan overtuigd dat de muziek voor de film mede verantwoordelijk was voor dat succes door de beelden op het scherm te versterken met de perfecte deuntjes die de film nodig had.
Luisteren of kopen
Lijst van de nummers
De hoogtepunten zijn vetgedrukt.
Super Mario Bros. Opus (6:42)
Press Start (2:38)
King of the Koopas (3:33)
Plumbin' Ain't Easy (1:16)
It's a Dog Eat Plumber World (1:15)
Saving Brooklyn (1:47)
The Warp Pipe (2:05)
Strange New World (2:03)
The Darklands (2:20)
Welcome to the Mushroom Kingdom (2:18)
2 Player Game (5:07)
The Mushroom Council (2:07)
The Plumber and the Peach (1:21)
Platforming Princess (1:39)
World 1–1 (2:34)
The Adventure Begins (3:04)
Peaches (1:35)
Lost and Crowned (1:39)
Imprisoned (2:54)
Courting the Kongs (2:00)
Drivin' Me Bananas (1:20)
Rumble in the Jungle (3:59)
Karts! (1:51)
Practice Makes Perfect (1:00)
Buckle Up (1:31)
Rainbow Road Rage (3:31)
Blue Shelled (2:26)
An Indecent Proposal (3:24)
The Belly of the Beast (1:23)
Fighting Tooth and Veil (3:45)
Tactical Tanooki (2:22)
Mario Brothers Rap (0:58)
Grapple in the Big Apple (3:40)
Superstars (1:39)
The Super Mario Brothers (1:27)
Bonus Level (1:01)
Level Complete (2:32)
Duur: 1 uur and 28 minuten
Back Lot Music (2023)