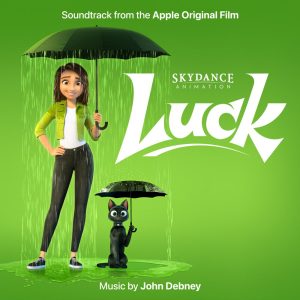 John Debney is een componist die al vele jaren voor film en televisie schrijft. Hij heeft veel scores geschreven, waaronder de muziek voor Jungle Book en de televisieserie The Orville in de afgelopen jaren. Zijn nieuwste soundtrack is de muziek die hij schreef voor de Apple animatiefilm Luck. Aangezien hij al vele decennia een gerenommeerd filmcomponist is en ik nog nooit muziek van hem heb gerecenseerd, werd het tijd dat ik eens een kijkje ging nemen.
Luck is een film over de jongvolwassen Samantha, die haar hele leven al pech heeft gehad, totdat ze per ongeluk samen met de kat Bob in de magische wereld van Luck belandt. De film is voornamelijk een kinderfilm en de muziek weerspiegelt dat uitstekend, omdat ze het jonge publiek voor elke scène in de juiste stemming kan brengen. Om die emoties boven water te halen, koos Debney voor puur orkestrale filmmuziek met fraaie en meestal opbeurende melodieën. Omdat de film elementen van de Ierse folklore bevat, zijn in sommige delen van de muziek ook Ierse instrumenten geïntegreerd.
Een andere manier om een verhaal muzikaal te ondersteunen is door herkenbare thema's te bedenken die op veel plaatsen in de soundtrack in verschillende variaties zijn verwerkt. Twee van deze thema's vallen op door hun opgewekte melodieën. Het eerste thema is het geluksthema. In "Land of Luck," is het thema in zijn meest orkestrale glorie aanwezig. Het tweede thema dat ik wil noemen is de muziek voor Sam. In "Samantha's Theme," kun je luisteren naar een prachtversie ervan, uitgevoerd op de piano waarnahet orkest het overneemt.
Wat ik zo mooi vind aan de muziek voor Luck is de speelsheid ervan. Er zijn enkele donkere momenten in de film, maar die zijn nooit echt kwetsend op een muzikale manier; het is per slot van rekening een kinderfilm. De muziek voor Luck is van begin tot eind een uitstekende score en geeft je een goed gevoel als je ernaar luistert.
Luisteren of kopen
Lijst van de nummers
De hoogtepunten zijn vetgedrukt.
Samantha's Theme (2:08)
Sam and Hazel (0:51)
Good Luck All Day Long (3:22)
Unlucky Day (2:13)
Bob the Cat (1:44)
A Great Job (0:27)
A Penny Lost (1:13)
Chasing a Cat (2:51)
Sam Meets Bob (1:54)
Land of Luck (2:47)
Hazmat Bunnies (2:16)
Making Good Luck (2:05)
Good Morning (1:56)
Randomizer (2:24)
I Got This (0:47)
Bunny Drone Activation (1:17)
Lucky Star (1:16)
A Lift in Between (4:35)
Anything is Possible (2:19)
Bad Luck in Between (2:20)
Bad Luck, Bad Cat (2:45)
She Has You (2:47)
Meet Rootie (2:03)
With These Two Stones (2:51)
Bad Luck is Good / Fixing the Randomizer (5:04)
A Forever Family (3:28)
One Year Later (2:44)
Luck Theme (1:54)
Luck Teaser (1:15)
The Penny Depot (1:42)
Duur: 1 uur en 7 minuten
Milan (2022)