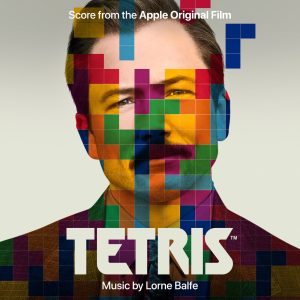 Ik heb de indruk dat ik niet nog eens hoef te vermelden hoe belangrijk videogames tegenwoordig zijn voor de filmindustrie, aangezien dit de tweede soundtrackrecensie wordt die ik schrijf over een film die gebaseerd is op een videogame, na The Super Mario Bros. Deze recensie gaat over de muziek voor de Apple TV-film Tetris, die gebaseerd is op een videogame uit de jaren '80 en die beschouwd wordt als een van de beste videogames die ooit gemaakt is. De meeste films over games proberen verhalen te vertellen met de personages uit die spellen, maar dit concept is niet mogelijk voor Tetris, omdat het een puzzelspel is met vallende blokjes, zonder bijkomend verhaal of personages. In plaats daarvan wordt er voor deze film een interessanter verhaal verteld, gebaseerd op de ware gebeurtenissen van hoe de Nederlander Hank Rogers de wettelijke gebruiksrechten kreeg voor een wereldwijde release van het Russische spel Tetris tijdens de slotperiode van de USSR.
Naast de leuke en verslavende gameplay van Tetris, hebben veel mensen ook dierbare herinneringen aan het muzikale thema van het spel, dat gebaseerd is op het 19e-eeuws Russisch volksliedje "Korobeiniki". Toen ik vernam dat Lorne Balfe was aangetrokken om de soundtrack voor de film te componeren, was ik benieuwd wat voor muziek hij zou gaan schrijven en of hij het iconische thema ook in de muziek zou verwerken maar de muziek voor Tetris is allesbehalve dat. In plaats van een groots orkestrale score koos Balfe voor een meer down-to-earth soundtrack met subtielere geluiden en melodieën, waarbij hij synthesizergeluiden gebruikt om de jaren '80 te weerspiegelen.
Het zou me niet verbazen als "Korobeiniki" op allerlei subtiele manieren in de muziek zou zijn geïntegreerd, maar er zijn enkele nummers waarin de invloed van het thema duidelijk te horen is, zoals bijvoorbeeld in "Telling Lies" en "Tilting Tiles." Dit zijn ook de nummers die me tijdens het kijken van de film opvielen, want hoewel Balfe een aantal behoorlijk fraaie melodieën heeft geschreven, zijn veel ervan slechts subtiel op de achtergrond hoorbaar tijdens de meeste scènes.
De muziek voor Tetris was een interessante luisterervaring en het liet me een kant van Balfe zien die ik lang niet had gehoord. De soundtrack is een welkome afwisseling van alle actievolle scores die Balfe de laatste tijd heeft geschreven en laat horen dat Balfe een componist is die degelijke scores kan schrijven voor uiteenlopende films.
Luisteren of kopen
Lijst van de nummers
De hoogtepunten zijn vetgedrukt.
Falling Blocks (4:14)
Cutting Corners (3:50)
Building Blocks (3:31)
Tetrominoes (feat. Joshua Pacey) (2:11)
Down It Goes (3:23)
Liar Liar (2:30)
Misdrop (3:32)
The Matrix (3:05)
Rotate (3:35)
Orange Rocky (2:22)
Floor Kick (1:54)
Hard Drop (2:54)
Back To Bach (2:32)
Line Up (3:38)
Telling Lies (3:34)
Blue Ricky (2:15)
Shift It (3:07)
Tilting Tiles (3:59)
Shifting Shapes (2:27)
Rhode Island Z (2:31)
T‐Spin (2:52)
Cleveland Z (2:55)
Lock Down (2:05)
TeeWee (2:35)
Deep Thoughts (2:53)
Duur: 1 uur en 14 minuten
Lakeshore Records (2023)