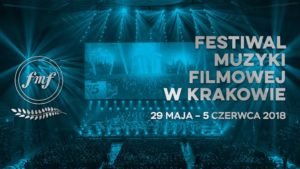 Elk jaar vindt in mei het filmmuziekfestival (FMF) plaats in Krakau. Over een periode van 8 dagen kunnen de bezoekers genieten van concerten, ontmoetingen met componisten en workshops over filmmuziek. Wij hebben uitgebreid verslag gedaan over de vorige editie.
Zojuist zijn de gasten en het programma  aangekondigd. De gasten die gaan komen zijn in ieder geval: Michael Nyman, Elliot Goldenthal, Krzysztof Penderecki, Atli Örvarsson, Jesper Kyd, Chris Drake en Austin Wintory.
Hieronder vind je een overzicht van de concerten:
Dinsdag 29 mei: Een concert met composer Krzysztof Penderecki in de hoofdrol in Katowice
Woensdag 30 mei: Hetzelfde Penderecki concert, maar dan in Krakau
Donderdag 31 mei: Een concert met muziek geschreven voor films van Poolse regisseurs
Vrijdag 1 juni: Beauty and the Beast met live orkest en een dansevenement met Atli Örvarsson.
Zaterdag 2 juni: Pianoconcert met muziek uit Lion en Video Games Gala in de avond
Zondag 3 juni: Jeugdorkest speelt een concert over monsters in de middag, in de avond Casino Royale met live orkest.
Maandag 4 juni: Een speelfilm in de openlucht.
Dinsdag 5 juni: Het Jeugdorkestconcert nog een keer op een andere locatie.
Dit lijkt ons ook dit keer weer een fantastisch programma! Wij kijken hier naar uit en zullen aanwezig zijn. Lijkt  het je leuk om dit festival te bezoeken maar weet je niet hoe het gaat. Je kunt altijd contact met ons opnemen. Dan helpen wij je verder.
Om alvast in de stemming te komen, hier zijn alvast wat filmpjes van de 2017 editie.